St. Mark's Christmas Ceremony Raises $65,000 For Kids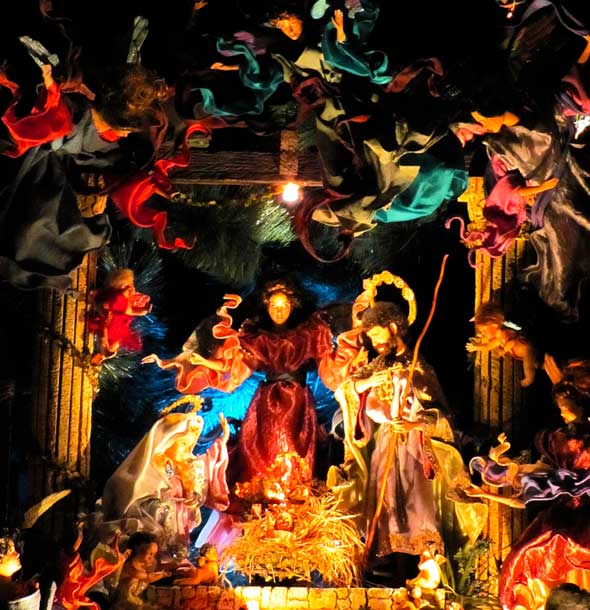 "We are the WOW parish," stated Father Joseph Grimaldi, after the dedication of this year's "Adoration of the Christ Display" at Saint Mark Roman Catholic Church (2609 East 19th Street).
Over 300 parishioners and guests were indeed "wowed" at the Sunday event. The Adoration of the Christ Display is a 25-foot-tall Christmas tree adorned with angels and glowing candles, towering over a full creche depicting Matthew's nativity story.
The tradition, now in its seventh year at the church, begins with a service of "Lessons and Carols," where bible readings are followed by traditional Christmas Carols. Each reading tells of the prophesy of the coming King, and every consecutive story builds on the narrative until it reaches the climax of Christ's birth or "nativity." Lector Frank Danza read the nativity story.
Afterwards, the church lights were turned off and soloist Sr. Bernadette Izzo sang "O Holy Night" as the large black curtain covering the dazzling display was removed. As Sr. Bernadette sang, various figures and scenes were illuminated on the tree and in the creche until finally the entire tree was ablaze. The scene captures Christ's birth, when the night sky was filled with singing angels and a star shined over the manger where the new born Jesus lay. A new scene depicting  the heralding Angel proclaiming Christ's birth to the shepherds in the fields was added to the display this year.
The Adoration of the Christ Display is more than just some fancy decorations for Christmas. It serves as a fund raiser for the St. Mark Education Fund. The Fund provides tuition assistance to under privileged children so that they may attend St. Mark School. This year's sponsorship totaled over $65,000, and in the seven years of the campaign donors have contributed more than $350,000 to the fund.
The Adoration of the Christ Display is available for viewing before and after all masses at St. Mark Roman Catholic Church on the corner of Ocean Avenue and Avenue Z until Sunday, January, 9, 2011.
Text by Robert Fernandez. Photograph by Laura Fernandez. Both are members of St. Mark Church.