St. Athanasius Rings In Its Centennial With Year-Long Celebrations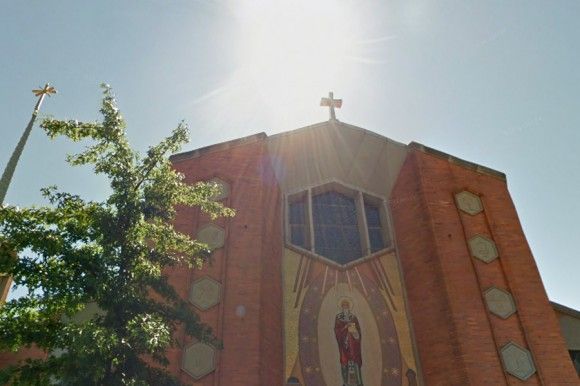 St. Athanasius Church, a beloved Bensonhurst religious institution at 2154 61st Street, is celebrating its 100th year with a series of celebrations for the community. According to The New York Daily News, the church will ring in their centennial this Thursday, May 2 during a 7:00 p.m. Mass:
After the Feast of St. Athanasius Mass, a mariachi band will lead the worshipers — most of them Italian or Hispanic — from the church across Bay Parkway to a free-to-everyone cake and coffee party in the basement of the school where an all-star doo-wop band called the Tercels will perform.
Msgr. David Cassato will present a Distinguished Parishioner Award to ex-NYPD Chief of Department Joseph Esposito, who reached mandatory retirement last month after 44 years as a cop, with 12 years in the top uniformed post.
Cassato praised Esposito in the Daily News for attending Mass with his family every Sunday and spoke to the church's staying power:
"We're perfectly located in the heart of Bensonhurst, attracting traditional Italian families and a swelling flock of new immigrants, especially Hispanics. They love our Spanish-language masses said by Father Gabriel, our music and the message of hope and light that has been spread from here for 100 years into the streets of Brooklyn."
Esposito, who credited Cassato for the church's staying power, reciprocated the love, calling him "amazing" and citing his dedication to reaching out to new immigrants and young people, "[a]nd his homilies are better than a comedy show, with a regular neighborhood-guy touch."
According to Cassato, the special Mass marking the church's 100th year is just one of the special activities that have been ongoing all year. They have been inviting back former parishioners who have moved away to Staten Island and New Jersey, and last December they held a tree lighting and doo-wop fund-raiser. Earlier in the year, the church welcomed home its former nuns, and former "St. A" priests also came back to say one more Mass each.
As for the future, Cassato spoke to the importance of attracting youth to the church. In June, they are planning a carnival with an anti-bullying theme.
"Music, dancing, laser light show. It's great to celebrate 100 years of St. Athanasius. But without the kids we'll never make another 100 years," Cassato told the Daily News.
Other upcoming events include a July trip for 65 lucky parishioners who are going on a pilgrimage to the tomb of St. Athansius in Venice, Italy. In October, Bishop Nicholas DiMarzio will give a special closing centennial Mass, and in November a gala dinner dance will be held in the El Caribe catering hall.