Southwest Brooklyn Hits Record Low In Major Crimes
Murders may be up in the rest of the city, but in southwest Brooklyn, violent crime is almost nonexistent.
At a joint Community Council meeting with the NYPD's 62nd and 68th Precincts last month, Brooklyn District Attorney Kenneth Thompson unveiled a map illustrating where shooting incidents — both deadly and non-fatal — were concentrated in 2014.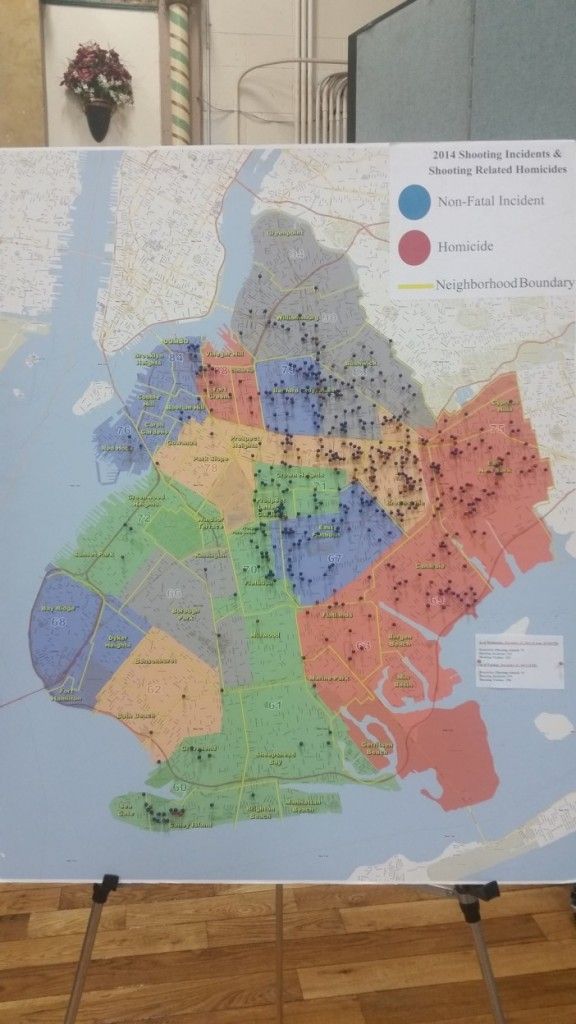 According to the map, there was not a single gun-related incident in Dyker Heights, Bay Ridge, or Fort Hamilton last year, and only a handful in Bensonhurst and Bath Beach combined — making southwest Brooklyn one of the safest parts of the borough to live in.
Most of the crime that occurred within the 62nd and 68th Precincts last year were burglaries, robberies and misdemeanors, and those crimes dropped by 10 percent in 2014, according to the precinct captains.
"This is something I was very proud of," said the 62nd Precinct's Captain William Taylor at the May 19 event. "And, this year, so far, we are doubling it, with an almost 20 percent reduction in crime."
Bensonhurst and Bath Beach saw a 50 percent decrease in daytime robberies and a 25 percent decrease in daytime burglaries since January 2015, according to Taylor.
"How did we do that? It's very simple. It's identifying a very, very minute number of people who reside within these neighborhoods who, for whatever reason, whether through the addiction of drugs, or through greed, or through learning things as they got older and becoming master burglars — its identifying them and staying right on top of them," said Taylor.
As a result of precinct's efforts, three of the neighborhood's "most vicious, major burglars" were locked up last year, according to Taylor.
The 68th precinct, which encompasses Bay Ridge, Dyker Heights and Fort Hamilton, is also experiencing a record low in major crimes, said Captain Raymond Festino.
"Last week alone — and on an average week in the 68, we average anywhere from 17 to 19 major crimes — we had eight. So we are actually really doing well," said Festino.
The only crime that has not seen a decline — reflecting a citywide trend — is grand larceny of an auto, which saw a slight rise in 2014, according to Festino. This spike can be attributed to car thieves somehow acquiring key fobs, the captain said.
In addition, the NYPD recently resumed auxiliary and solo patrols — which were suspended after the slaying of NYPD Detectives Rafael Ramos and Wenjian Liu — which is likely to bring a more visible police presence to the area, noted Festino.
"And will hopefully we will continue our drastic crime reduction," he said.
Four officers who make up the 62nd Precinct's Domestic Violence Unit were honored at the meeting as "Cops of the Month" for their dedication and service to the community. They are Sergeant Thomas Parco, Officer Dylan Kangas, Officer Kelly Merrick, and Officer Romina Cekani.
Taylor commended the officers for having the Domestic Violence Unit "squared away" by the time he was appointed to the precinct in 2013.
"The sergeant and the three cops in the Domestic Violence Unit are top notch and they needed very little, if any, interference from me," said Taylor. "My policy going in, as is the policy of the police department, is absolute, zero, zero, zero tolerance for domestic violence, and I didn't really have to tell that to them — that was their policy."