Snowtastrophe 2010: Sheepshead Bay Road In Photos
I went down Sheepshead Bay Road this morning to get a better gauge of how the blizzard had affected the neighborhood's commercial centers. What I saw wasn't pretty. Scratch that, it was very pretty, but it didn't say much for how our city handled the storm. And, if the reports I'm hearing from neighbors across Sheepshead Bay, the problems documented here are commonplace.
For starters, almost nothing was plowed. Streets that had been plowed were done long before the snow stopped falling. It meant giant mounds of snow left to the side of the street, but still unnavigable roadways, like this one:
Of course, it's hard to plow the roads when Sanitation Department plows are stuck in thick patches. Like this one we saw on Jerome Avenue and Sheepshead Bay Road, which a business owner told us had been there a few hours.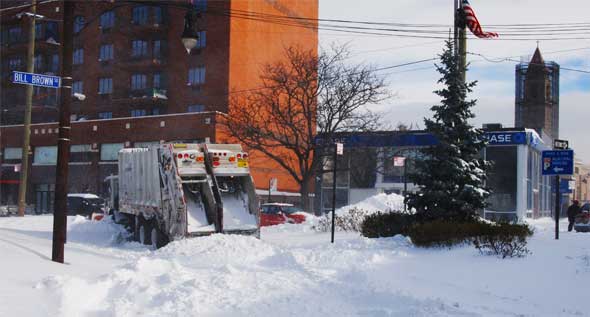 And if the plows got stuck, you know tons of cars did, too:
And let's just say we hope the criminals are too cold to come out of hiding, because the police are stuck, too. This patrol car was just left in the middle of the street:
People were walking in the streets, stumbling between abandoned cars left and right; it's probably the closest we've been to a zombie apocalypse in recent years. That's because most business owners haven't yet shoveled off their properties. Some were working on it:
While others didn't even bother trying:
A handful of businesses, to their credit, did manage to get it done early on. Among them are Tete a Tete cafe on East 14th Street and Sheepshead Bay Road, and Jonathan's Bakery on East 15th Street and Sheepshead Bay Road. The owner of Jonathan's Bakery, Alex, told us he came in at 2 a.m. to get the work done:
So what to expect? Well, don't look for buses any time soon. With the bus stops like this and the streets unplowed, we're guessing we won't see regular bus service restored until Wednesday or Thursday. We've even heard of several buses left abandoned in the middle of the street, including one stretched across Nostrand Avenue.
Here are two more shots that we don't have much to say about, but we liked them and wanted to include them anyway:
Did we miss something? Let us know in the comments!