Sneak Peek: Brewklyn Grind Roasters

In December 2013, Brooklyn born and raised brothers Alain, Jamie, and Craig Farrelly signed a lease to open Brewklyn Grind Roasters at 557 Myrtle Avenue. Over the past 10 months, the former fruit and vegetable market between Emerson Place and Classon Avenue has evolved into the company's first retail location, which will be hosting a soft opening this Friday, September 5.
"We started roasting in my apartment several years ago, experimenting with a bunch of different techniques," says Alain, who gained business sense from his full time work in business and finance. "Craig was studying biomedical engineering, and when 2008 came, he couldn't find a job.
"I'd been wanting him to join me in the roasting for a while, and I said, well, now you have no choice–you have nothing else to do! There's an art and science involved in crafting the perfect coffee, so having Craig and Jamie by my side made the difference."
The brothers went to cupping events, Alain says, absorbing all they could about roasting and brewing techniques in a bid to refine their own methods. And while their efforts to educate themselves certainly paid off–even without their own café thus far, BKG beans are already carried at nearly 20 specialty food stores across NYC–success didn't come without a struggle.
In October 2012, Hurricane Sandy devastated Brooklyn's Red Hook neighborhood–including BKG's roasting operation, which they'd only moved into one year before.
"We figured we'd just put things maybe a foot off the ground in case there was any flooding," Alain says, "but when we got in after the storm, it was like someone had looted the place. The fridge had floated from one end of the facility to the other.
"So we had to ask ourselves, 'Do we have the wherewithal to pick up the pieces and do this again?'"
And they did, as you've no doubt figured out by now. BKG got a small amount of government aid–just enough to put a downpayment on a roaster–and continued on, as Alain dubs their method of recovery, "bootstrappin' it."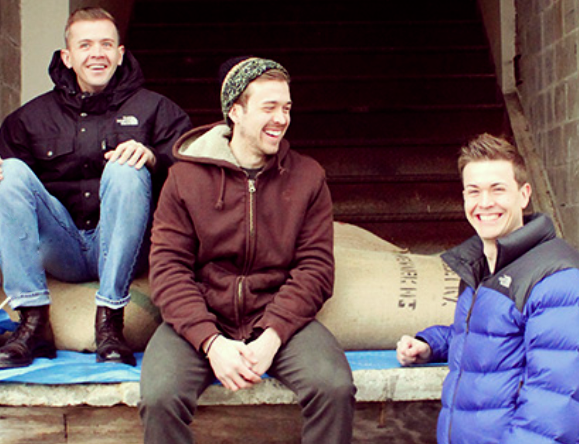 When the time came to further expand the family business, the brothers decided to look in vibrant neighborhoods with more public transportation–and, presumably, less chance of flooding–than Red Hook. The search was a long one, but Alain says they're thrilled to have found 557.
"We signed the lease, and then we looked at each other and said, are we crazy?" Alain says.
Turns out, conveniently enough, they weren't–or perhaps they were simply lucky enough to find equally nuts conspirators. The building's owner understood the needs of a growing family company from his own time running a shop there, proving his commitment to a business looking to put down roots and making it easier for the BKG crew to settle in.
The Farrellys' relationship with their landlord is one thing that makes Brewklyn Grind Roasters such a special place. The café's pressed tin walls, left largely untouched, speak of the property's history; its renovations were facilitated by Adam Heyman, a college classmate of Alain's, and a neighbor of Alain's father in law; and they've collaborated with Andy Schulz, formerly of South Slope's De Luxe–a friend since BKG "tried to sell him [their] beans"–to perfect their offerings.
"I walked into De Luxe and thought, if we're ever going to have a coffee shop, this is the way to do it," says Alain.

BKG is also committed to the borough's arts community. Local artist and company creative director Dan Gearity made their sign–a bold, sans serif "B" with the silhouette of a pigeon (an ode to the Farrellys' father's homing birds) cut from the middle–as well as designing their website. Their unique packaging is currently designed by childhood friend Joe Loli, and they plan to enlist the talents of Pratt students for future designs. They'll also be a featured space during upcoming art walks, and plan to host installations by locals on a wall that's been left blank specifically for that purpose.
The café will also have family-friendly touches like a changing table in the bathroom–and, assuming they're not prohibitively busy all the time, wide pathways that can easily accommodate strollers.
The café features 22 seats indoors including several bar height stools, plus standard tables near the front and rear windows. WiFi will be available, and the crew hopes to complete a backyard seating area soon as well as possibly adding a banquet seating inside in the future.
They'll be serving two coffee and three espresso options daily–a single origin selection and go-to blend of each, plus decaf espresso–and plan to rotate said single origins about every two weeks. Andy, behind the bar during my visit, says he sees the value of both a reliable drip coffee and an unusual treat like the Ethiopian espresso in my cup.
"I spend a lot of time trying to talk people out of Americanos," Andy says of why the espresso and hot water drinks won't be included on BKG's menu. "The ratio of most Americanos is all wrong, and our drip coffee is so good.
"That said, if I'm having a straight espresso, I want it to taste bonkers." He classifies the fruity, bright Ethiopian I'm tasting and the other single origins he plans to serve as perfectly "Dr. Seuss-y," and explains the taste in mine comes from beans that aren't washed after being removed from their cherries.

Non-coffee drinkers will be pleased to know BKG makes their own chai, and will carry SerendipiTea teas as well as pastries from Balthazar and Ovenly. Beer and wine (they already have their license), as well as an extended food menu (simple, fresh salads, sandwiches, fruit plates, etc.), are planned for down the line–but Andy and the Farrellys are rightfully insistent on getting the coffee service completely nailed down first.
"I've noticed in terms of the cafés around me," Andy says, "it's hard finding somewhere with good coffee, good personality, and good location–but I think this is going to be it. We want to deliver a high quality product, and we want to have fun doing it."
Brewklyn Grind Roasters plans to open from 8am-6pm to start, and the crew says they'll adjust hours according to community feedback. Their soft opening–during which they'll be finishing work on their backyard and won't yet have forthcoming food offerings like granola, oatmeal, and chocolate–will be on Friday, September 5, with their grand opening planned for Wednesday, September 17.
They're also still looking for staff–though be forewarned (if you didn't have a hunch already) these native Brooklynites have no problem stating a strict "no a-hole" policy for applicants–so if you're interested in joining a group of family and friends looking forward to a new era in their grassroots business, you can get in touch with them here.