Sign The Petition To Make Coney Island's Riegelmann Boardwalk A Scenic Landmark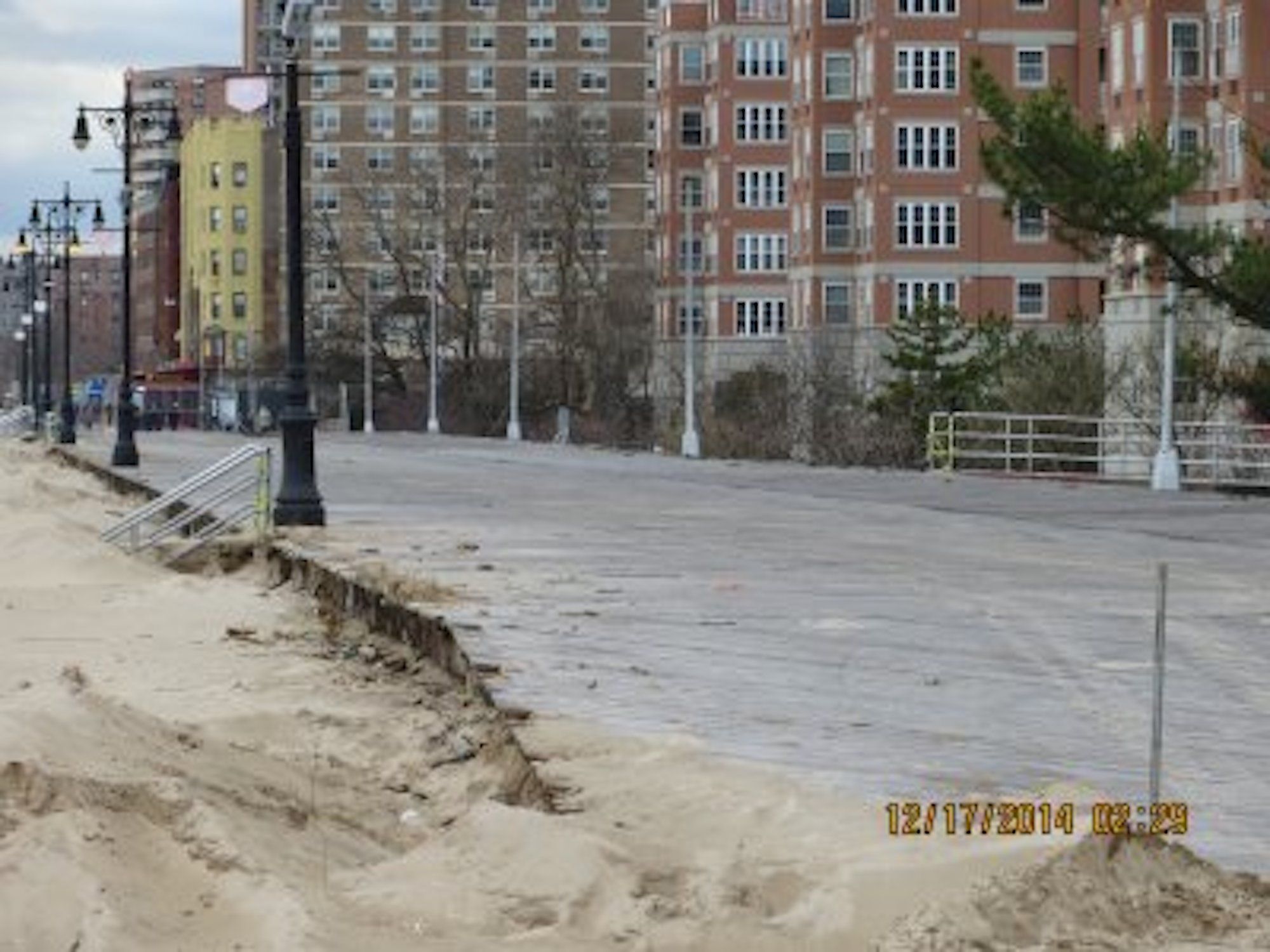 Earlier this month, we reported that Council members Mark Treyger and Chaim Deutsch moved to make the historic Riegelmann Boardwalk a scenic landmark – a last ditch effort to save it from a city project to replace the boardwalk's wooden planks with cement, that began in November. Now the councilman is turning to the public for help.
Treyger and Deutsch launched a petition on Change.org Friday, calling on the city's Landmark Preservation Commission (LPC) to designate the boardwalk as an official scenic landmark. Constituents can sign the petition, which will be submitted to the mayor's office and the LPC, online or at their district offices.
In a letter to the LPC, Treyger argued that "the historical significance of Riegelmann Boardwalk is undeniable."
Since its opening in 1923, millions of tourists from around the world have flocked to this Southern Brooklyn attraction, resulting in cherished memories for generations of New Yorkers and visitors, Treyger wrote. He noted that "any alteration to the style and composition of the boardwalk would irreparably damage its character and diminish its historic value." While recognizing the importance of Brooklyn's existing scenic landmarks, he argues that "the Coney Island boardwalk is equally iconic and historically significant."
Construction of the boardwalk began in 1921, one year after the BMT subway line was extended to the area and began resulting in incredibly large crowds on hot days. Adding to the overcrowding was the fact that private businesses kept large portions of the sand off limits to the public. In response, Brooklyn Borough President Edward Riegelmann spearheaded the $3 million project to construct the boardwalk and improve public access to the beach.
According to NYC Parks, the immense engineering project required 1.7 million cubic yards of sand to create an additional 2.5 million square feet of beach area, along with 3.6 million feet of timber. The 80-foot wide boardwalk rose 14 feet above the beach, stretching from West 37th Street to Ocean Parkway and was dubbed "Coney Island's Fifth Avenue" upon its opening on May 15, 1923.
"There is no question that the historic Riegelmann Boardwalk is one of the most iconic and beloved structures in our entire city and clearly merits this designation," said Councilman Treyger in a statement. "I have already heard from dozens of New Yorkers who are shocked this isn't already the case and wanted to share their personal stories of what the boardwalk means to them and their families. This is an important piece of New York City history and we must act now before it is drastically changed and lost forever. I am asking anyone who has ever visited the Riegelmann Boardwalk or cares about preserving our history to join our effort."
Councilman Deutsch echoed that sentiment.
"The Coney Island Boardwalk is a Brooklyn icon that possesses significant value, attracting visitors since 1923. In an effort to prevent any compromise of the historic design, I urge the Landmark Preservation Commission to grant landmark status to the boardwalk," he said.
The motion to preserve the boardwalk has the support of Congressman Hakeem Jeffries, Brooklyn Borough President Eric Adams, Councilwoman Laurie Cumbo and Councilman Alan Maisel, as well as numerous activists and preservationists.
Currently, there are a total of nine scenic landmarks in New York City, including three in Brooklyn: Prospect Park, Eastern Parkway, and Ocean Parkway.
To sign the online petition, simply click here or stop by Treyger's district offices at 2015 Stillwell Avenue and 445 Neptune Avenue, or Councilman Deutsch's office at 2401 Avenue U. Please call (718) 307-7151 for details.
Photos, sent to us by reader Lon Luchnick, capture the final days of the wooden boardwalk.