"Shubho Noboborsho!" — Kensington Celebrates Bengali New Year
KENSINGTON – Brooklyn's diverse community wore red and held masks at Avenue C Plaza to celebrate Bengali New Year 1425 on Sat. April, 14. The celebration started with face painting and Bangladeshi music, continued with a performance from an all-female Samba drumline, and ended with a parade to Church Avenue and back.
"Shubho Noboborsho," which means Happy New Year, was celebrated in Kensington and put together by Bangladesh Institute of Performing Arts (BIPA), which also celebrated the 25th anniversary of its founding in NY. Jill Reinier is a parent coordinator at P.S. 230 and the project manager at Singing Winds, which is a storytelling series featuring folklore from diverse Kensingtonians. Reinier also makes dance masks for BIPA to use in performances and helped organize the event.
"I'm loving it today. It's wonderful to see such a diverse group," she said. "People are beginning to introduce themselves to elements of a culture they don't know about."
Though a Bengali New Year celebration does occur in NY, it hasn't been in Brooklyn continuously. But she hopes to change that.
"If the community embraces this and supports it, then I think we can have it next year," she said.
On Bengali New Year, homes are decorated with Alpana art – colorful motifs done by hands and paint. People donned beautiful saris and kurtas. Women of all ages decorated their hair with flowers and wore gold jewelry.
"Brooklyn is the Dhaka of America," Borough President Eric Adams said, comparing the populous capital of Bangladesh to the diversity in Brooklyn.
A young girl dressed in an elaborate sari told him she wanted to be America's next president, to which Adams laughed and gave her a high five.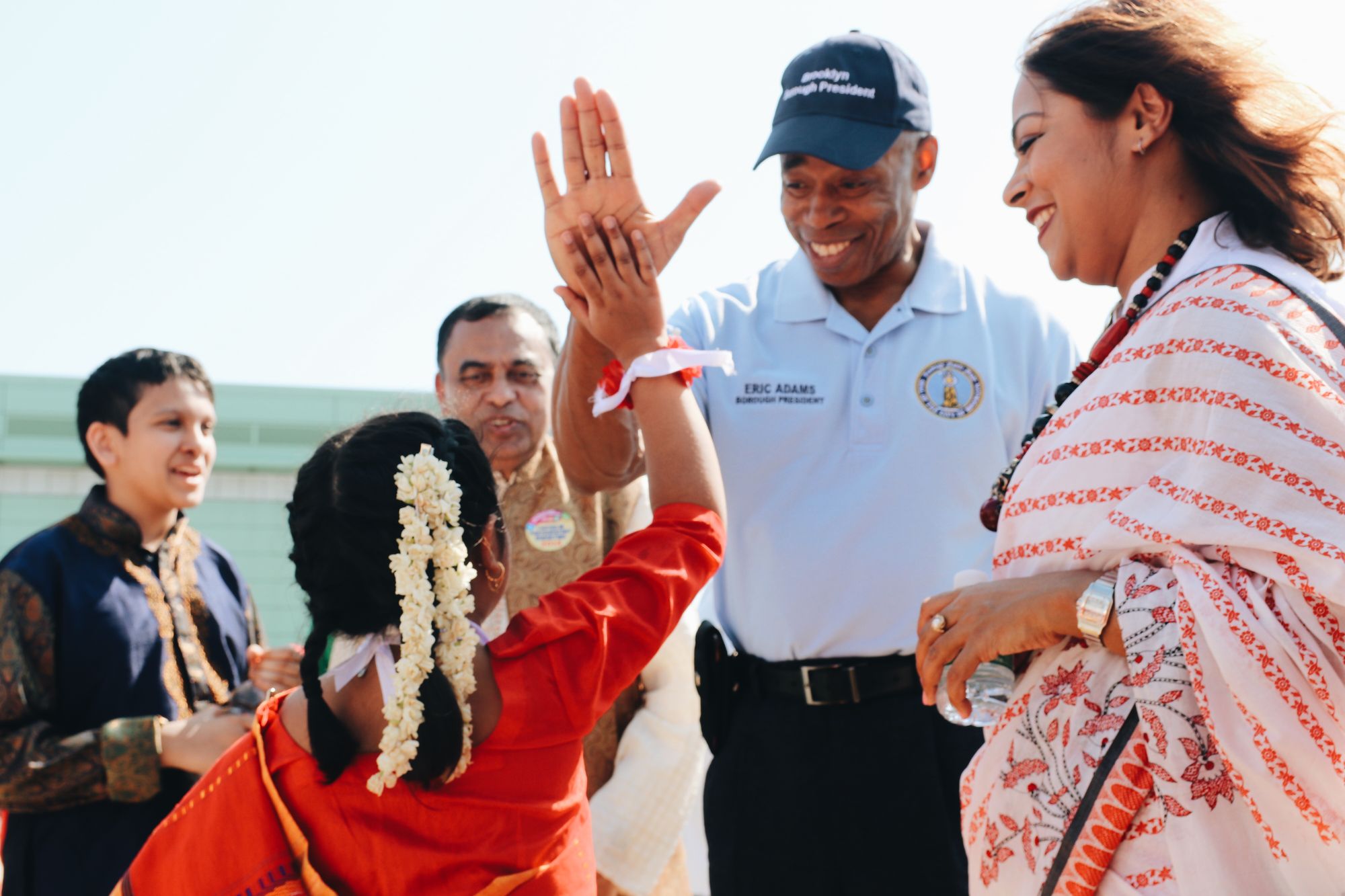 Participating in the parade, along with Bangladeshi's, were those who'd never spoken the language before. Desiree Giunta attended the event with her two daughters who were both holding balloon animals and had their faces painted.
"This is all beautiful," she said. "I think it's very lovely getting to see the culture here today."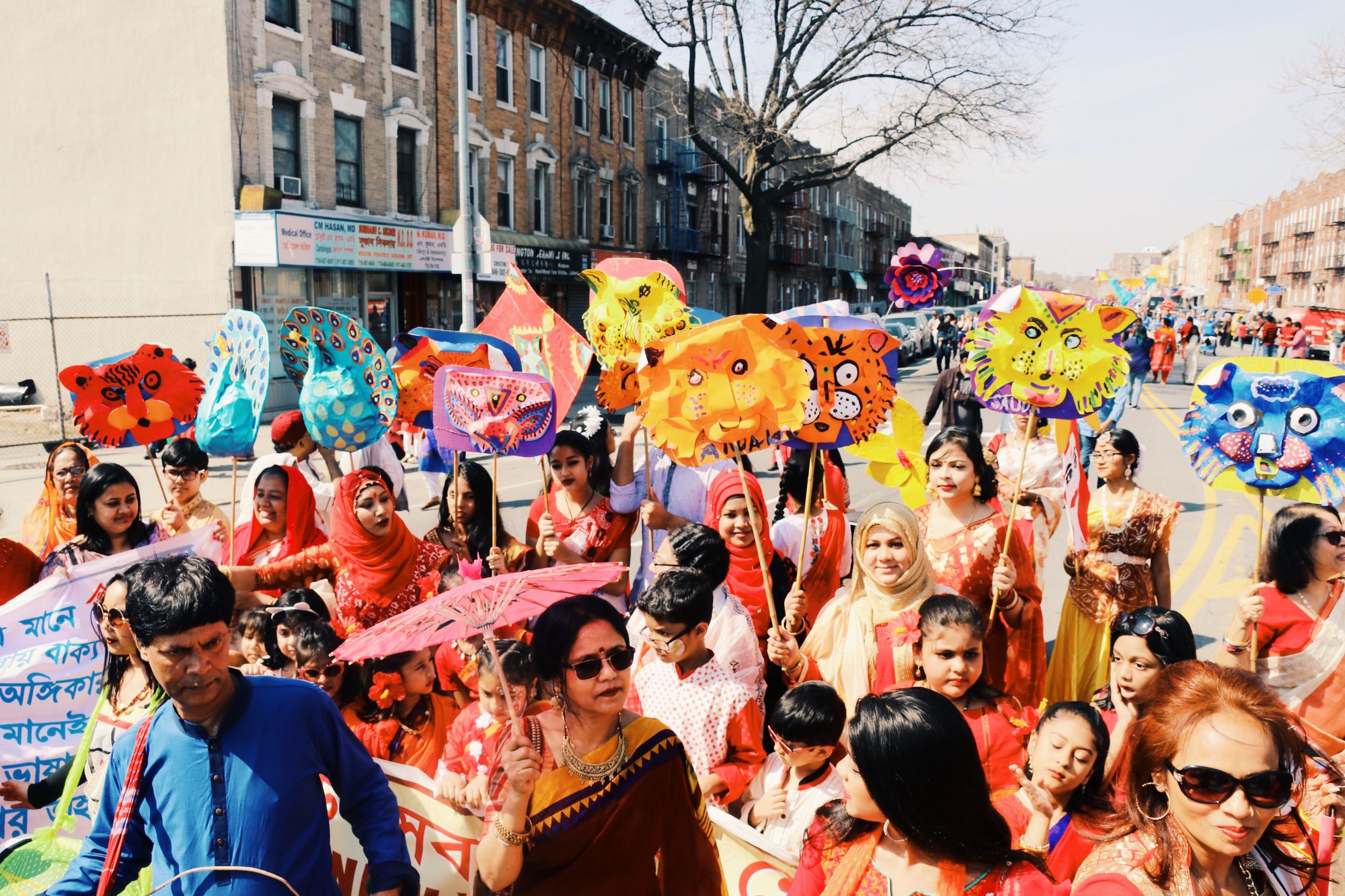 A bike rickshaw was also available with a long line of people waiting to get a ride. While they waited, they sat inside a dholi, a carriage, and took photos.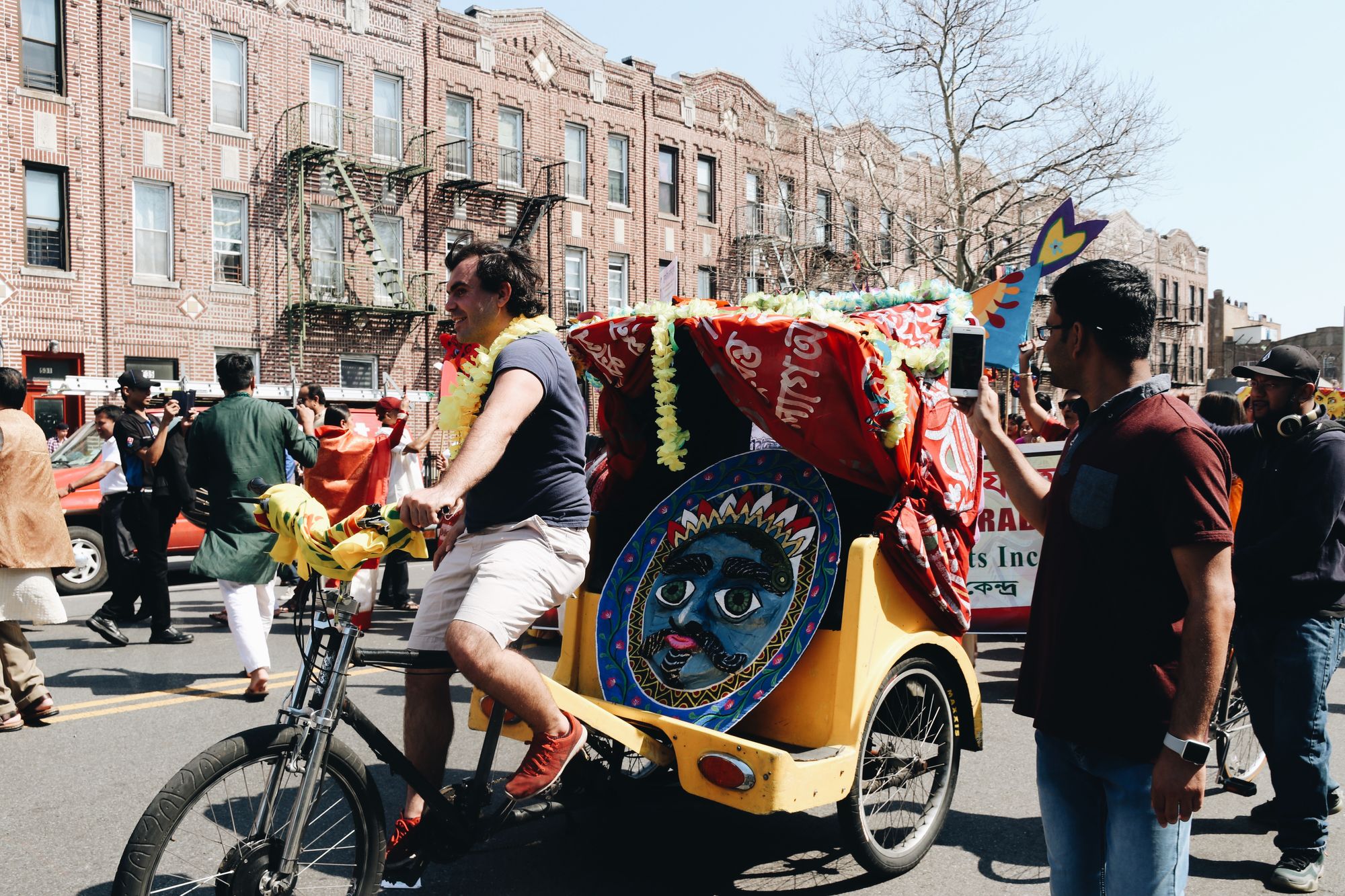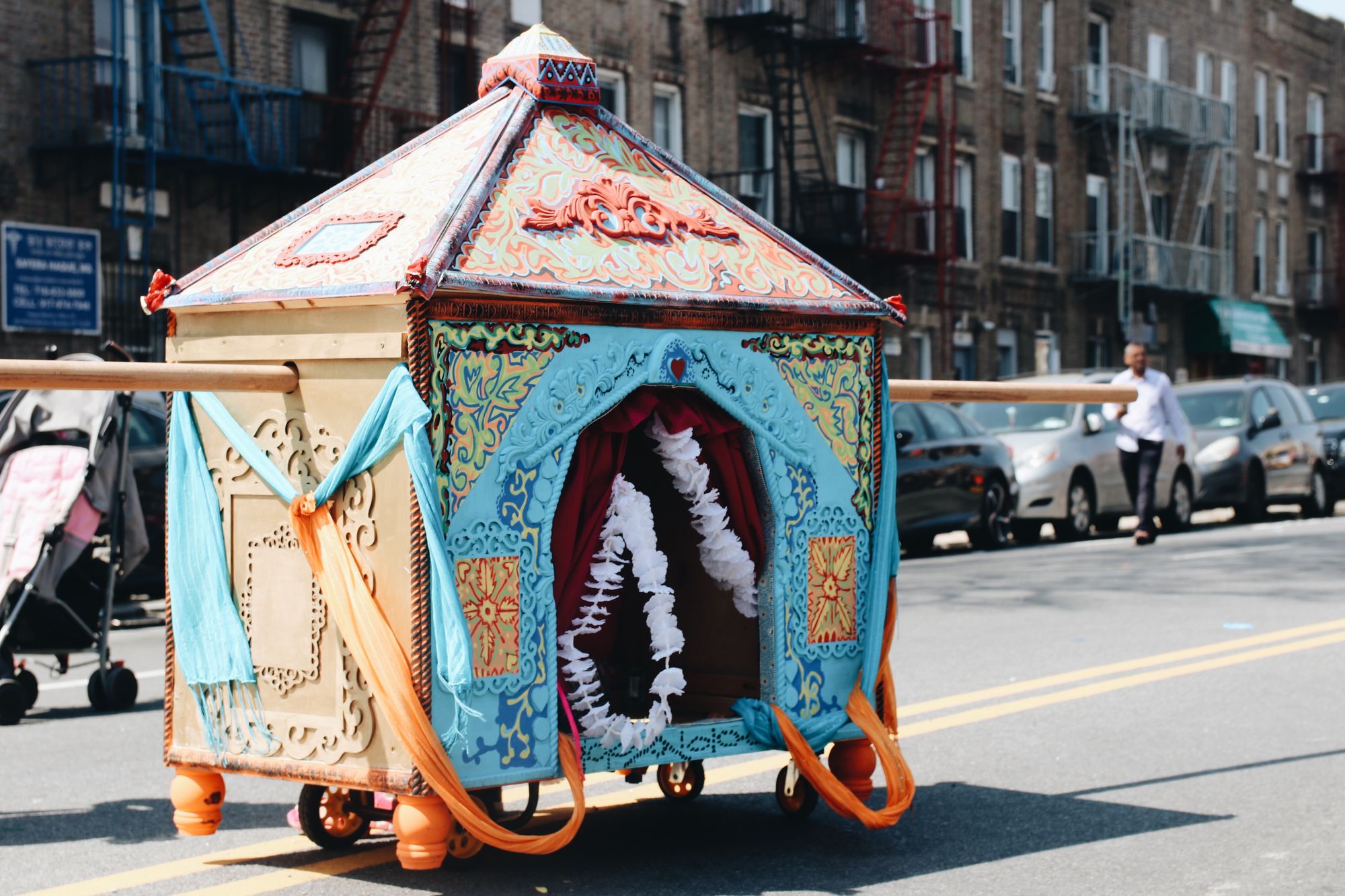 Many children were in attendance playing with each other with their balloon swords, and were presented with a magic show. Right before the parade began, children and adults gathered to sit at the Plaza to see magic in action. Even the adults had fun.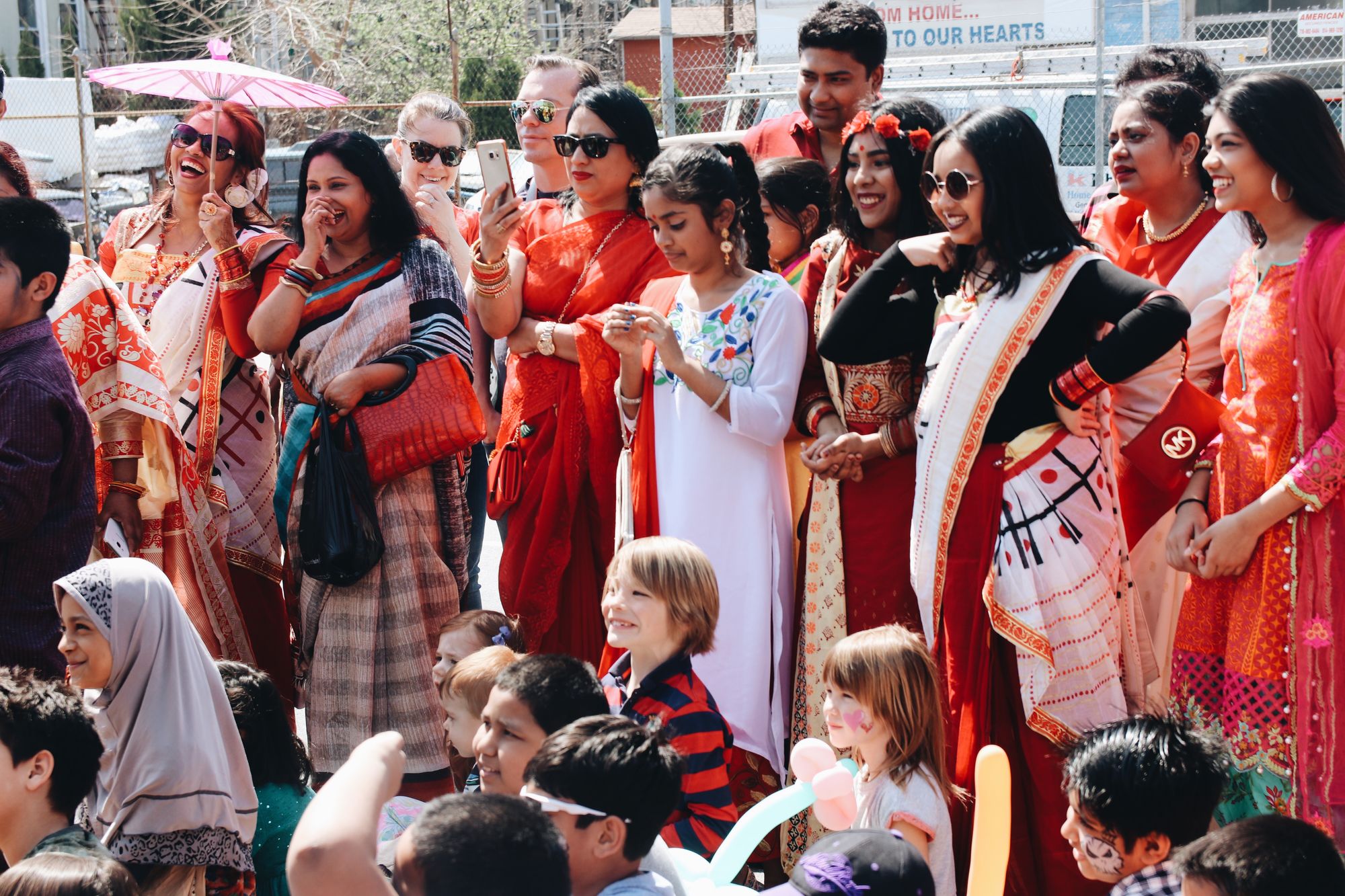 After the magic show, Brooklyn's all-female Brazillion drumline, FogoAzul NYC, gave a performance. The band, along with the rest of the community holding masks, marched to Church Avenue and back to the Plaza.
Kensingtonians were also encouraged to register to vote and to cast their ballot for their favorite Participatory Budgeting projects. The summer-like weather on Saturday made for a perfect day to celebrate a brand new year.