Shorefront Y, Local Orgs, To Host Autism Walk This Sunday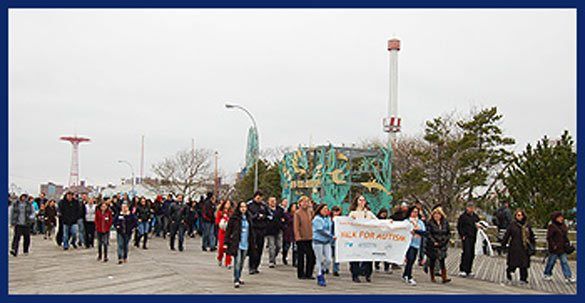 The following is a press release from the Shorefront Y:
This Sunday, June 8, 2014 at 11:00 a.m., the Brooklyn Autism Spectrum Disorder Initiative (BASDI) & the Shorefront YM-YWHA of Brighton-Manhattan Beach will host its Fourth Annual Walk for Autism.
The annual Walk for Autism seeks to raise community awareness as well as crucial funds needed to develop additional programming along with maintaining vital ongoing services that are now available to families living with Autism & other developmental disabilities in southern Brooklyn. All proceeds from the walk will benefit programs at participating organizations serving children with special needs.
Walk for Autism participants, along with local politicians and participating organizations will gather right on the Coney Island boardwalk at the end of West 10th Street. This 1.2 mile walk will then conclude at the Shorefront Y (3300 Coney Island Avenue, Brooklyn, NY 11235) where there will be an opportunity to learn more about special needs programming, network with peers, & enjoy refreshments.
What: Fourth Annual Walk for Autism
When: June 8, 2014 at 11:00 AM (registration starts at 10:00 AM)
Where: Coney Island Boardwalk at the end of West 10th Street in Brooklyn, NY 11224
Cost: Registration fee is just $10 per person and includes a raffle ticket & a free t-shirt.
Early registration is encouraged; however participants will be able to register on the day of the event starting at 10:00 a.m. For those who would like to register in advance or make a donation, please visit the following website:
http://www.shorefronty.org/autism-walk.aspx
Participating BASDI organizations are Shorefront YM-YWHA of Brighton-Manhattan Beach, Marks JCH of Bensonhurst, & Kings Bay YM-YWHA, in partnership with UJA-Federation & J.E. & Z.B. Butler Foundation, & NYC Department of Health and Mental Hygiene.