Shop Local On Small Business Saturday
BROOKLYN – Instead of dealing with long lines, crowds, and headaches at big box stores on Black Friday, consider shopping locally during Small Business Saturday on November 25.
In an effort to support the local small businesses and business owners who make up our communities, American Express launched Small Business Saturday in 2010, on the Saturday after Thanksgiving, to promote sales during the holiday shopping season.
Last year, small business owners made approximately $15.4 million in sales on Small Business Saturday and welcomed 112 million shoppers, according to American Express.
There are 2,100,000 small businesses operating in New York State (companies with fewer than 500 employees), making up 99.8% of all businesses, according to the Office of Advocacy's Small Business Profiles.
Local businesses generate 70% more local economic activity per square foot than big box stores, according to a 2014 Huffington Post article. Shopping locally is also better for the environment, according to the article, by helping to reduce "processing, packaging and transportation waste," which leads to less pollution. Check out the infographics below containing statistics on why it's a good idea to shop locally.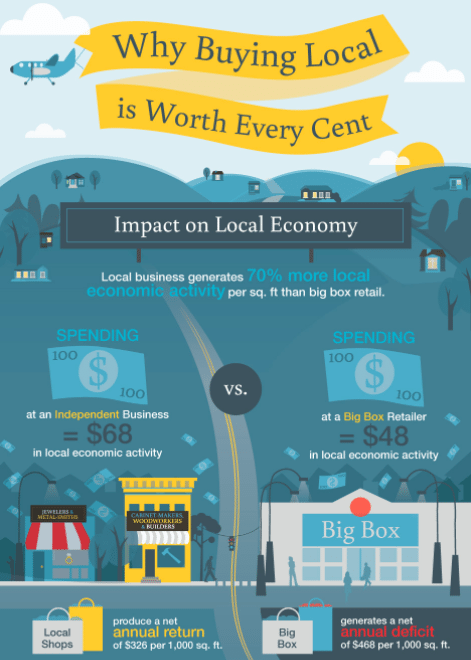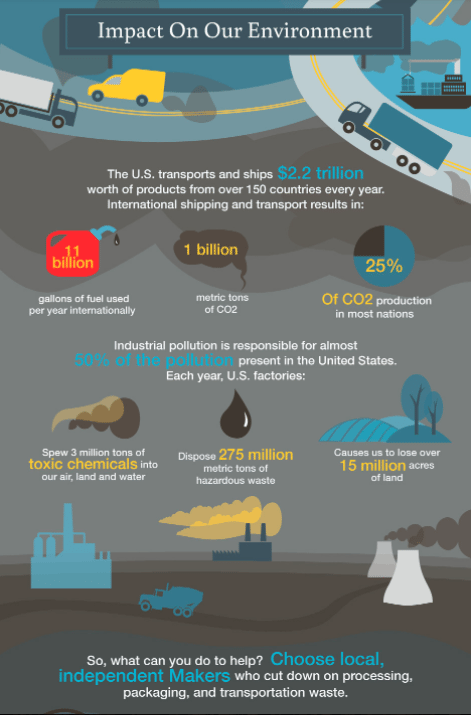 Small businesses help keep local economies strong, so grab your friends and family and go out and shop, eat, and patronize your favorite local businesses this Saturday. Spread the word to #shopsmall!
Check out BKLYNER's Holiday Gift Guides for ideas on places to visit on Saturday. Various Business Improvement Districts (BIDS) have special community events planned for Small Business Saturday and lists of businesses offering special promotions for the day, including the Bay Ridge 5th Avenue BID, Church Avenue BID, DUMBO, FAB – Fulton Area Businesses, Flatbush Avenue BID, Grand Street BID, Montague Street BID, Myrtle Avenue BID, Park Slope Fifth Avenue BID, and Sunset Park BID.
The first annual Greenpoint Fall (Shopping) Crawl coincides with Small Business Saturday. Twenty-five small businesses located in Greenpoint will participate in this all-day event where attendees will enjoy holiday shopping discounts (from 10% to 20% in participating shops), free drinks, snacks, and music.

Over on Montague Street in Brooklyn Heights, shoppers are encouraged to donate new socks, gloves, scarves, and hats to The Family Center. Drop off donations at the corners of Montague and Hicks Streets between 12pm to 2pm on Saturday. Everyone who donates can take a free selfie with an elf (an Elfie). Merchants and small businesses on Montague will offer special discounts, complimentary treats, and free gifts with purchase throughout the day. Learn more here.