Shootings, Robberies, Drugs, Street Vendors & Package Thefts in Flatbush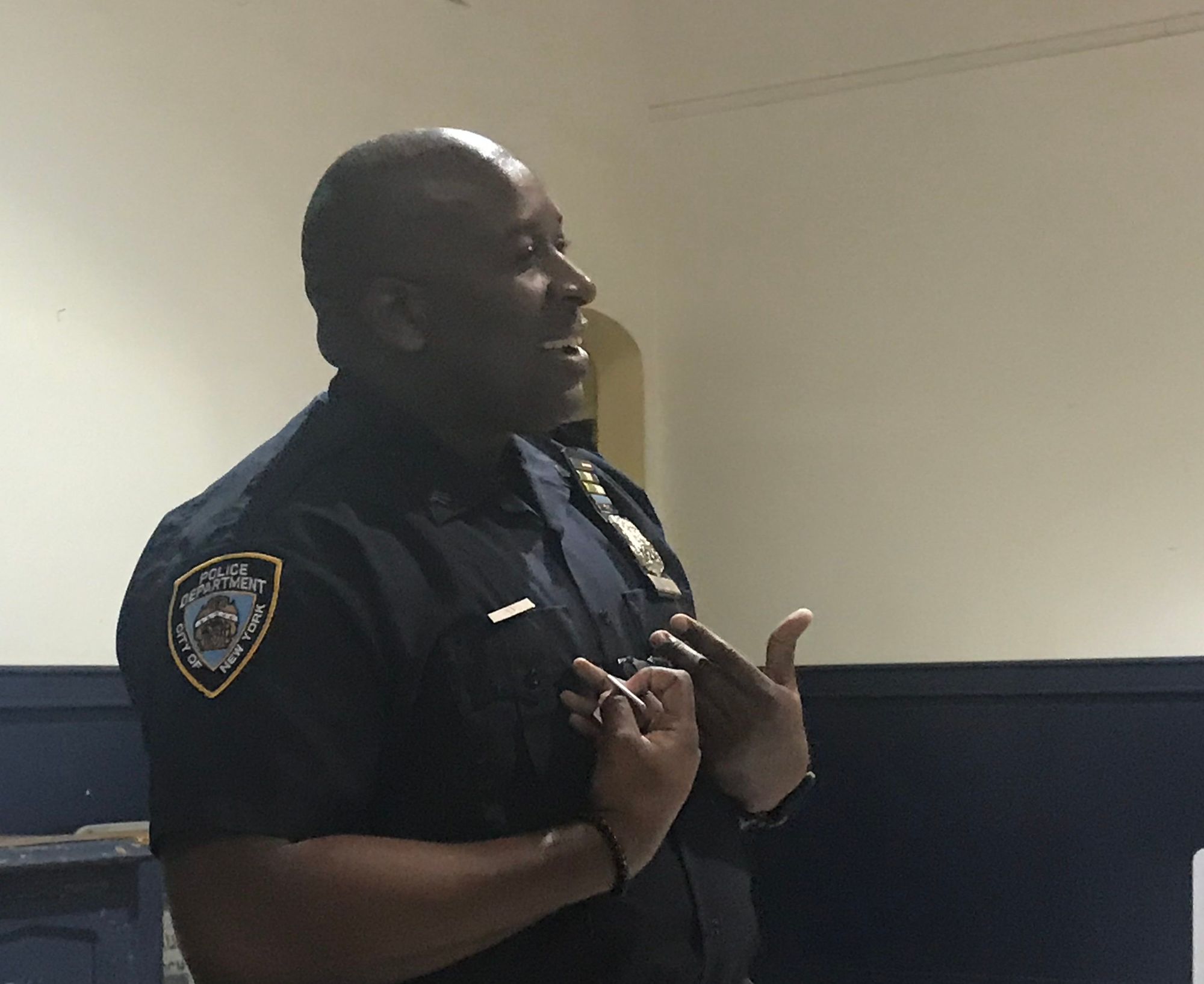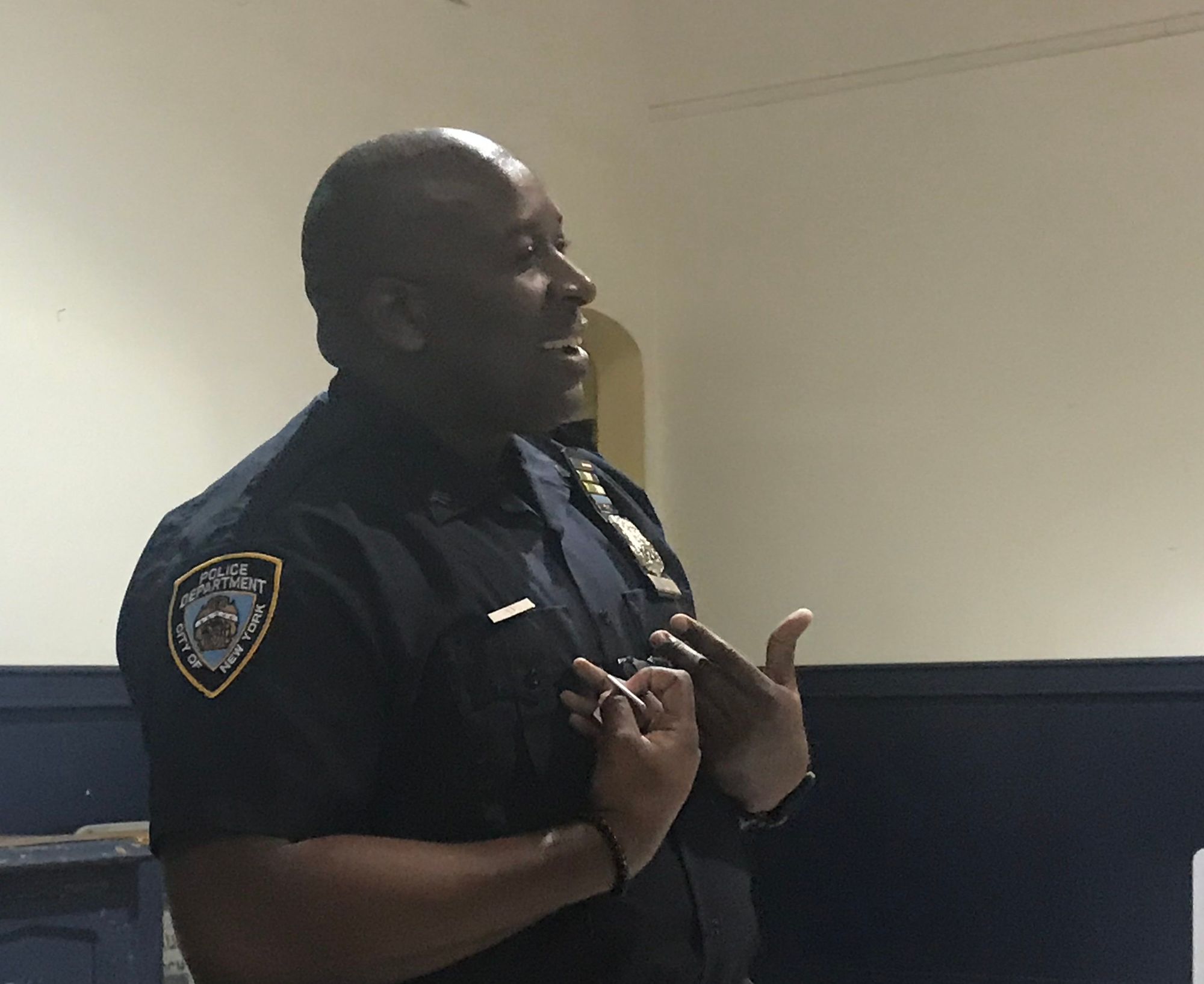 FLATBUSH – Neighborhood Coordinating Officers (NCOs) Sean Callender and Junior Sesay came to St Paul's Church to update us on the summer activity in the D sector.  They were accompanied by two Officers from the Transit Police.  The Transit Police now has NCOs as well.  Their Supervisor Sgt Velez was also present.  But actual NCOs handled most questions and coverage.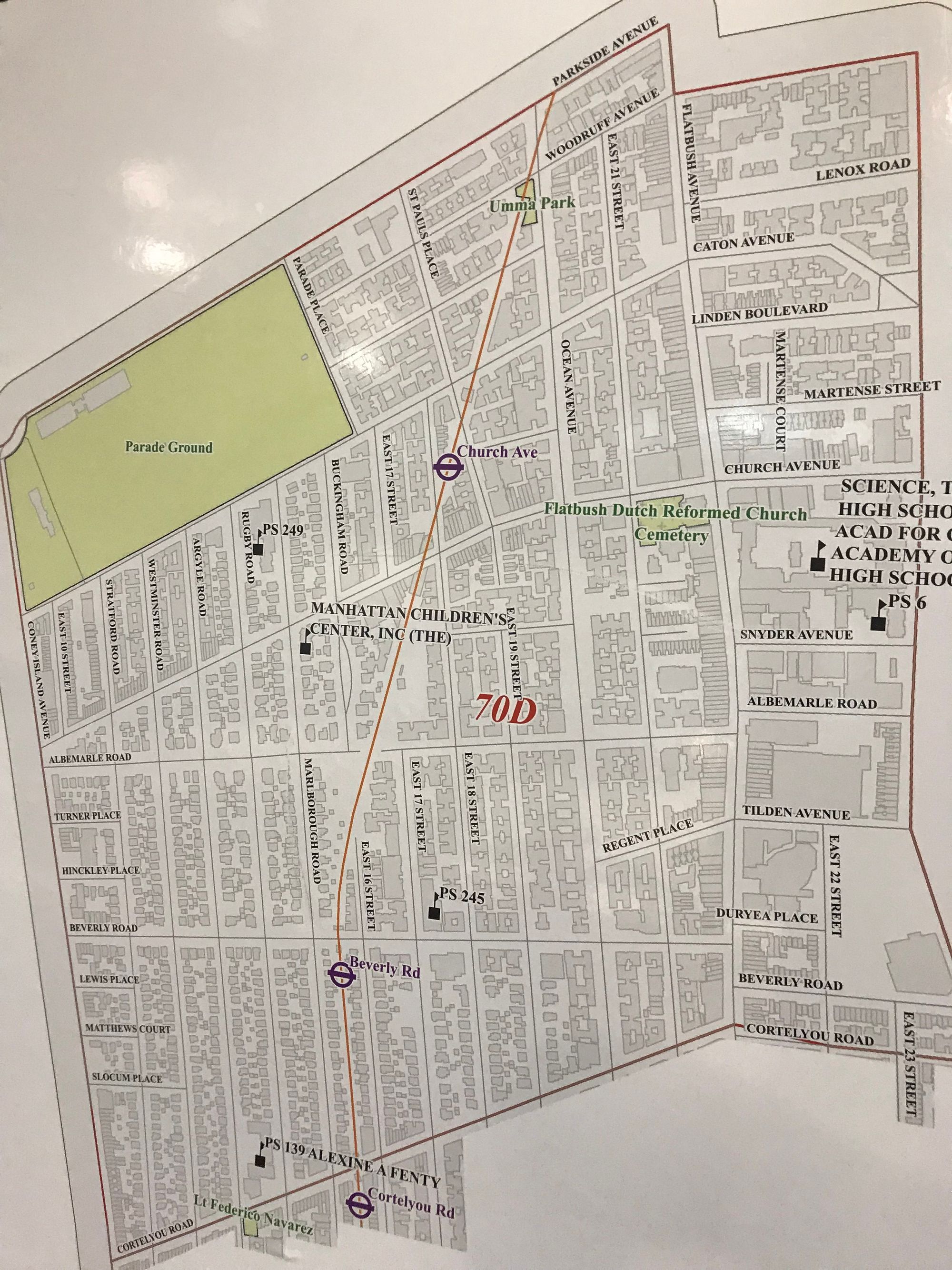 Summer was pretty good for the 70th Precinct. Overall index crimes are down for the year. Significant drops in Grand Larceny Auto (-43%) and Burglaries (-30%), pushed the overall index number to -2%.  But there have been some upticks in specific issues in Sector D:
There were two shootings on East 18th and East 19th streets.  While there were no casualties in either event, one bullet did go through a residential window and scare a family.
There have been 9 small-time robberies.  They are almost always chain snatchings.  The NYPD is closing in on them as it looks like one team of two guys is responsible for most, if not all of them.  They cover a wide range of areas from Caton Ave to Martense.  Two males approach the victim and ask for the time, while the victim is distracted, one guy grabs the chain or phone.   Sgt Velez actually suggested "the best present you can buy your teen is a watch. No one will ask him the time because he won't take out his phone."
There has also been a spike in package thefts.  It is worth it to organize an alternate drop off point if you are not going to be home to receive a package.
Unfortunately, we had an incident in Sector D that reminded us no plan is foolproof.  The Duane Read at Parkside had agreed to be a drop-off point if FedEx did not get an answer at a particular door.  But they don't have security until the late afternoon.  Some packages are too big to fit in the back storage room so they say out by the register.  A man confidently entered the store and walked out with a large package which turned out to contain a wedding dress.  Finding the address of the person who was supposed to receive the package on the box, the thief looked up her phone number and called her up.  He explained that he had the dress and for a price would meet her and return it.  Fortunately, she called the NYPD instead and they were able to pick the thief up at the meeting point.  But the issue of package theft is a hot one these days.
Regarding the new Homeless Shelter on Coney Island Avenue and Beverly, the NYPD has been working with the employees at the Shelter. They went to a series of 5 meetings to reiterate that there will only be employed people living there and no drugs.  After the first 2 months, they are happy to report there has been not a single call to the NYPD regarding the shelter residents.  And there has been no uptick in petty crime (car beaks ins for instance) that sometimes accompanies a homeless shelter arrival.
There has been an uptick in another type of petty crime but it appears to be entirely caused by one woman, Angela Williams an EDP (Emotionally disturbed person).  Ms Williams has wandered in the middle of the night into backyards and onto porches, sometimes taking small items.  She has recently graduated to entering a home.  She has been arrested repeatedly and the NYPD are hoping for some charges that can take her off the streets for a long time.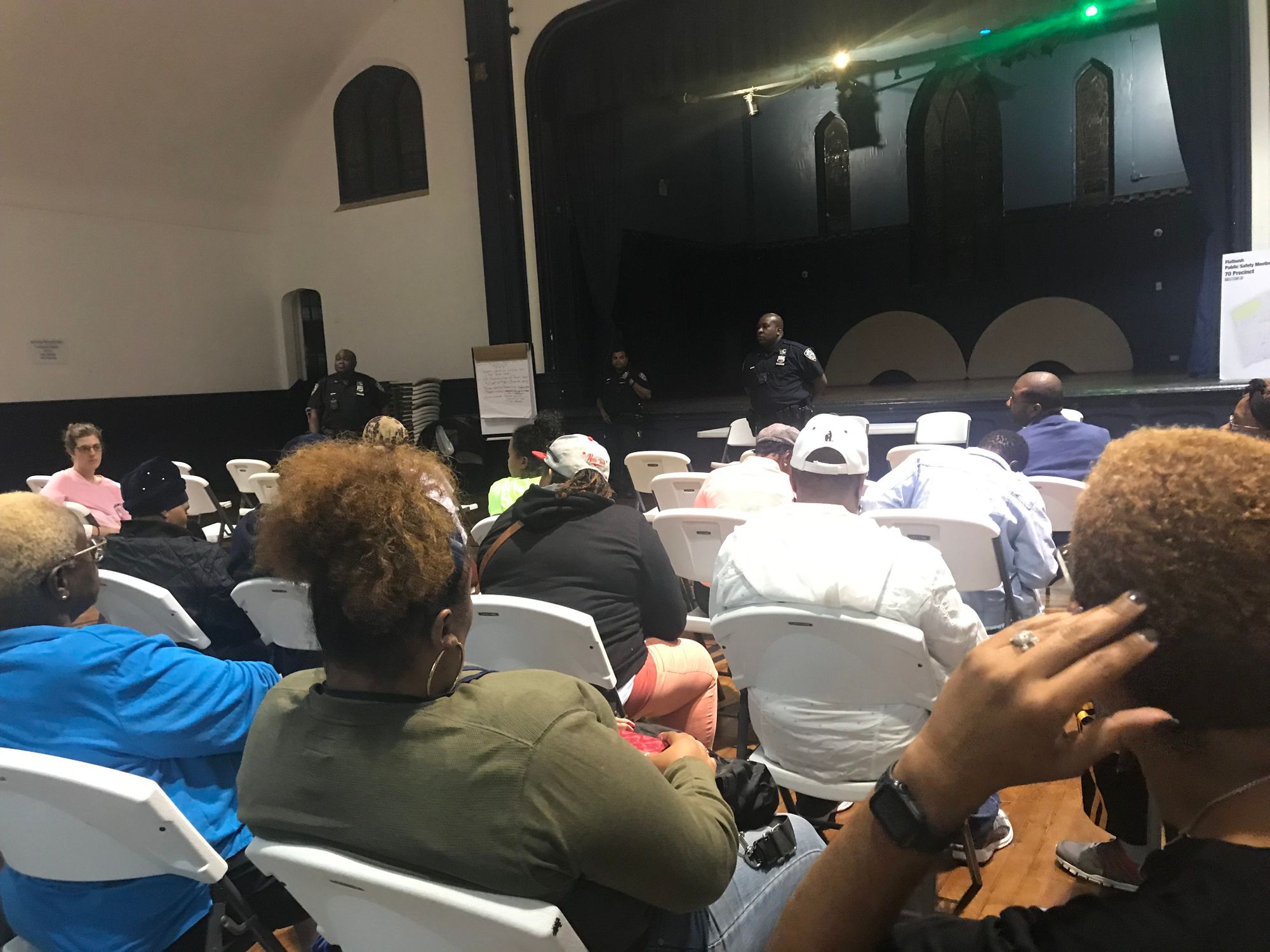 A woman complained about the noise at the Parade Grounds during the night.  She said that people were setting up speakers outside their windows and that 311 calls had gone unacknowledged.  The Parade Grounds are supposed to be closed at night.  There are actual chains on the playground which used to have locks.  They are no longer being tended to.  Officer Callender assured her that the Parade Grounds are the first stop the night shift Officers make when they come on duty.  Another attendee pointed out that if the audio equipment is outside of the apartments, (hanging out windows, on rooftops) it can be confiscated.  Officer Callender added that while it was technically true, they give a warning before taking people's equipment.
Curiously, another woman stood up and called the woman complaining about the noise a liar.  She flat out said the noise complaint here is being highly exaggerated and that no more police presence was required.   Over the course of the meeting, it became clear that this second woman was a street vendor who sold things at the Parade Grounds.  This brought into question whether she had an incentive not to close up the Parade Grounds parties.
Another noise complaint was about Regent Place near East 21st. A woman claims to have made 30 complaints and felt that NYPD was still not doing all they could.  There is an Officer "posted" there, but the woman claims the Officer said he was not there for watching that particular corner.  Sgt. Velez said that the Officer absolutely was there for this purpose and he would look into this claim.   The women who had come to talk about Regent Place explained the building had come under new management.  Responding to pressure from the tenants, the new landlord had closed off access to a basement in which it appears a group of dealers was storing drugs.  Now they were forced out on to the street. "None of these men live in my building or even on the block" one woman complained.   Officer Callender responded that they are doing the best they can and added that they are working to shut down the store on that corner as they believe drugs are being sold out of there as well.
The last set of questions came from a group of women who are street vendors along Church Avenue.   Their complaint was that this was how they provided, and they were being unable to pay the tickets they were receiving.   The Officers explained that the areas they are occupying are congested areas in which pedestrians are being forced to walk into the street.
"I don't want to hurt anyone" Callender explained.  "I understand some of you are providing this way. This is why I gave a lot of warnings this week instead of tickets".   He explained that the law along Church Avenue is now that the street vendors can sell from 9 pm to 9 am, but that during business day hours, they could not.  "You need to have a license, and don't tell me its in the mail.  We have heard all the excuses. We are going to continue to enforce the laws regarding unlicensed vending," Callender said.  "It's not up to us."
Near the end, a woman stood up to announce that she had lived in this area for 30 years, and raised two two kids here.  She had seen a lot of change and wanted to say out loud that the NYPD vigilance was the reason her daughters could walk the streets today.  "I just had to come here and say it out loud" she said.
And she did.