Sheepshead-Nostrand Houses To Get High-Tech Security To Curb Violent Crime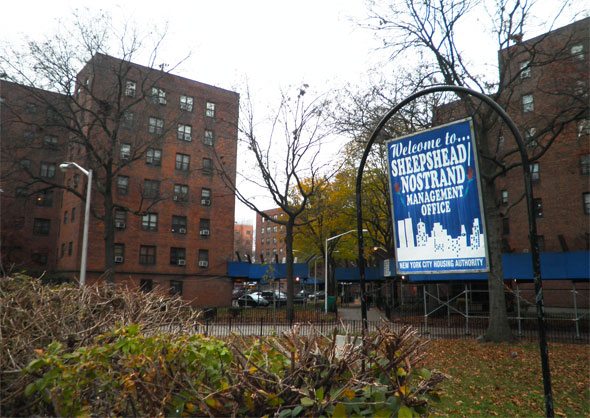 The city is proposing to strategically deploy high-tech security measures in the Sheepshead Bay – Nostrand Houses to deter crime, featuring new cameras, ID-embedded door locks and new intercom systems throughout the 18-building complex.
Concerned neighbors of the Sheepshead Bay – Nostrand Houses pleaded for help from the New York City Housing Authority – which oversees public housing developments in all five boroughs – to reduce crime in the 1,056 apartments, housing about 2,703 residents. This year alone saw a grisly double murder, as well as other violent crimes, and historically accounts for a higher rate of crime than the rest of the 61st Precinct's command. Armed with a trove of funds from locally-elected officials, NYCHA cobbled together residents last Thursday to discuss an implementation strategy.
NYCHA's Assistant Deputy General Manager of Operations for Support Services Brian Clark laid out the steps NYCHA will use, beginning with $525,000 allocated by City Councilman Michael Nelson in 2009 to improve the safety of residents throughout the Sheepshead Bay – Nostrand Housing projects. The cornerstone of the plan will be an advanced fiber optic network of web-enabled IP cameras that integrates with NYPD systems. Each camera will be installed with a mini diagnostic computer to detect any technical problems and alert system managers.
"We're also recommending one video management system." Clark continued. "It's actually recommended by the Department of Information Technology of New York City. It is also used by NYPD, their terrorism task force. It is called the Genetic System. This will enable us to share video with NYPD seamlessly."
Residents at the meeting welcome the new surveillance cameras, saying that technology would serve as a practical deterrent to more violent tragedies.
But the plan is not without its gaps. One resident wanted more information on who would be monitoring the cameras overnight. Clark revealed that no one would be monitoring the cameras at all. The system will not provide response to crimes as they happen, but instead they would be resources for the NYPD to go back and watch footage if a crime does happen, and use that recorded footage to better track down and prosecute the criminals. It was also emphasized that with these security cameras in place, people may avoid committing criminal acts if they know they are being watched.
"We're so sure it's a much better deterrent to crime, and if there is a crime, then there's a much better chance of apprehending the felon before he or she can do it again to someone else," said City Councilman Michael Nelson.
The cameras are set to be installed by the first quarter of 2012, with hopes that work will begin in January and will finish no later than March. NYCHA, along with the NYPD and the tenant association leaders, will do a walk-through of Sheepshead Bay – Nostrand Houses to determine which areas should get the cameras first. It's expected that emphasis will be placed on entrances, elevators, rooftops and mailboxes.
Talk of implementing the cameras picked up after Nelson blasted NYCHA for failing to use the funds he allocated two years ago. At the time, the Daily News quoted NYCHA officials suggesting they needed more funds for cameras, and instead preferred installing a new intercom system.
Those intercoms remain part of an expanded plan for increased safety in the housing project that also includes new high-tech keys. Tenants will have electronic keys for the front doors programmed to each member in the apartment, as opposed to standard keys that can be easily duplicated and distributed to people who do not live in the apartment building. The intercoms, which many residents said do not work properly, would also be changed to a direct dial call out system, directly linked to residents' home phone or cell phone.
While Clark stressed the importance of changing the entrance doors and intercom system, some residents at the meeting stated they did not want NYCHA to use any of the allocated $525,000 to go towards those projects.
"The most important thing is the cameras. We need more cameras. I think it would be a waste of money and effort if you create the intercoms when you could be using that money for cameras," stated one resident.
Clark made it clear that all of the $525,000 would be used only towards providing surveillance cameras, and more money would need to be allocated before the extra steps are taken.
The buildings – which are bordered by Nostrand Avenue and Bragg Street, and Avenue X and Avenue V – are worth the extra attention and funds, elected officials said.
"[Approximately eight years ago] half the crime being committed in this neighborhood are people coming to, or leaving from, buying or selling drugs from Sheepshead Nostrand Housing," City Councilman Lew Fidler stated at the meeting. "I thought that was outrageous and unacceptable. I will do everything in my power to ensure that, one, we get the police protection we need, two, we get the cameras we need, and three, we work with NYCHA to get rid of those tenants that are … breaking the law who should be out."