Seven Great Ways To Celebrate Chinese New Years In Brooklyn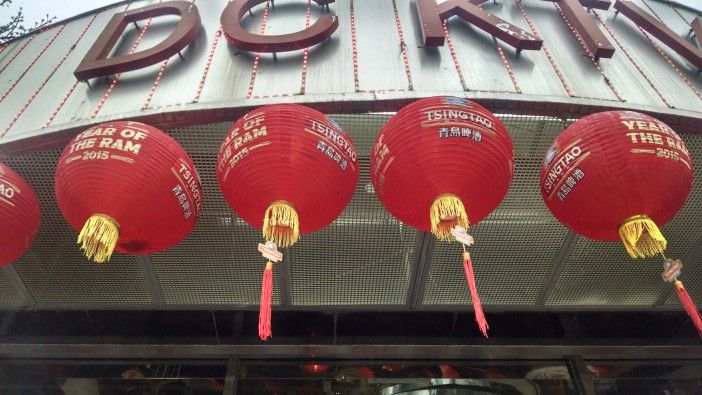 It's the year of the ram!
February 19 marks the Chinese or Lunar New Year, and since Southern Brooklyn is home to a large Chinese-American community, there will be many opportunities to celebrate this lively cultural event all month long.
According to Chinese astrology, 2015 is the year of the ram or sheep. Every year within a 12-year cycle is associated with a different animal, including the rat, ox, tiger, rabbit, dragon, snake, horse, ram, monkey, rooster, dog, and pig. People who are born in a ram year are associated with kindheartedness, gentleness, shyness, and a strong sense of justice.
Here are seven kid-friendly ways to usher in the Lunar New Year in and around the neighborhood:
1. Annual Parade in Sunset Park
Sunset Park is gearing up for its annual parade, hosted by the Brooklyn Chinese-American Association, a 28-year-old tradition for the neighborhood. The parade will begin on 8th Avenue and 50th Street, and will feature performances by children, lion dancers, a firecracker show, and more.
In anticipation of the parade, lights and decorations have already been set up all along 8th Avenue.
When: Sunday, February 22, starting at 12pm
Where: 8th Avenue & 50th Street
2. Kids' Lunar New Year Festival At P.S. 310
The Chinese Planning Council of Brooklyn is throwing a year of the raam festival at P.S. 310 with many kid-oriented activities and performances such as a lion dance, a martial arts performance, a lucky messages writing contest, a traditional costume contest, and more.
When: Saturday, February 21, 11am-2:30pm
Where: P.S. 310, 942 62 Street
3. Prospect Park Zoo Sheep Meet-and-Greet & Puppet Show
The Wildlife Conservation Society (WCS) will be throwing a family-friendly Lunar New Year event at Prospect Park Zoo, with live animal exhibits, craft projects, a puppet show ("Hao Bang Ah, Sheep!," presented by Chinese Theatre Works), a Zodiac-themed scavenger hunt, and more. There will also be a photo gallery highlighting the work of the WCS's efforts to protect wildlife in China.
When: Saturday, February 21 & Sunday, February 22, 10am – 4:30pm
Where: Prospect Park Zoo, 450 Flatbush Avenue
4. Celebrate With Senator Golden At New Utrecht High School
This free event will include a lion dance, Cantonese opera, singing, dancing, Kung Fu performances, a lucky draw, and refreshments. In addition, a Happy Ram coin and blessing gift bag will be given to each guest and performer.
When: Sunday, March 1, 2pm-5pm
Where: New Utrecht Hight School, 1601 80th Street
5. Peddler Drum Crafts & Party at New Utrecht Library
Get crafty at New Utrecht Library by making a rattle-drum for the Lunar New Year that can be used at Sunday's parade.
The library will also be hosting a Lunar New Year party for all ages, where guests can learn greetings in Chinese, make crafts, join in the traditional lion dance, and watch the YZY Concord Chorus perform.
When: Drum Crafts on Thursday, February 19, 2pm – 3pm; Celebration on Saturday, February 28, 1pm – 4pm
Where: New Utrecht Public Library, 1743 86th Street
6. Boody Junior High School Lunar New Year Gala
David A. Boody Junior High School (I.S. 228) will hold its sixth annual Lunar New Year celebration with performances by students and professional entertainers. The school's Chinese dancers, who have performed throughout the city, will headline the event. The school's student musicians, hip hop dancers, cheerleaders, and famous Chinese dance troupe will be entertaining the audience. Admission is free.
When: Thursday, February 26th at 6pm
Where: 228 Avenue S, in the auditorium.
7. Lunar New Year in Sunset Park
This free annual event will feature Chinese folk performances, martial arts demonstrations, games for children, give-a-ways, a lion dance, and more.
When: Saturday, February 21, 12pm-3pm
Where: Sunset Park Recreation Center, 43rd Street at 7th Avenue