Semi-Successful Chain-Snatching Robber Stalks JMZ Line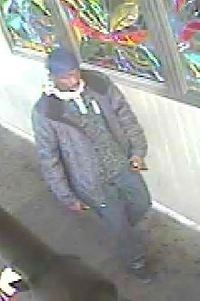 BUSHWICK/BED-STUY – A chain-snatching robber has been terrorizing jewelry-wearing straphangers along the JMZ line since October, striking victims at the Myrtle and Kosciuszko Stations.
Just after noon on Thursday, October 12, the suspect approached a 31-year old woman on the staircase of the station near DeKalb and Broadway, grabbing her chain and attempting to forcibly remove it, said police. In the struggle, the victim was pulled down the stairs, suffering scratches and bruises about her neck and body. The perpetrator was unsuccessful in stealing the chain, however, and fled.
Then, a week and a half later, on Monday, October 23, the suspect returned to the same station, this time around 10:30 am, said police. There he attacked a 48-year old woman, once again grabbing her chain and trying unsuccessfully to remove it. The victim was uninjured and the would-be robber fled empty-handed yet again.
That Friday, October 27, the thief switched stations and tactics, heading to Myrtle Ave. As the doors opened on a southbound J train pulling into the station, the thief stole the cell phone out of the hands of a 67-year old woman riding the train, said police. He fled on foot in an unknown direction.
Finally, the next day, October 28, the emboldened thief struck again at the same station, switching from targeting old ladies to a 22-year old man. The thief approached the young man on a southbound J train, snatching a $2,000 chain from the victim's neck and fleeing on foot, said police.
Surveillance video was obtained by police at the time of the second incident, and the suspect is described by authorities as black man,about 5'8" and 165 lbs., last seen wearing all dark clothing.
Anyone with information in regards to these incidents is asked to call the NYPD's Crime Stoppers Hotline at 800-577-TIPS or for Spanish 1-888-57-PISTA (74782). The public can also submit their tips by logging onto the Crime Stoppers Website at WWW.NYPDCRIMESTOPPERS.COM or texting their tips to 274637(CRIMES) then enter TIP577. All calls are strictly confidential.