Sculptor Eric Pesso Transforms Fallen Trees Into Works of Art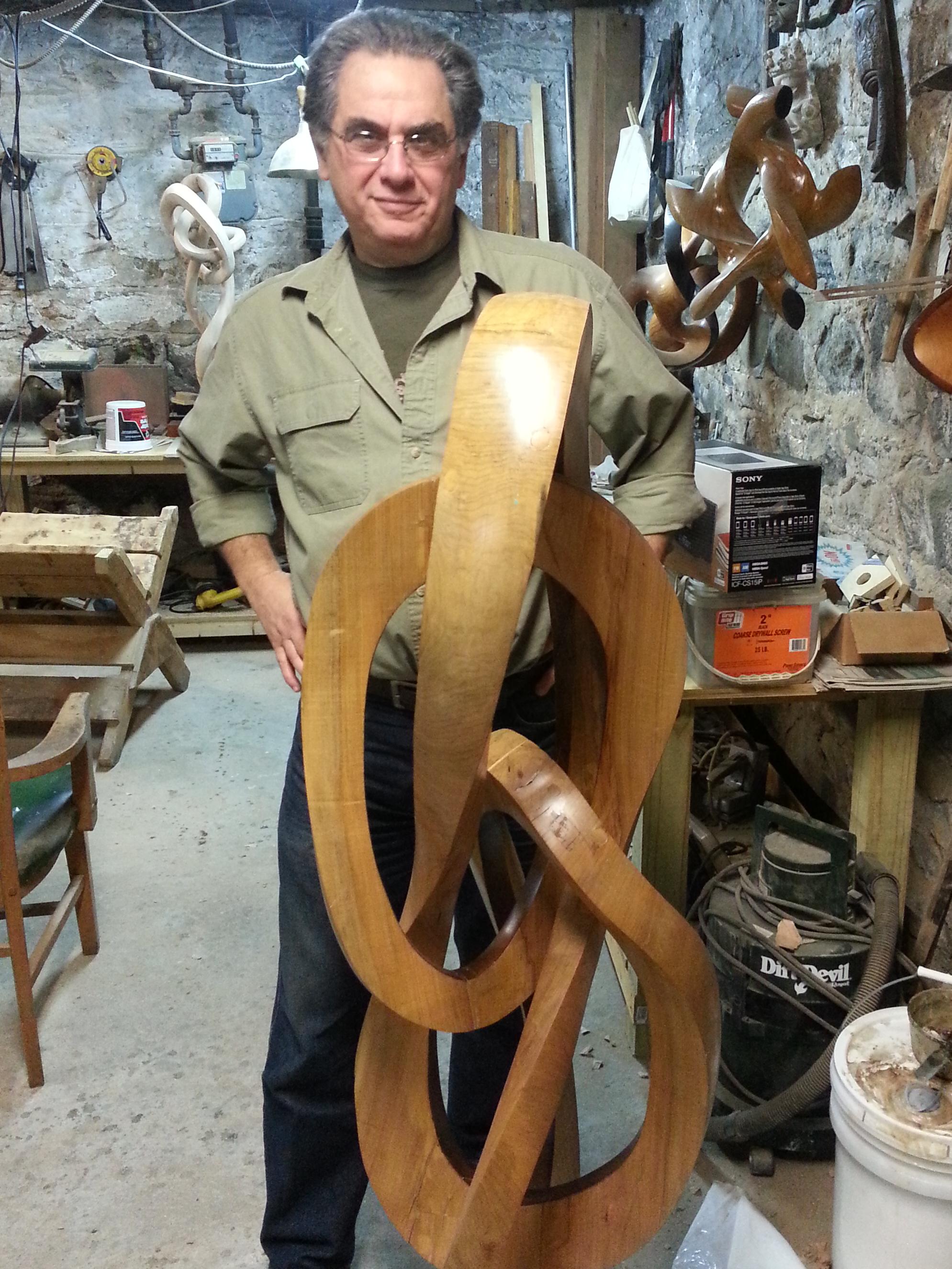 If you were wandering the neighborhood during the GO open studios in September, you may have found yourself at a studio on Argyle Road belonging to the talented local artist Eric Pesso. A mathematician and a computer programmer by trade, Eric carves his passion for mathematics into intricate, abstract wooden sculptures. Each piece that he sculpts, no matter how profoundly complex, is meticulously carved out of just a single wood log over the course of several months.
Eric, who moved to Ditmas Park with his wife in 2004, says the area is very accommodating to artists.
"I found more artists here than I thought there would be," he told us. "I was pleasantly surprised by the art community here."
About a year ago Eric joined the Flatbush Area Studio Tour, and after his art was on display at his home during GO, he was voted in as a finalist as one of only 10 nominees out of every artist who participated. He is honored by the recognition he has gotten through GO.
"I didn't win first place, no," he said, "but being in the top ten was still a great experience."
Eric begins each project by creating either a wire or clay representation of an idea for a sculpture, then he looks for a log that will accommodate the shape he wants. He gets all his wood from trees that are taken down in the neighborhood by the Parks Department. Recently, he got five logs from a tree that fell on Stratford Road during Hurricane Sandy.
"I actually wanted to get these two perfect logs that were from the oak that fell [on Argyle Road during Hurricane Sandy], but in all the chaos the clean-up crews accidentally took them away. It's okay, though, I just saw a lot opportunity in those logs," he said.
He ended up receiving one piece of that tree, just not the two he wanted. All the wood he got from the storm is in his garage, awaiting his tools.
Eric carves by hand, using just a chisel, mallet, rasp and scraper. Well, sometimes he uses a chainsaw.
Looking at a particular piece in his living room, he said, almost to himself: "I guess I could have saved time by using the chainsaw on that one. Oh well."
Eric is a bit of an unconventional artist. He has had very little formal training. Growing up, he was never much into art, and he certainly didn't see himself becoming an artist. It wasn't until he was about 30 years old that he developed a desire to sculpt. In the mid-1970s he studied with master carver Masami Kodama who taught Eric much of what he now knows about creating sculptures. Eric continued to hone his craft, but not until the late '90s did he begin to sculpt consistently, producing two or three finished pieces a year.
"I do everything by hand, so it takes a really long time," he said. "Especially since I only use a single piece of wood for each piece."
The sculptures are inspired by Eric's love of geometry. Some are in perfect symmetry and others are twisted into complicated shapes; they all seem to capture impossible moments.
On a Sunday afternoon, when the weather is nice, if you happen to be on Argyle Road, just past the schoolyard, amid the cacophony of screaming children at play, you will probably hear Eric with his mallet and chisel, cutting into a piece of wood that will one day become a masterpiece.
If you would like to see some of Eric's art on display, he will be showing seven pieces at group art show called BRURAL: Peripheral Vision from Project 59, opening tomorrow, January 18 at 7pm in The Active Space, 566 Johnson Avenue, Bushwick. The show runs through February 24.