Save local journalism. Save BKLYNER.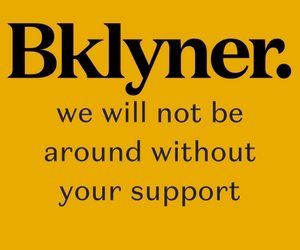 Dear neighbor,
Over the years, you've come to rely on the reporting of BKLYNER, and so many of the neighborhood news sites we published before it – Ditmas Park Corner, Sheepshead Bites, Bensonhurst Bean, Park Slope Stoop, South Slope News, KensingtonBK, Sunset Park Voice, Fort Greene Focus.
No one covers Brooklyn with the same tenacity and integrity as our small but devoted staff. We've won awards, and more important — we've gotten results, from new laws to new crosswalks. We've exposed a secret oil spill, cast light on a police commander's brutal record, and advocated every day for Brooklyn's communities.
But in 2017, local independent media sources like ours are in real trouble. Revenue from advertising and classifieds that once fueled local news is now being lost to Facebook, Google, and other global internet giants. We cut our costs deeply last year, but it wasn't enough.
Local newspapers are dying, and local news sites are shuttering every week. Just last month, Gothamist and DNAinfo called it quits. I must be frank in telling you that BKLYNER may not be far behind. We cannot make ends meet under our current advertising-based business model. Like hundreds of other news outlets around the country, we've found it impossible to sustain a robust news organization on local ad sales alone.
We're not giving up just yet. That's not what Brooklynites do. Before we lose our neighborhood news source, we want to give you an opportunity to help support it. We're asking our strong community of readers to invest in BKLYNER by becoming patrons at whatever level works for you.
We need 3,000 subscribers – less than 1% of our readers – to support us at $5/month. If we do not reach this number, we will stop publishing at the end of December.
Will you show your support for Brooklyn-based, Brooklyn-focused reporting by giving now?
If you think Brooklyn deserves its own independent local news source, please give now.
If you have questions or concerns, please let me know. I consider our readers a partner in this venture as we move forward and I welcome your insight and feedback.
Thank you for your loyalty and support,
Liena Zagare
Editor/Publisher/BKLYNER.
Become a BKLYNER subscriber today!
If those numbers are more than you can afford, please consider supporting us by taking out a Community Subscription – $24.99 a year or just $1.99 a month. Every little bit helps!
Want to give more? Have other ideas? Email me at Liena@bklyner.com.