Saturday: Kaiser Park Cleanup… With Robots!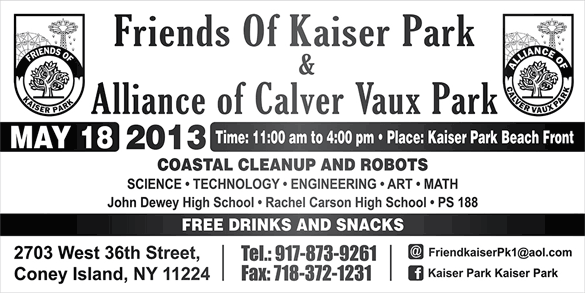 Friends of Kaiser Park and the Alliance of Calver Vaux Park are hosting a coastal cleanup on Saturday, May 18, that will also show off some fancy shmancy robots coming out of the Science, Technology, Engineering, Art and Math (STEAM) programs at local schools.
The cleanup kicks off at 11:00 a.m. and last to 4:00 p.m. at the Kaiser Park Beachfront, 2703 West 36th Street. They're seeking volunteers to help make our neighborhood a little prettier, alongside students from John Dewey High School, Rachel Carson High School and P.S. 188.
This free event is family friendly and kids are encouraged to attend. The day is chock full of family and marine education activities.
Back in October, we wrote about how these groups – with help from Rod Roddenberry – debuted a remotely operated underwater vehicle (ROV), which is a product of the City Parks Foundation's Coastal Classrooms program in partnership with students from John Dewey High School. Educators hope that the ROV will allow students to better see and understand the world located underneath our local waterways, and it's going to be in use this weekend.
For more information, please call Anthony Feliciano, Partnerships for Parks at 646-325-5317 or go to www.facebook.com/kaiserparknyc. If you would like to volunteer, please email Afeliciano@CityParksFoundation.org or call Feliciano at 646-325-5317.