Safety Improvements Proposed for Atlantic Avenue in East New York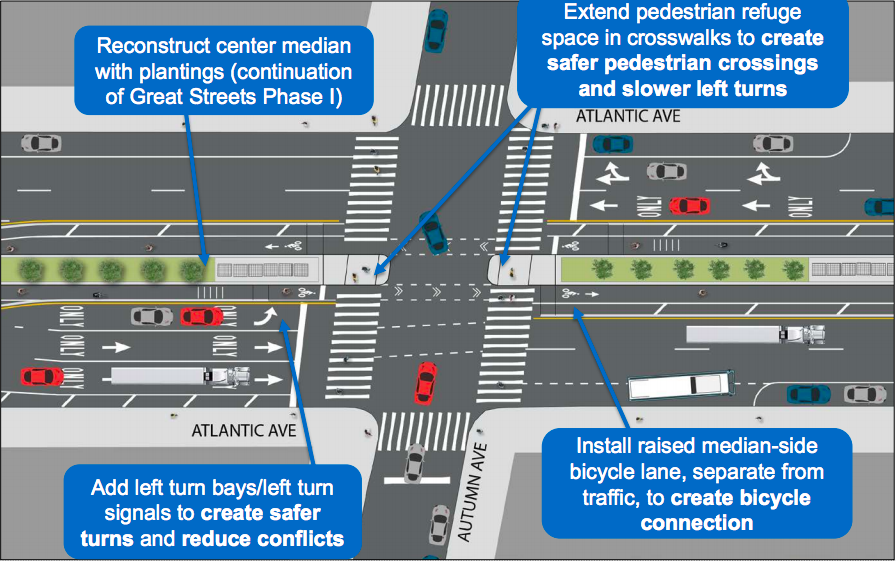 EAST NEW YORK – The DOT is planning some major safety upgrades to the far end of Atlantic Avenue in Brooklyn as part of the $250 million Vision Zero "Great Streets" program, presenting the proposed changes at a Transportation Committee meeting for CB5 in East New York last night.
In an effort to reduce fatalities and injuries along Atlantic Avenue, the DOT is proposing a series of improvements starting at Logan Street and proceeding east into Queens. The avenue has seen 5 fatalities in a one-mile stretch since 2010, with more than 670 pedestrian injuries, making it a Vision Zero priority corridor.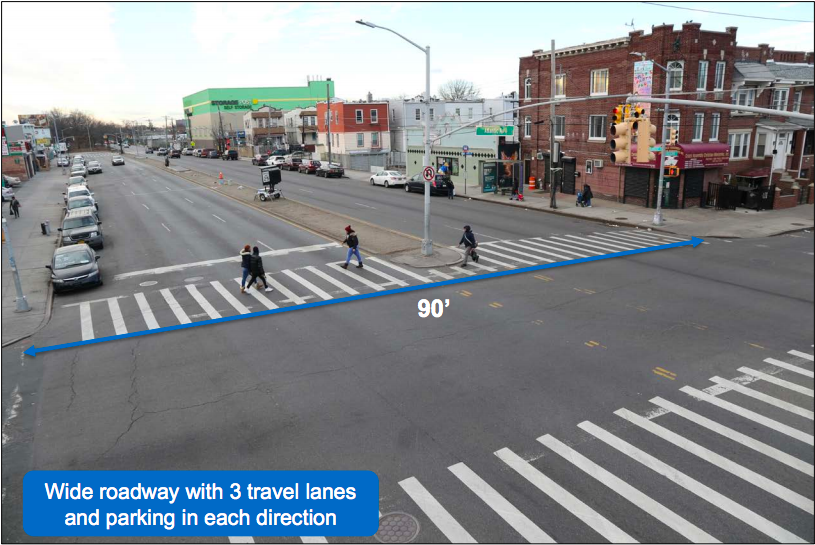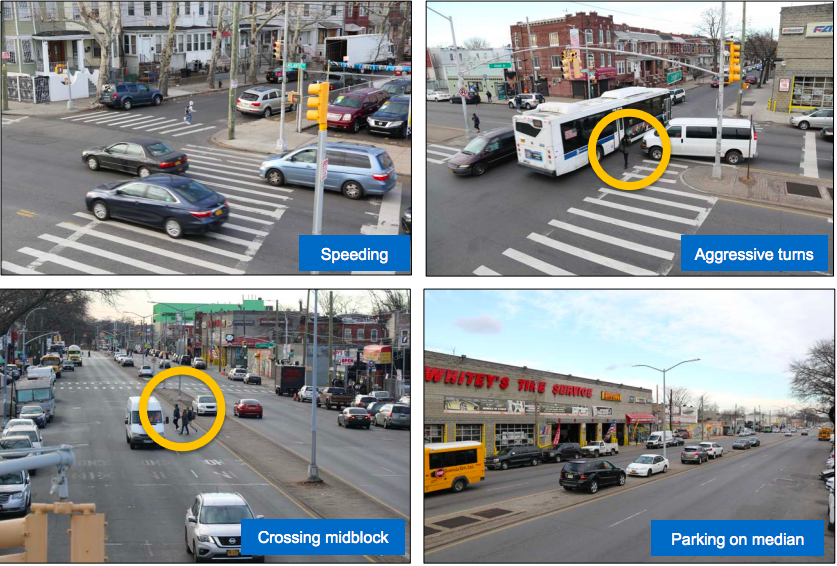 Currently, the 90-foot crosswalks are difficult for pedestrians to navigate—especially for schoolchildren and the elderly. The DOT's proposed improvements would extend the median into pedestrian islands in the center of the crosswalk, giving pedestrians shelter at the halfway point and slowing down aggressive left turns.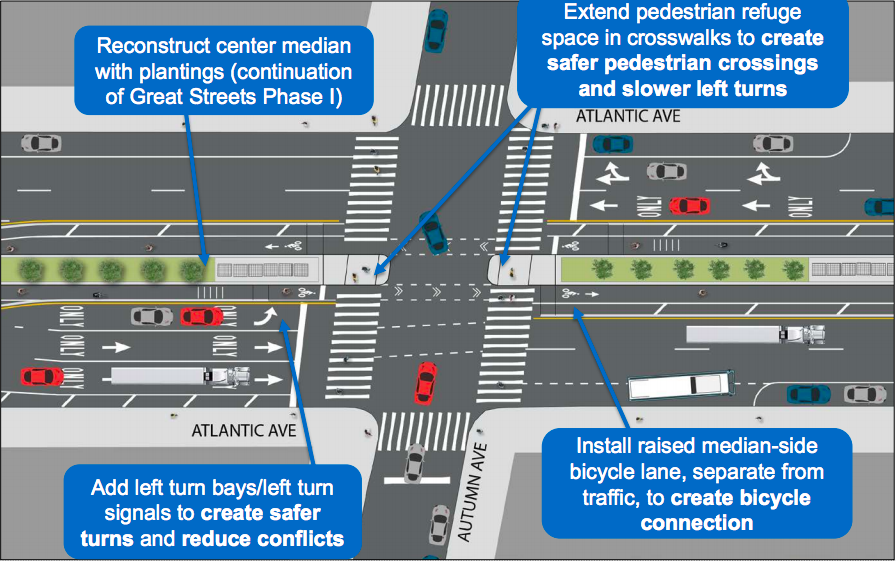 Additionally, the proposed changes would create a protected bike lane along the center median in both directions, protected by a curb-height barrier. This would be a key link connecting commuters to the improved bicycle infrastructure in western Brooklyn neighborhoods.
In 2015, a similar protected, median-side bike lane on Queens Boulevard resulted in a 181% increase in cyclists and a 45% decline in pedestrian injuries, according to the DOT.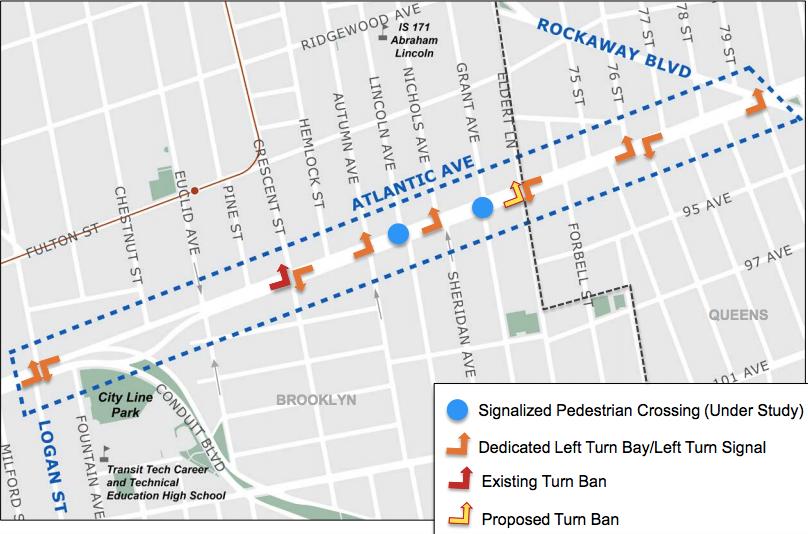 Dedicated left turn bays and left turn signals would further improve the flow of traffic and reduce congestion. The DOT's current plan calls for adding turn bays eastbound at Logan Street, Autumn Ave and Nichols Ave, while eliminating the eastbound left at the low-traffic Eldert Lane. Westbound traffic would see turn bays and signals at Eldert Lane, Crescent Street and Logan Street. Also, signal-activated pedestrian crossings are being considered for Lincoln and Grant Avenues, in an effort to increase safety and cut down on mid-block crossings.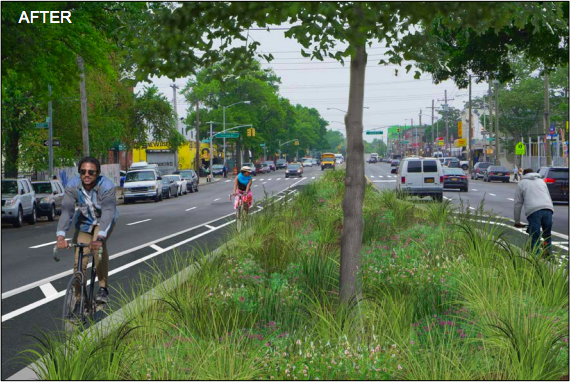 A final improvement would include planting the center median, creating an attractive greenway through the center of the major artery while simultaneously eliminating opportunities for dangerous parking on the median.
These Phase II changes coming the "Great Streets" designated by the Mayor's office are tentatively due to begin construction in 2019. (Other streets include 4th Avenue, Grand Concourse and Queens Boulevard.) Further information and community outreach will be forthcoming from the DOT, but you can catch the entire presentation to Community Board 5 in the video below: