Safe Streets For Our Kids! – Neighbors Demand After Driver Kills Two Children In Crosswalk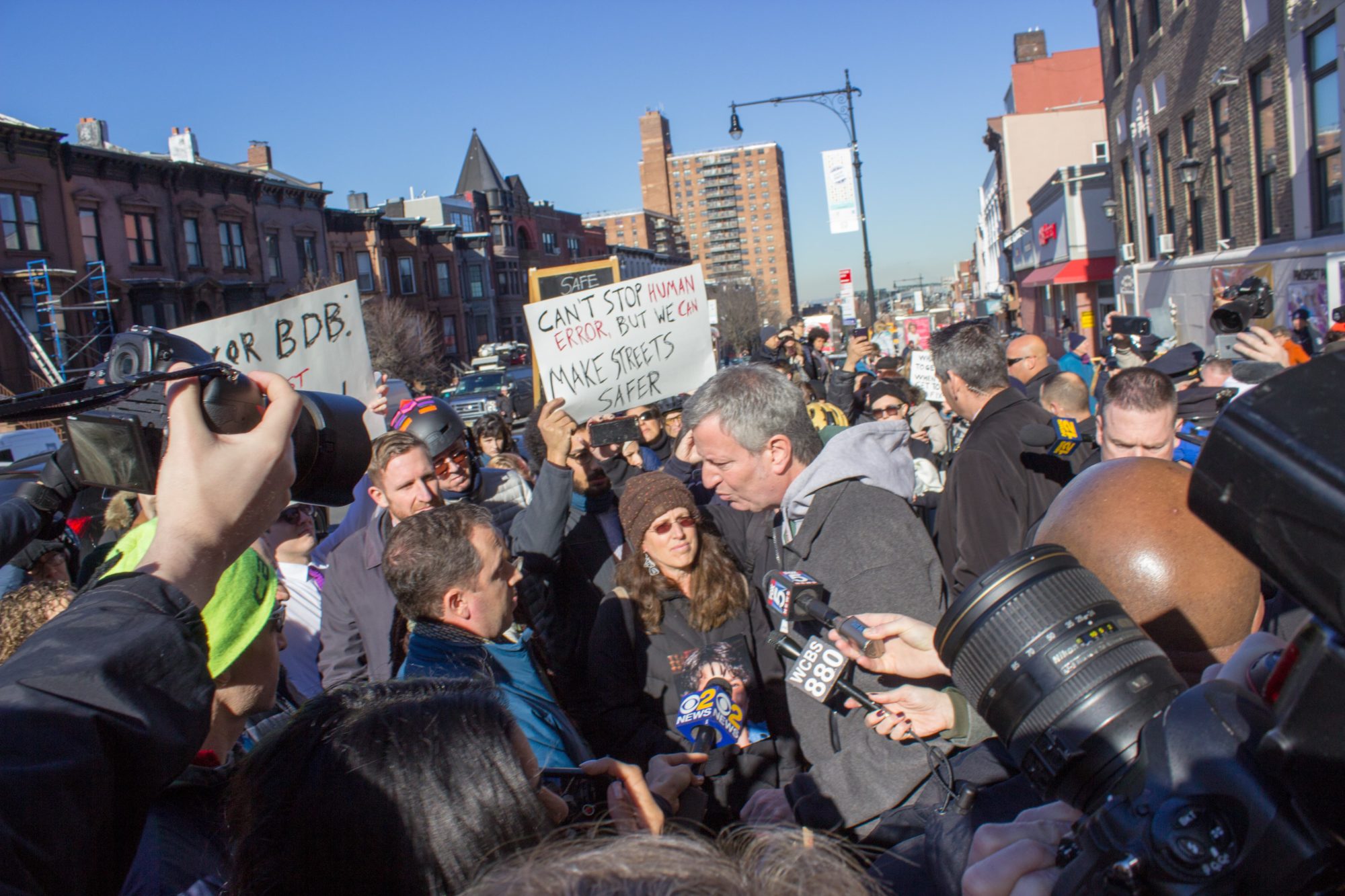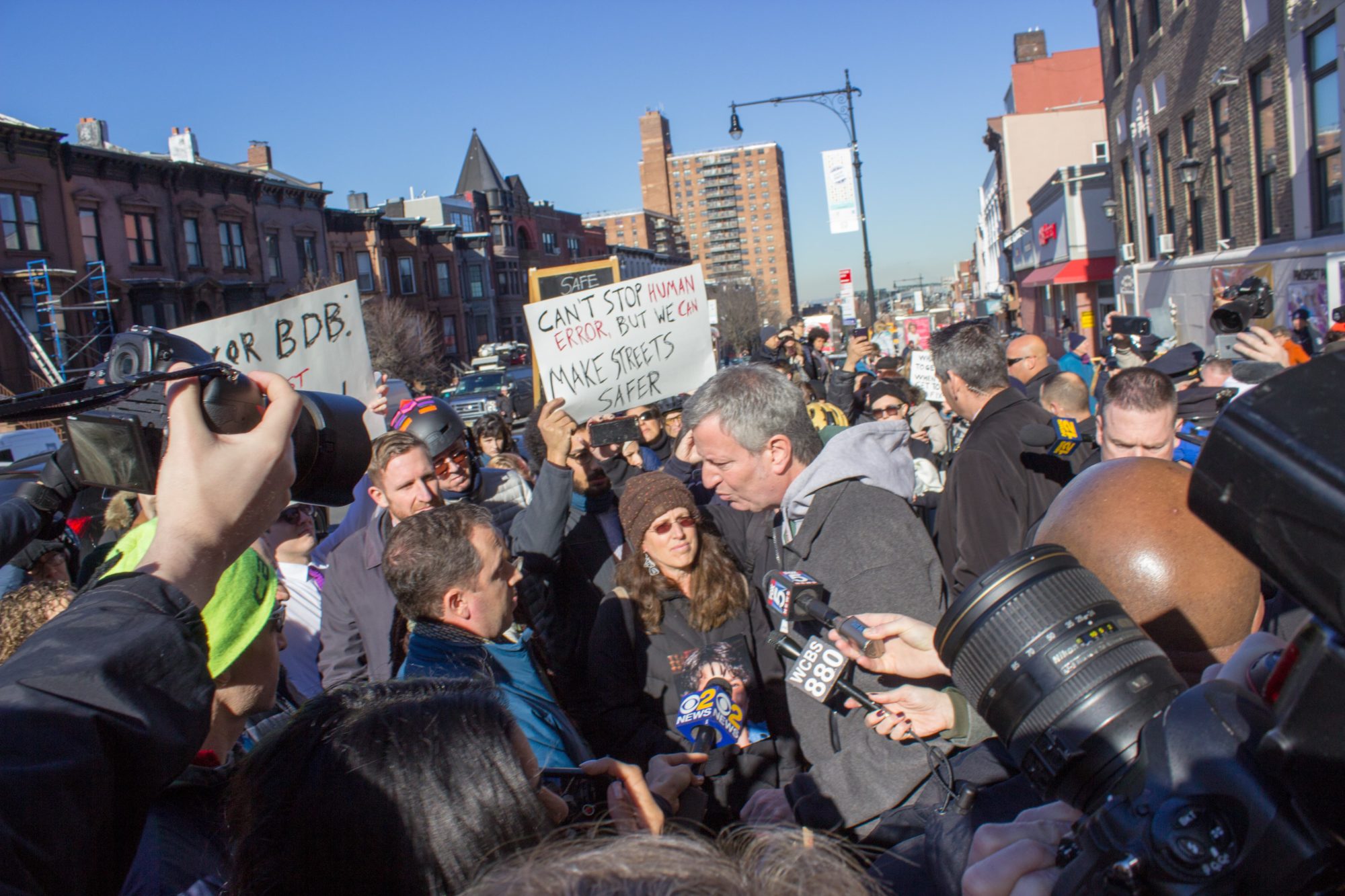 PARK SLOPE – About a hundred protesters crowded the sidewalks outside the Prospect Park YMCA this morning, just a block away from the intersection where Dorothy Bruns mowed down pregnant Ruthie Ann Blumenstein, her 4-year-old daughter Abigail, Lauren Lew, and her one-year-old son Joshua, killing both children and injuring their mothers. Their goal: a commitment by Mayor de Blasio to redesigning 9th Street, and to supporting stricter penalties for drivers with multiple moving violations.
"We want this street fixed," organizer Doug Gordon said from behind the police barricades on 9th Street. "There's a war on kids, there's a war on people, and we want this to stop."
Gordon and other protesters noted that this is far from the first crash on 9th street, or even at this intersection. Since 2013, the intersection has seen at 7 other documented pedestrian injuries and one fatality, according to data collected by Vision Zero.
"We've been asking for this street to be fixed for years, and it hasn't been fixed," Gordon said. "And we get a lot of excuses."
"These are not accidents," said Amy Cohen, an organizer for Families for Safe Streets, an advocacy group for victims of traffic violence and their families. "We have the solutions to fix this problem, just not the political will to make it happen."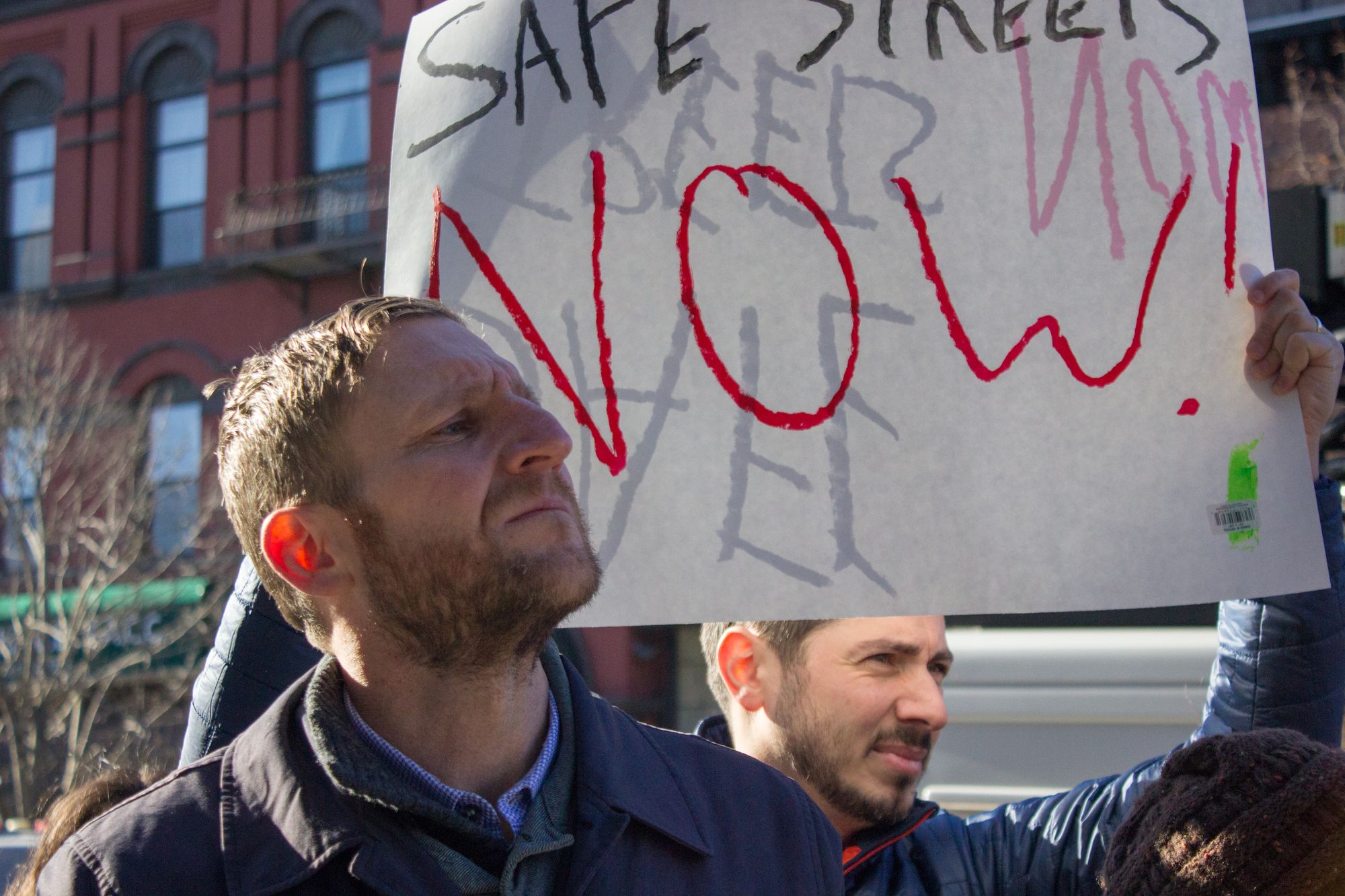 "I can't believe this is happening again," Marcia Landais said to the crowd. Her daughter Joie Sellars was killed in 2014 when a driver jumped the curb and plowed through pedestrians. Marcia and her other daughter Charli were also seriously injured.
In the middle of the prepared remarks, Mayor de Blasio arrived, dressed in gym attire and flanked by security staff.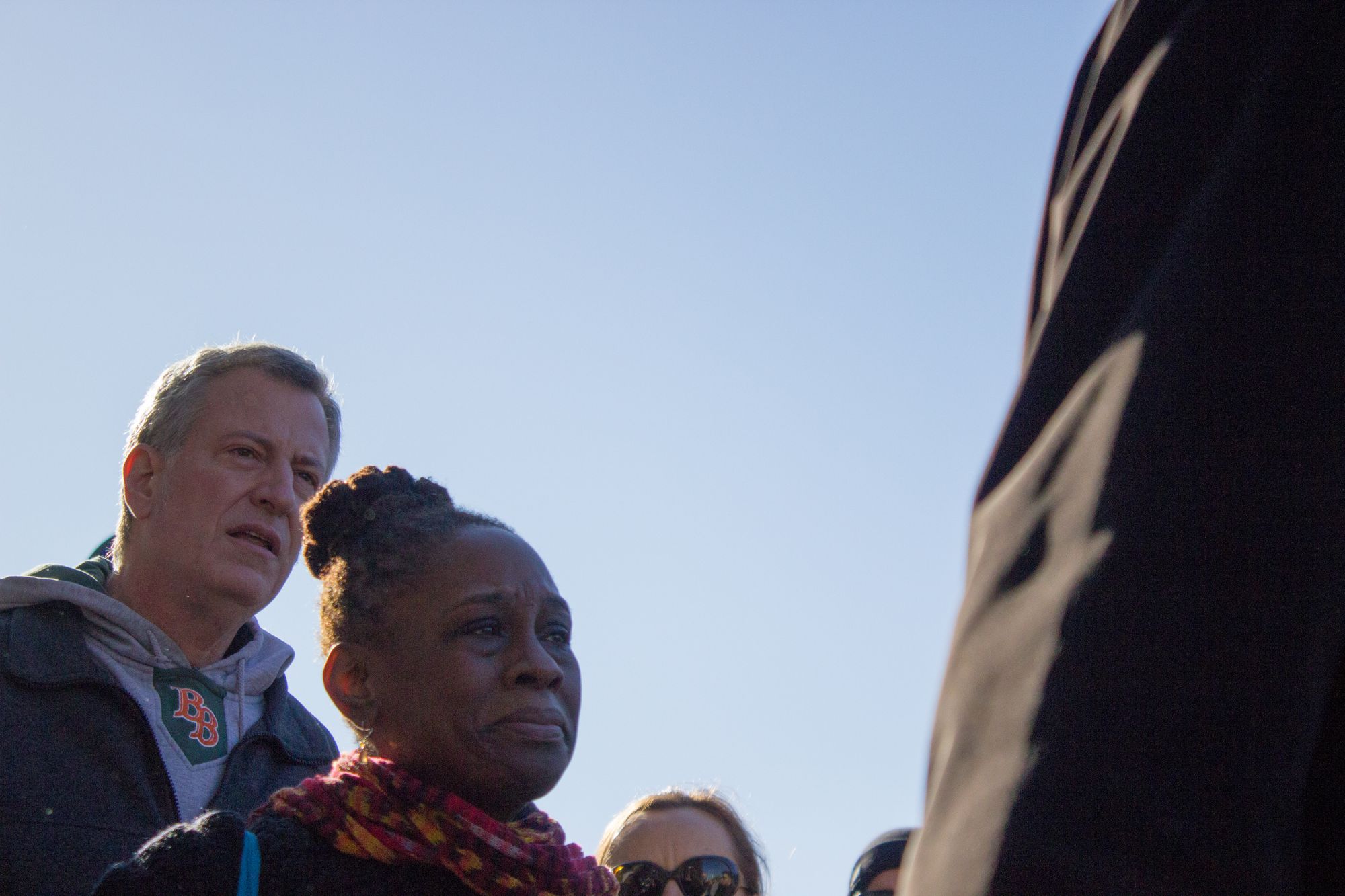 The crowd shouted and chanted as the mayor approached Gordon and the other speakers.
"You could fix it tonight, Bill!" one protester shouted.
"Do something," another said.
"Safe streets now!" the rest shouted.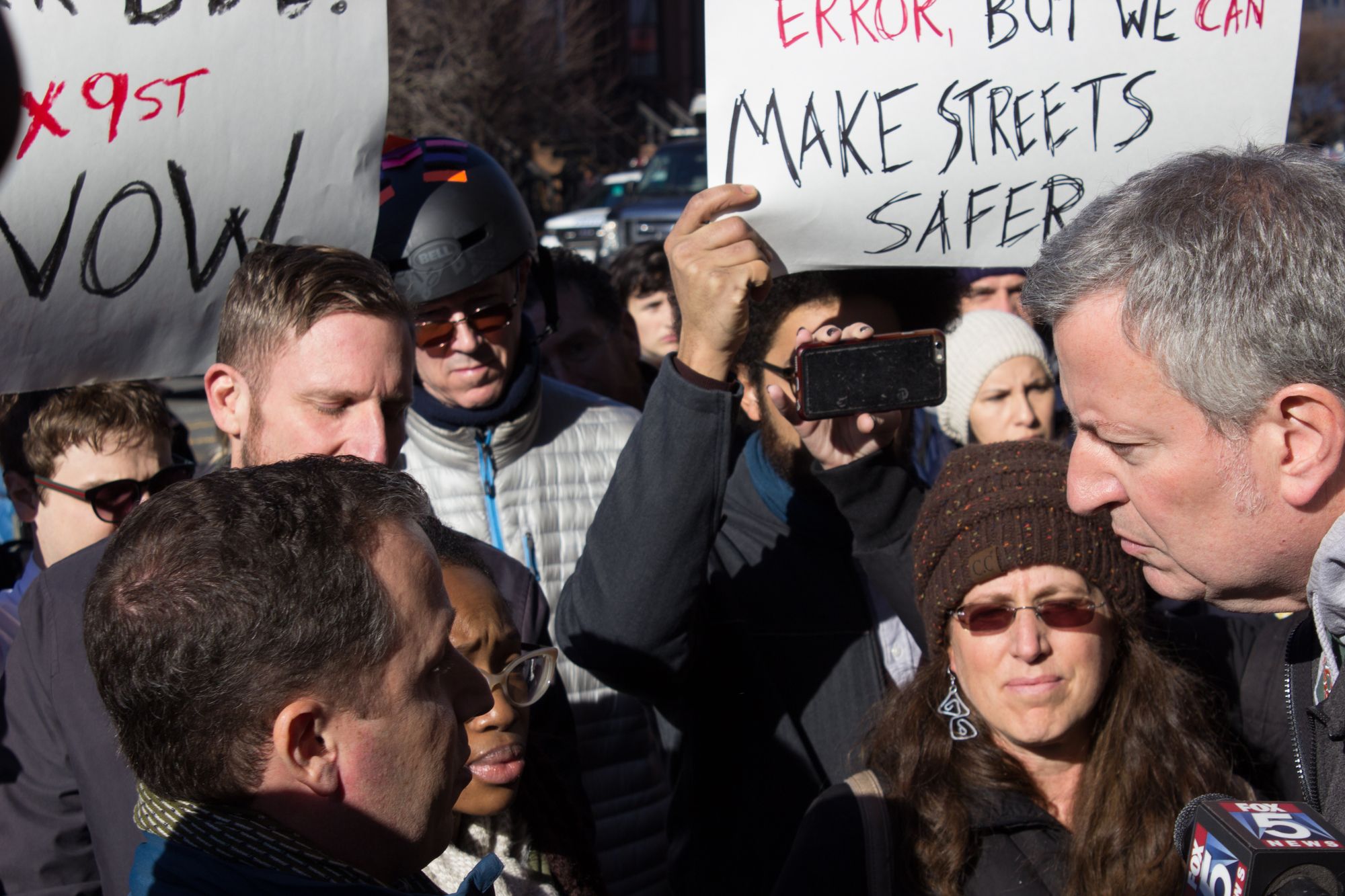 The mayor and the organizers spent several minutes in heated but quiet conversation, prompting shouts of "louder" and "talk to us, Mr. Mayor" from the crowd.
De Blasio expressed support for stricter punishments for reckless drivers, a change that many have called for in the wake of the revelation that the Bruns had a long history of moving violations.
The organizers listened, then pushed for street redesigns, too.
"I don't want the cops to arrest my children's killer," Gordon said. "I want my children to not be killed."
"I don't think we disagree," de Blasio replied. Later, he said, "We're all feeling this. This is an intersection I've been going through for a quarter-century of my life with my own kids."
Shortly after, de Blasio said goodbye and headed into the gym.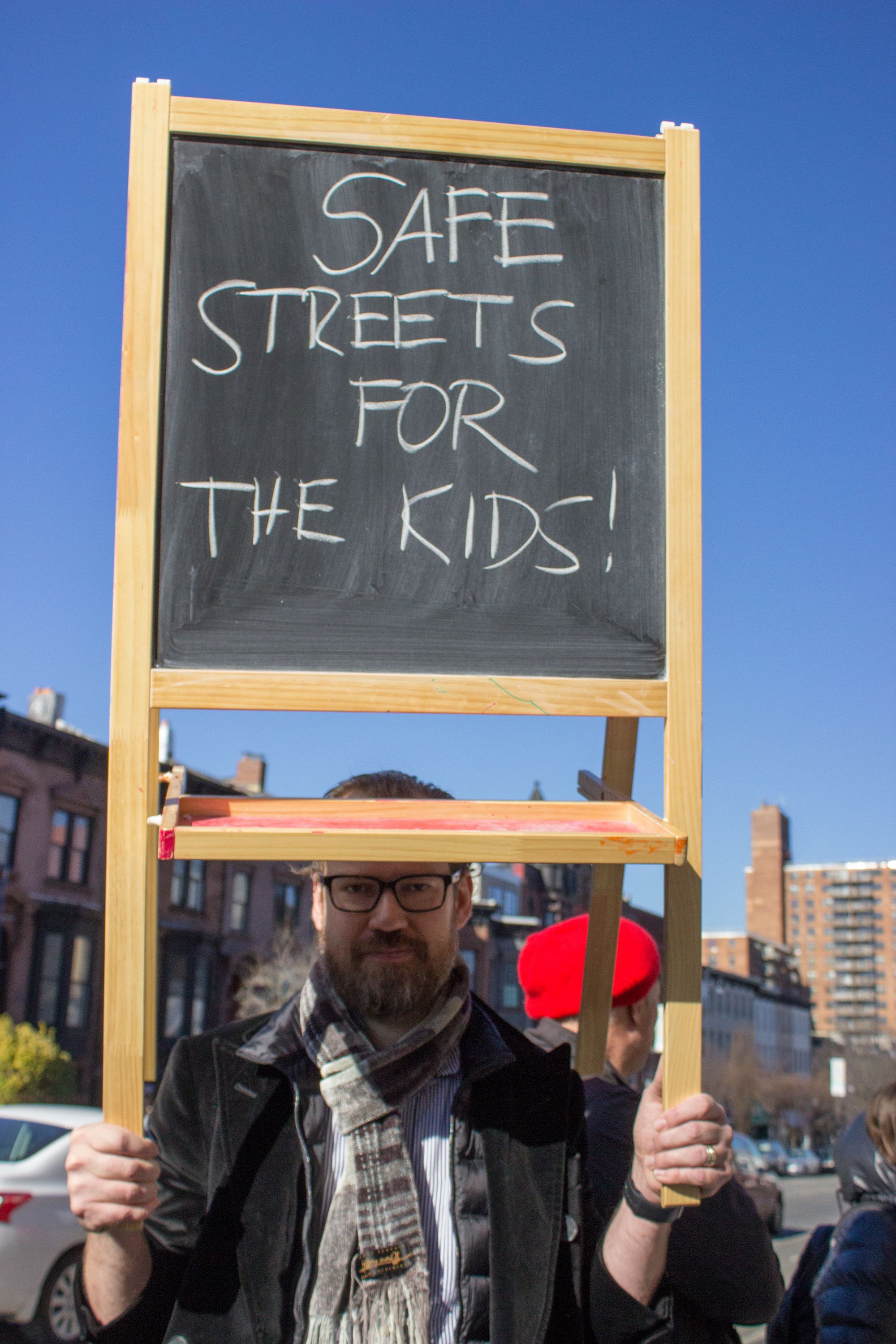 The protest's location was doubly significant, said organizer Doug Gordon.
"This is the mayor's backyard," he said in remarks at the protest. "We love him as a neighbor. We want him to act as a father, as a neighbor, as a citizen, but most importantly, as our leader. He can get this done."
"I heckled him a little," said Lee Solomon, who attended the protest. "This one hit close to home."
In a conversation after the confrontation with the mayor, Cohen gave de Blasio kudos for implementing Vision Zero in the first place.
"But he can and he must do more," she continued.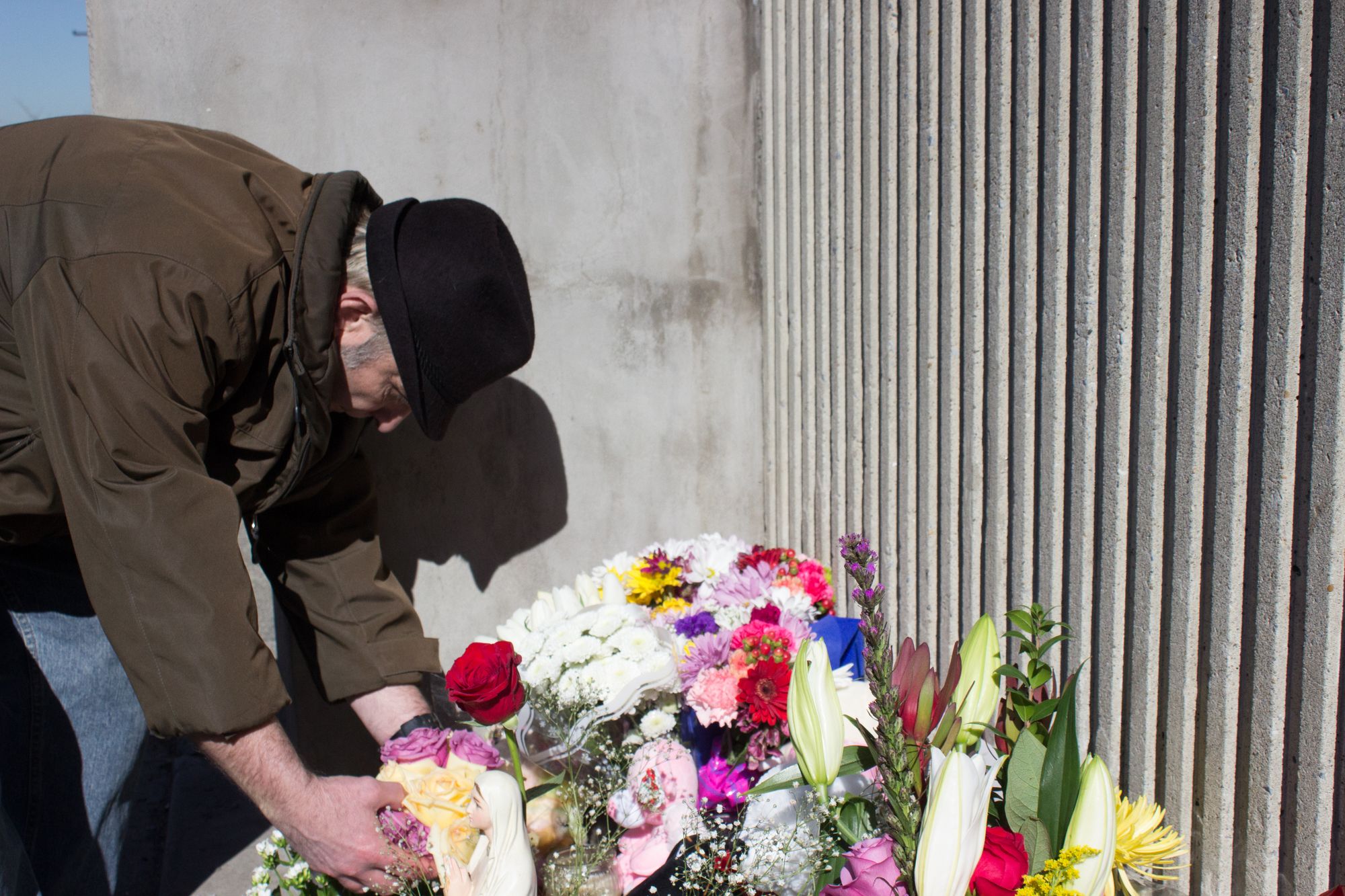 "We grieve for the loss of two young lives today, which as the Mayor has said, underscore the need to continue stepping up the City's Vision Zero efforts," said Department of Transportation Assistant Press Commissioner Scott Gastel in a written statement. "We will immediately review the area for any safety improvements."
Gastel added that the DOT was considering adding a protected bike lane on 9th Street, which would intersect with the protected lane already planned for 4th Avenue.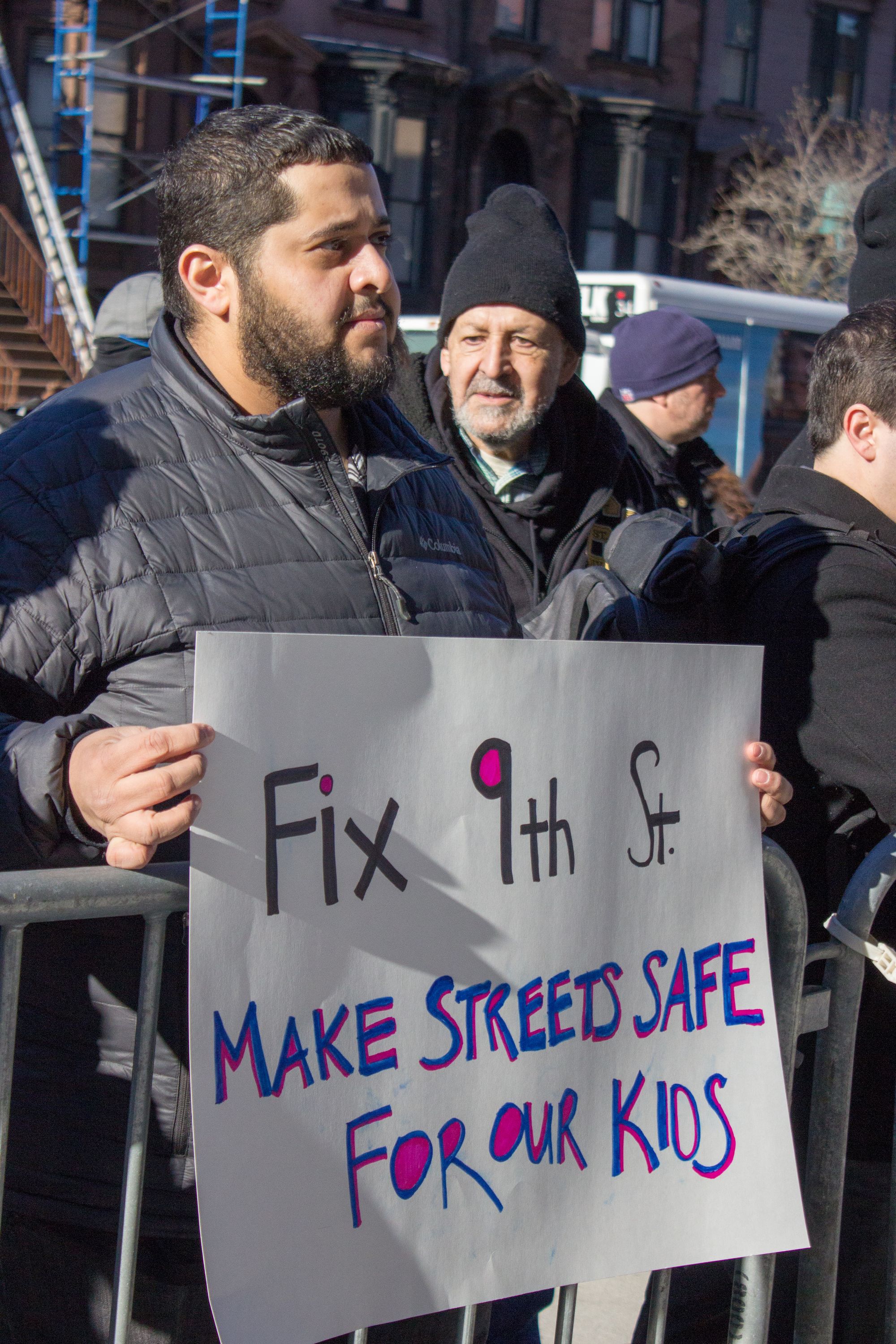 Both organizers and DOT officials noted that neither 9th Street nor the 9th & 5th intersection is top priority according to Vision Zero's 2015 Pedestrian Safety Action Plan for Brooklyn.
"What a damning indictment of our priorities, that that amount of crashes doesn't trigger immediate action, that we have to wait until we hit some magic number of dead people, of injured people, before we act," Gordon said. "That's unacceptable. This street needs to be fixed."
By 10:00 a.m., the protesters had dispersed. On their way, many passed by the Northwest corner of 9th Street and 5th Avenue, where a growing collection of flowers, stuffed animals, votive candles, and Virgin Mary figurines stood up against the wall of a Chase Bank. A few dropped off flowers and potted plants as they passed.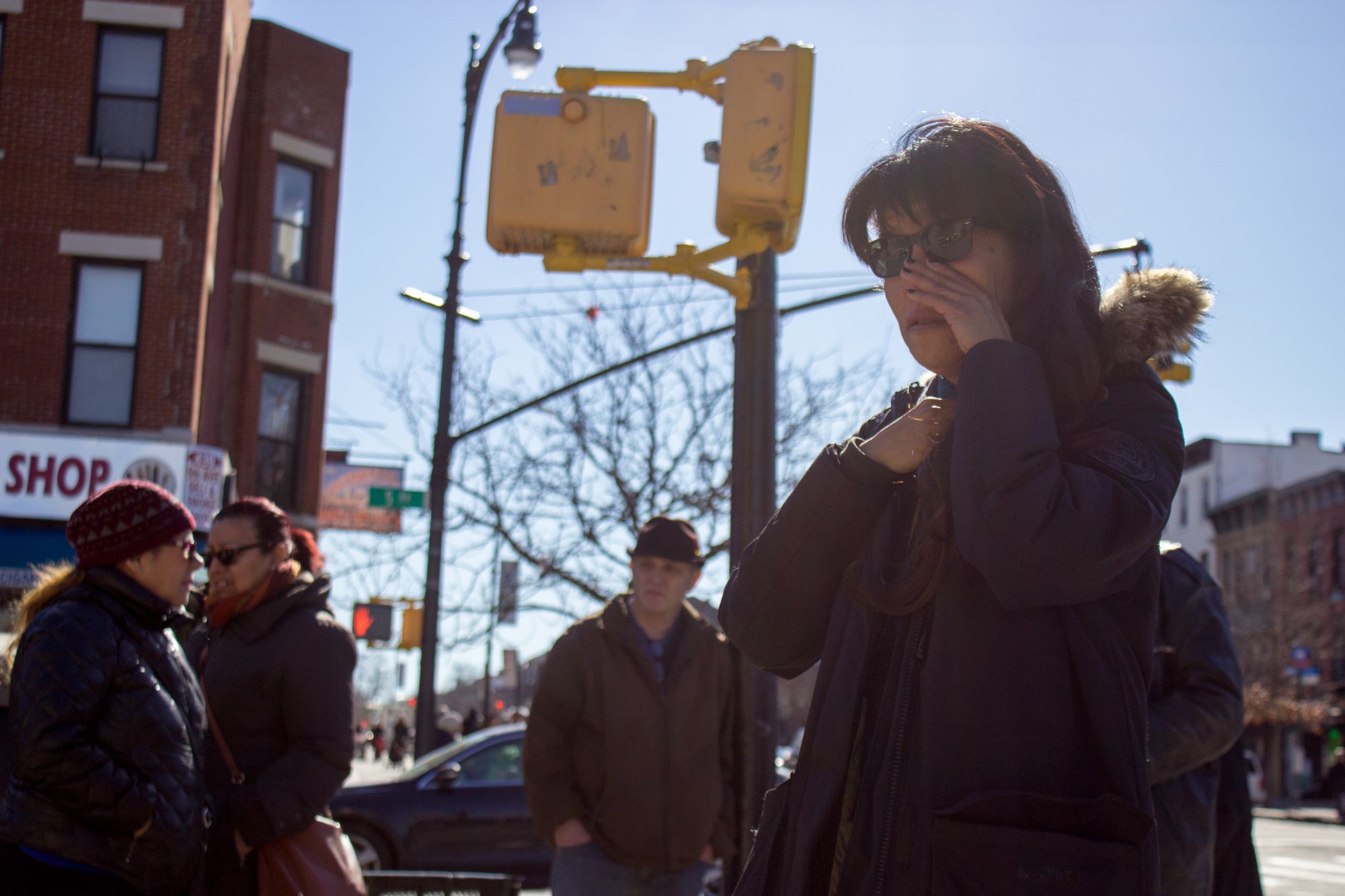 Passers-by stopped and stared, and some made the sign of the cross. One woman sobbed as she looked on, wiping away tears under her sunglasses.
Desiree Diamond was taping a newspaper photo of the victims onto the sidewalk in front of the flowers.
"I have a 5-year-old daughter," she said. "I cross that street every day."
Tali Friedman, who attended the protest with her 6-month-old daughter Mara, echoed Diamond's sentiments. Her three-year-old attends ballet classes at the YMCA and crosses 5th Ave. on a regular basis.
"Everyone is wearing a baby or carrying one in their stomach or strolling with three," she said, gesturing at the street. "We should be safe."