Ringling Brothers Donates $10,000 To Brooklyn Hospital's Pediatric Cancer Program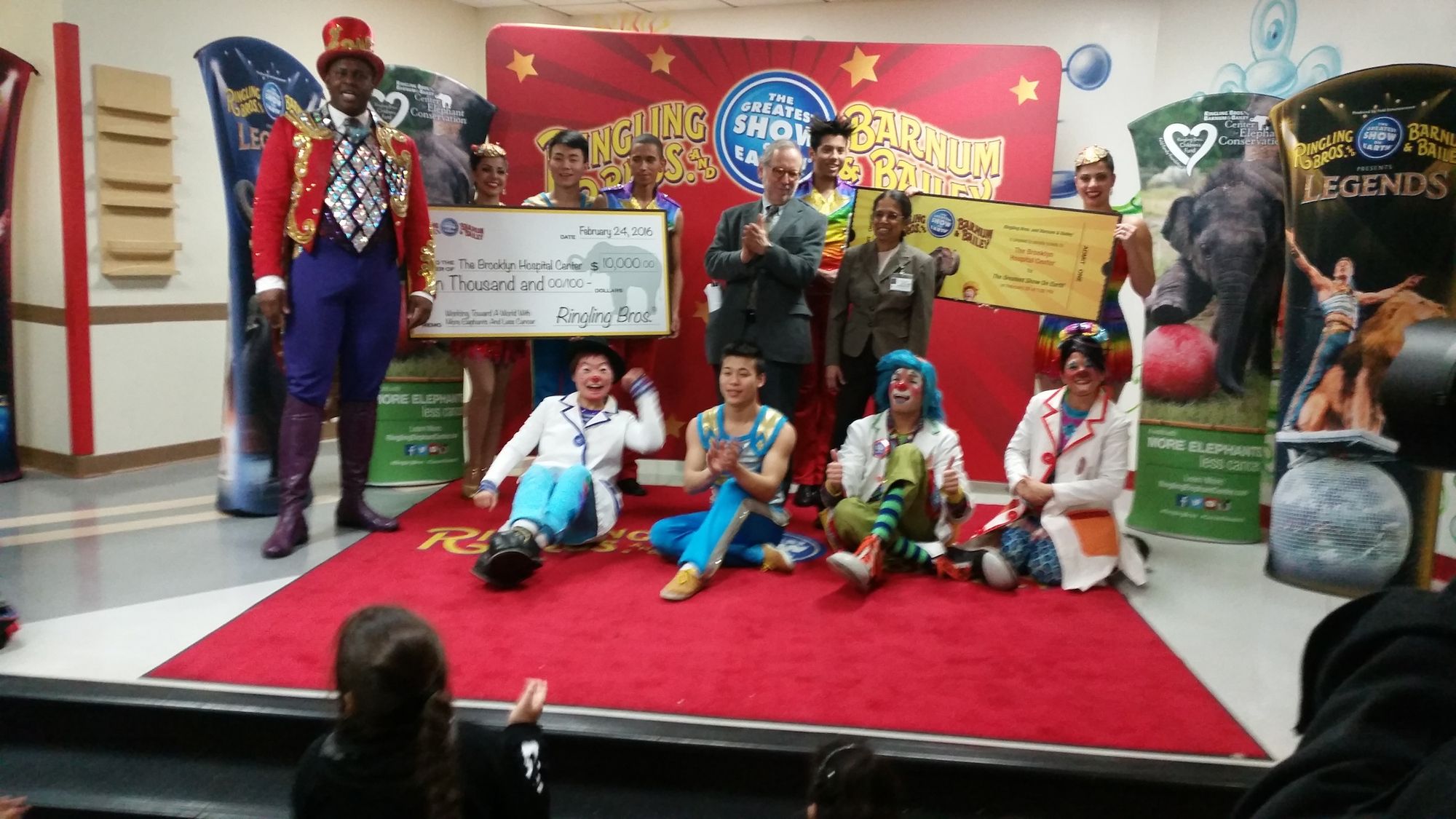 "More elephants, less cancer!" — Ringmaster Johnathan Lee Iverson
The circus took on cancer today, replacing stress with smiles at Brooklyn Hospital Center, where members of Ringling Brothers and Barnum & Bailey's circus presented a $10,000 check to the hospital for their pediatric cancer program.
The funds will go to support research coordinators and data collecting efforts in the department, which treats hundreds of Brooklyn children who suffer from cancer, sickle cell anemia, and other blood disorders and enzyme deficiency disorders. "It's not enough for a cure, but it can help support the program," explained Dr. Kenneth Bromberg, chair of pediatrics.
According to the hospital's chief of pediatrics, hematology and oncology, Dr. Swayam Sadanandan, "the loudest voices are heard, like in an election," so it is important to keep raising awareness of pediatric cancer, which is the leading cause of death past infancy in children and teens, and affects over 250,000 children under age 20 worldwide — nearly 16,000 of those in the United States, where one-eighth of children die.
The impact of awareness and support like Ringling Bros' $10,000 check is invaluable and measurable in the moments of happiness, hope, relief, and resources made available to patients and their families. Support for Brooklyn Hospital's pediatric cancer program also comes from the Make-A-Wish Foundation, Long Island University (volunteers/mentors), and an art therapy program through another foundation.
"The staff is awesome. Dr. Sadanandan is the top of her field and they've been taking care of her ever since she was born," said dad Orlando Valentin, whose five-year-old daughter Jaylee has been undergoing treatment for leukemia since she was three years old.
Today, Jaylee is a bundle of hyper energy, running and laughing and chatting with everyone she meets — "how she is now is how she was before [she got sick]," said Valentin. "When she first started treatment, she couldn't even walk."
Valentin added that meeting the Ringling Brothers clowns and getting free tickets to see their upcoming show at Barclays Center is fun and will be Jaylee's first time to the circus.
"[The kids] go through a lot of laughing and smiling is like exercise and speeds them up," Valentin added. "Now she's just a happy kid. She's in kindergarten."
Ringling Brothers also has another connection to pediatric cancer — their elephants.
https://www.youtube.com/watch?v=NOGeRIsoQSo
This Barclays Center show is the final one for the group's Asian elephants, who are retiring and are headed to Ringling Bros. and Barnum & Bailey's 200-acre Center for Elephant Conservation in Florida, a global hub for Asian elephants, care specialists, and researchers. Once there, their DNA/genetic properties will help oncologists to study whether they have natural cancer-resistant properties that can be used in human cancer treatments.
Asian elephants have a specific appeal to oncological researchers, because although elephants can live up to 60 years and grow to 14,000 pounds, they rarely get cancer.