Restored Stained Glass Window To Light Brown Memorial For Years To Come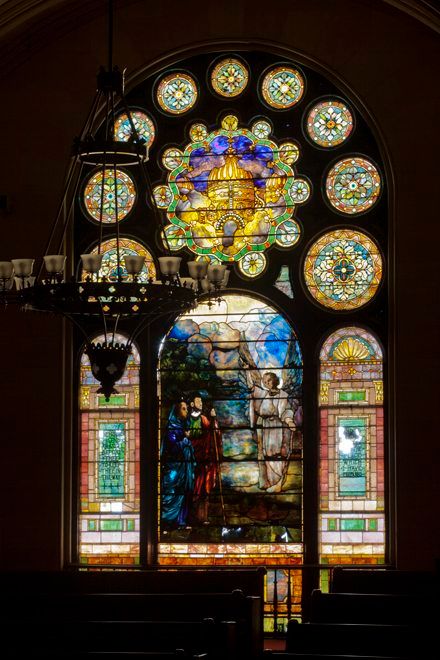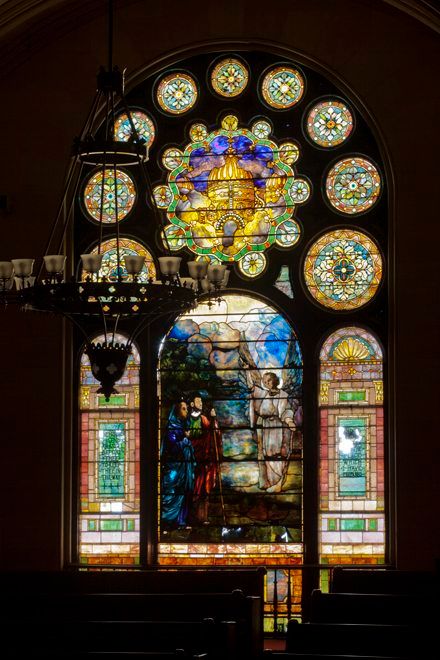 Brown Memorial Baptist Church's beautiful and poignant Pilgrims Window is shining yet again.
That is because over 100 years after being crafted by Louis Comfort Tiffany and installed on the northern side of Brown Memorial Baptist Church, facing Gates Avenue, the exquisitely detailed window has been restored to its former glory after two years of restoration work funded through a grant and community fundraising efforts.
"The congregation is ecstatic," said parishioner Beverly Jacobs, who led the fundraising committee for the window. "Everyone fundraised and really stepped in."
The community effort yielded a successful bid for a $200,000 grant from Partners In Preservation — funded by American Express and the National Trust for Historic Preservation — as well as over $60,000 in funds raised to complete the restoration project, which is the first of a series of repairs being sought and fundraised for by parishioners.
The 40-foot-wide and 15-foot-high stained glass window now features a new mahogany frame and replaced broken glass and warped glass that was bending to the elements. It also gave Joseph a face.
"The face of Joseph was off because an amateur tried to fix it by coloring it in a while back and we didn't know what it originally looked like, so we gave the restorers a sketch of how we'd like him to look," explained Jacobs, referencing Joseph's darker coloring as he stands next to a fairer-skinned Mary, looking at a pale angel. "So now the figures represent the community served by the church. It's a diverse community. Everyone who comes through these doors should have something they can relate to, so now it depicts a multiethnic representation."
The updates are fitting for the Pilgrims Window, which earned its name because it depicts two pilgrims — Mary and Joseph, according to parishioners — approaching an angel. "The window honors the Pilgrims, as well as abolitionists and all those of the Underground Railroad," said Jacobs. "The image depicts basic freedoms that each group sought, providing a path to freedom for those held in bondage."
Unveiling the restored window in the weeks before Martin Luther King Jr.'s birthday made the event even more poignant, added Jacobs, because "even today, we're still fighting for those basic freedoms, whether religious, racial, gender or others, as Pastor Reverend Clinton Miller always fights for community issues like affordable housing."
Brown Memorial Baptist Church is located at 484 Washington Avenue. Services are held on Sundays at 8am and 11am. It also hosts an after-school program, Tuesday food pantry, Wednesday senior program, and various Bible study groups.