Restaurant News: Goodbye Santa Fe Grill, Hello Al B's, Oh! Dumpling & Many More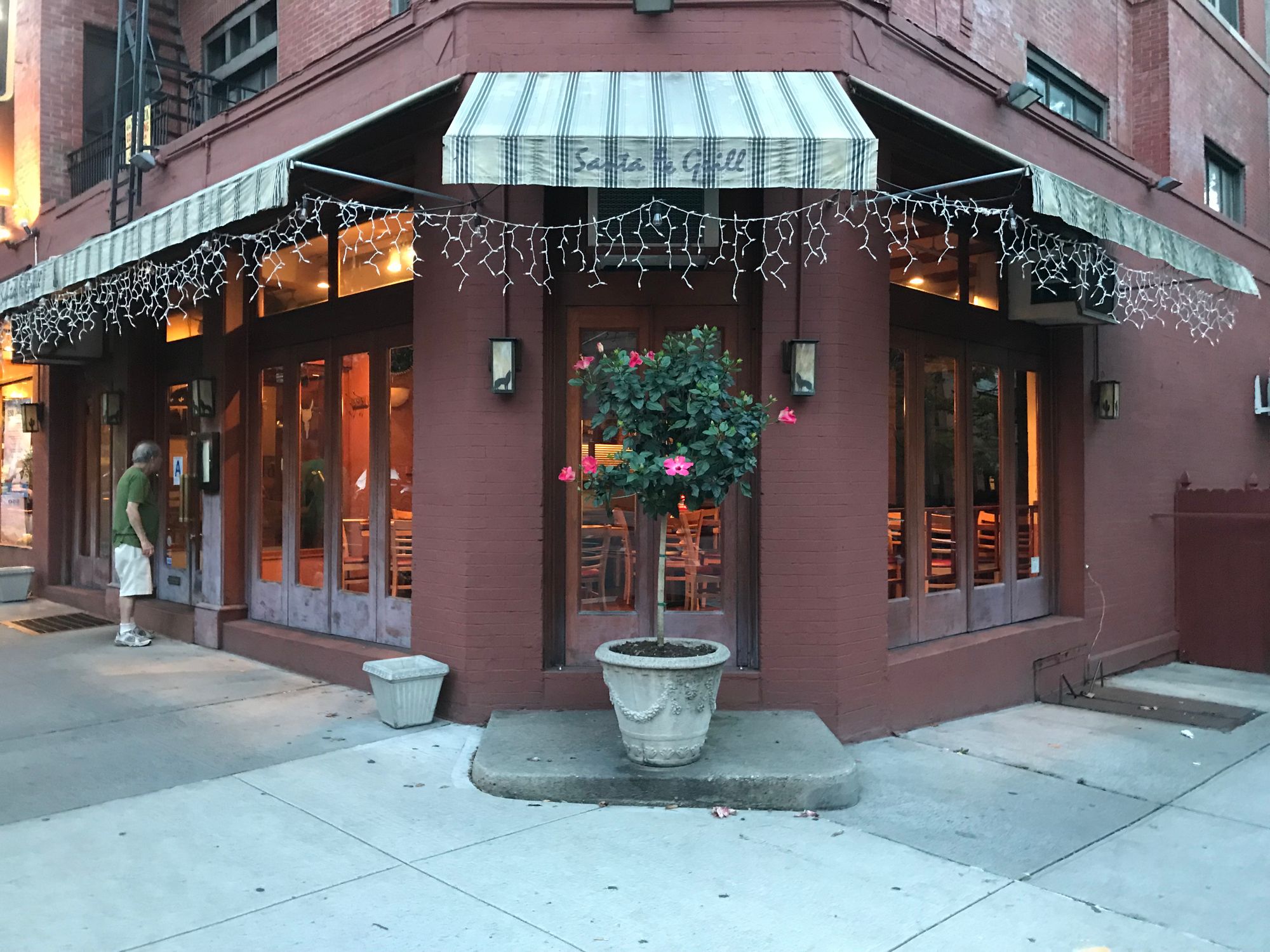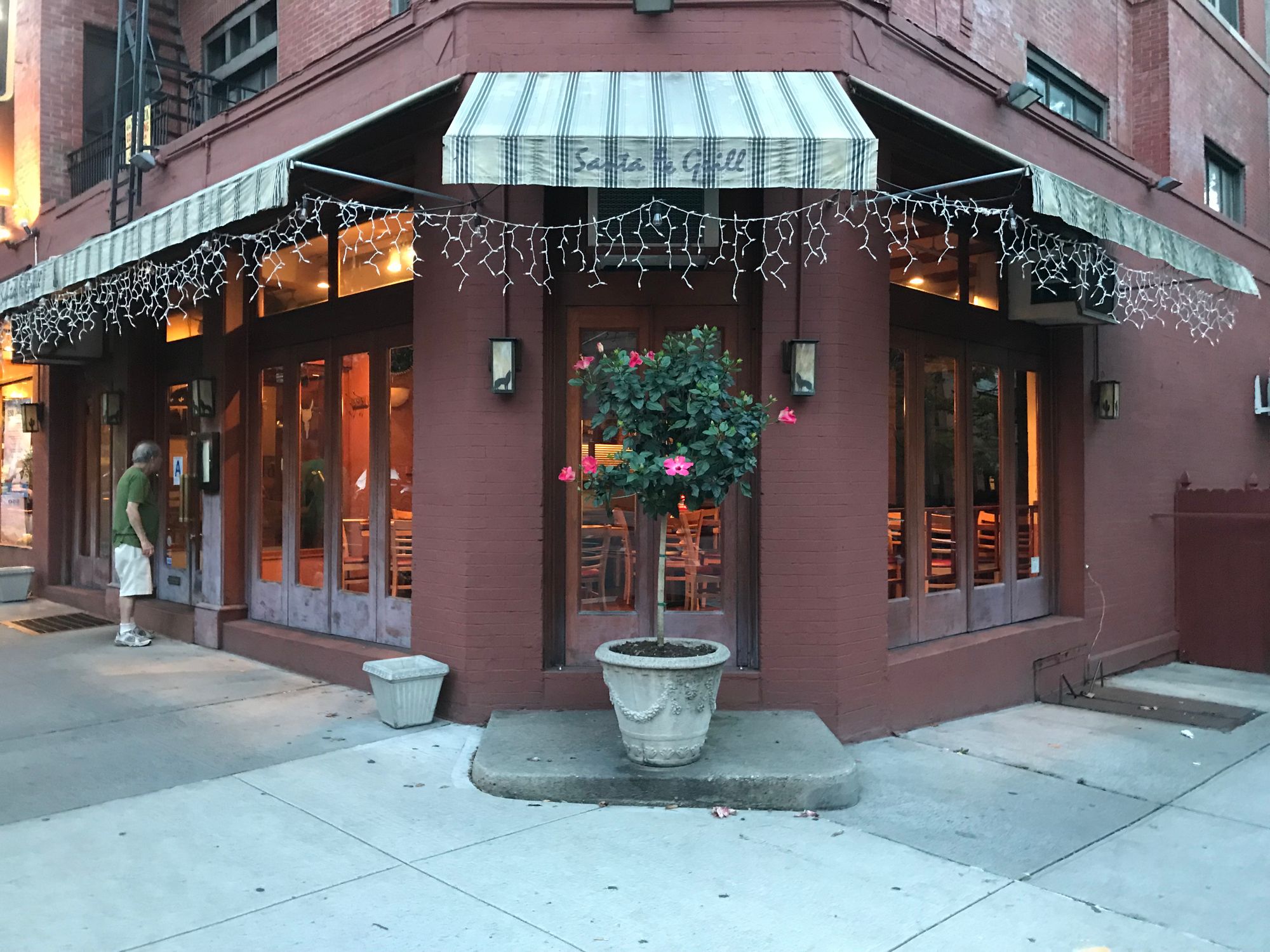 Closed:
Sante Fe Grill, 62 7th Avenue (at Lincoln Place), Park Slope
Starting on a sad note, after 34 years the Tex-Mex neighborhood staple Santa Fe Grill shuttered at the end of September.
"So many wonderful years—and it has been a privilege to be part of your lives, and you mine, for such a long time," a message posted on the door by owner Joseph T. McFeely reads.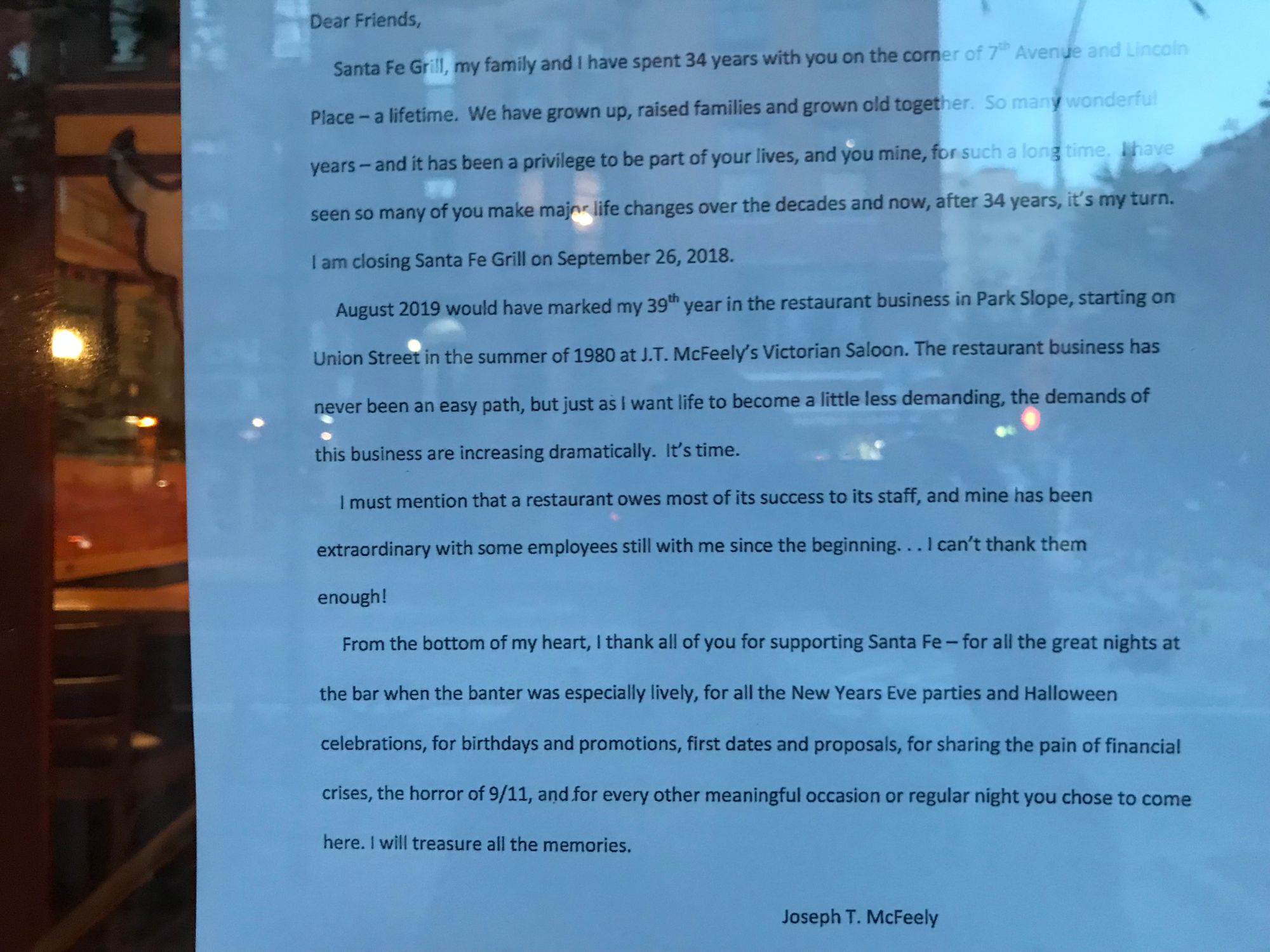 "The restaurant business has never been an easy path, but just as I want life to become a little less demanding, the demands of this business are increasing dramatically. It's time," he adds, before thanking his dedicated staff and customers.
McFeely closes his note with, "I will treasure all the memories."
Opened: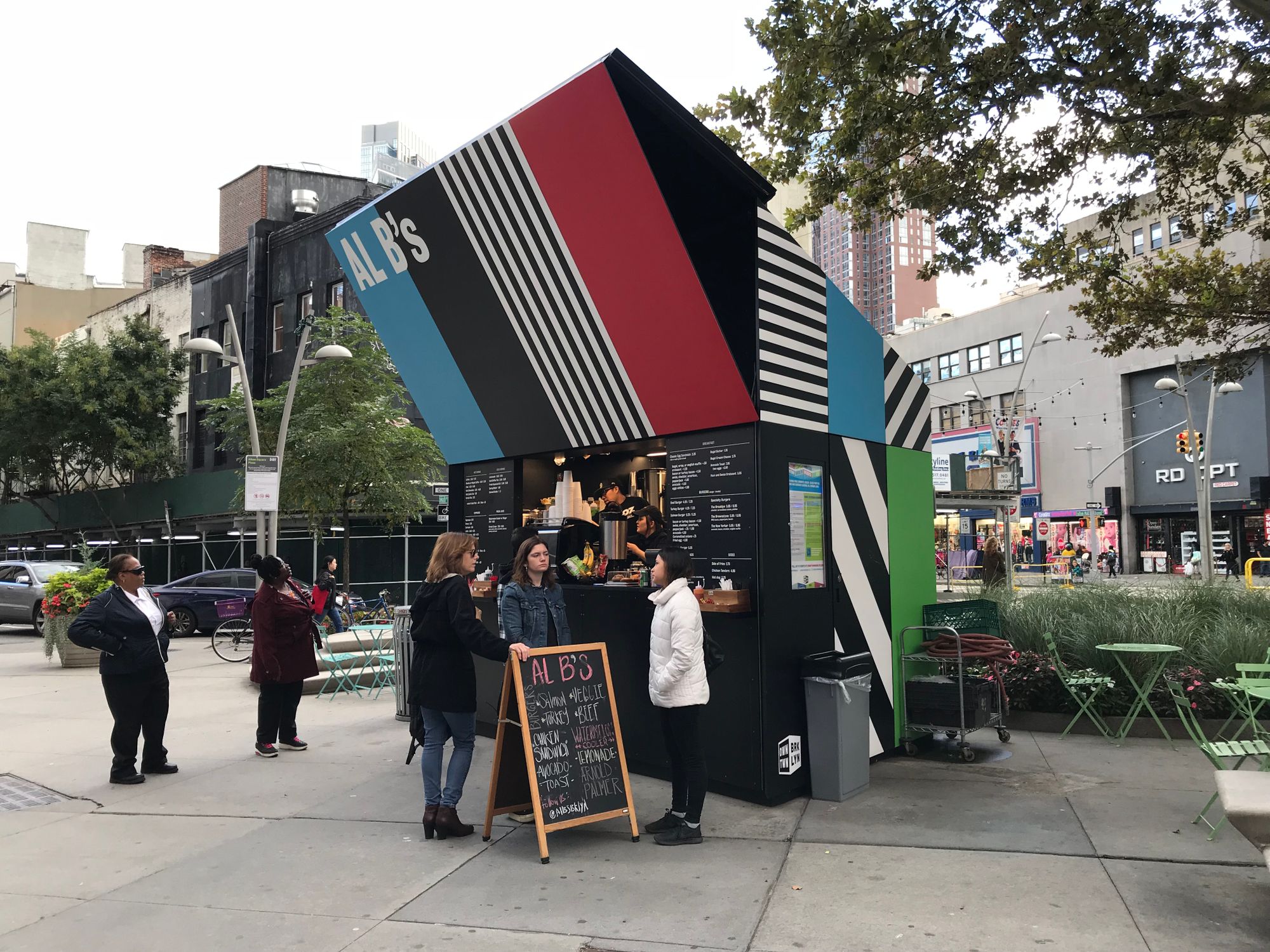 Al B's at Albee Square (corner of Fulton & Bond Streets) and Willo B's at Willoughby Plaza (between Adams & Pearl Streets), Downtown Brooklyn
Two colorful food kiosks will bring new outdoor dining options to Downtown Brooklyn. Al B's opened at the beginning of October serving grilled egg sandwiches for breakfast and burgers and salads later in the day. The outpost will also serve coffee, beer, and wine.
Later this month, Willo B's will debut on Willoughby Plaza and serve Mediterranean-inspired fare. Both kiosks will be open Monday through Friday, 7am to 10pm.
al di là Cafe, 607 Carroll Street (at 5th Avenue), Park Slope
Emiliano Coppa and Chef Anna Klinger, the husband-and-wife team behind the popular al di là Trattoria at 248 5th Avenue opened up a cafe in their bar space (around the corner on Carroll Street) two weeks ago. The cozy spot serves La Columbe coffee and assorted housemade pastries including scones, breakfast bars, and biscotti during the day before reverting back to a bar in the evening.
Bigeye Sushi, 2 MetroTech Center (between Lawrence and Bridge Streets), Downtown Brooklyn
Harris Salat, the owner of the defunct Ganso at 515 Atlantic Avenue in Boerum Hill and Ganso Ramen at 25 Bond Street in Downtown Brooklyn, debuted Bigeye Sushi (between Lawrence and Bridge St.) on October 3, serving rolls, bowls, and salads.
Co-owner Rick Horiike told Brooklyn Paper that the Japanese eatery uses a pair of "robots" to produce affordable "quick-serve sushi." The machines can churn out up to 400 rolls an hour!
Bistro 731, 731 4th Avenue (at 24th Street), South Slope
The owners of Italian restaurant Nostro Ristorante (710 5th Avenue) have debuted a second eatery, Bistro 731, offering "traditional and fresh Mediterranean-American cuisine" including burgers, meatloaf, steak, whole roasted fish, plus a selection of housemade pasta. Both businesses are BYOB.
Cafe Gitane, 70 Hudson Avenue (at Water Street), Vinegar Hill
A branch of the popular NoLITA eatery Cafe Gitane opened in Brooklyn at the end of August, Brownstoner reported. Similar to its Manhattan counterpart, the tiny spot oozes boho charm with rustic design touches and assorted tchotchkes on display.
The menu focuses on brunch, small plates, and of course avocado toast, as well as coffee and tea. The new location is open Sunday through Thursday from 9am to 6pm and stays open until midnight on Fridays and Saturdays.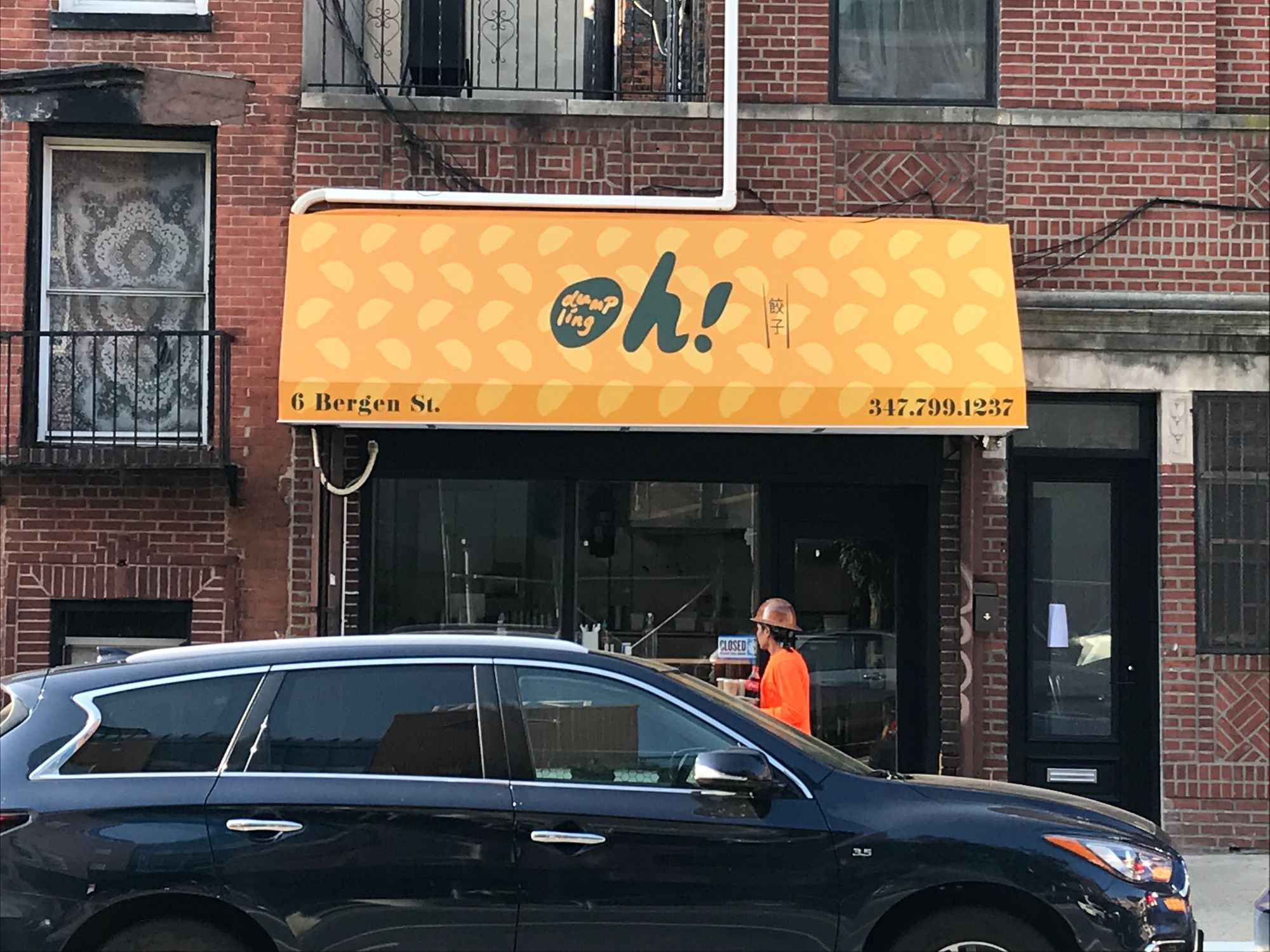 Oh! Dumpling, 6 Bergen Street (between Court & Boerum Place), Cobble Hill
A diminutive dumpling shop opened in Cobble Hill at the end of August, Pardon Me For Asking reported. The eatery offers boiled or pan-fried handmade dumplings filled with a variety of fresh, natural ingredients as well as Chinese burgers (mo) and crepe-style sandwiches (bing).
Tori Bei, 276 5th Avenue (between Garfield Place & 1st Street), Park Slope
The owners of Naruto Ramen recently opened a Japanese yakitori/izakaya restaurant next door to their shop on 5th Avenue. The new spot offers assorted yakitori skewers (Chef's Choice—five pieces for $15), various appetizers (spicy edamame, fried gyoza, homemade fried chicken), Oyako Don (chicken-and-egg rice bowl, $12), and Kawara Soba (a rare buckwheat noodle dish served on heated tiles, $24). Business hours are 5pm to 10:30pm Wednesday through Monday. Tori Bei is closed on Tuesdays.
Opening Soon:
The Crabby Shack, 150 Clinton Avenue (at Myrtle Avenue), Clinton Hill
The owners of Crown Heights' The Crabby Shack (613 Franklin Avenue between Dean & Bergen Streets) are opening up a second outpost in Clinton Hill next Friday, October, 26, BK Reader reports. The new location will focus on lunch service and grab-and-go business in the evenings, offering sandwiches, salads, and sides including fish and fried chicken sandwiches, shrimp po' boys, crab rolls, crab mac and cheese, as well as vegan options.
Laika, 224 Greene Avenue (between Grand & Classon Avenues), Clinton Hill
Arts organization e-flux is launching a restaurant/bar on Thursday, October 18, Art News reports. Laika will serve drinks at 5pm on opening night with dinner served from 6pm to 8:30pm, followed by a screening of Anri Sala's 1998 short film Intervista at 9pm. According to Art News the eatery's menu is "based on local Atlantic seafood and farm fresh and foraged vegetables."
The venue is a collaboration between e-flux and artist/chef Hsiao Chen. Along with serving food and drink, Laika will host book launches, readings, and other cultural events.
New Restaurant by Michael O'Keeffe (owner of River Cafe), 14 Old Fulton Street (at Everit Street), DUMBO
The owner of the River Cafe is reportedly opening up a new restaurant/bar steps away from his renowned eatery at 1 Water Street, according to Brownstoner.
The new restaurant takes over a former gas station at 14 Old Fulton Street (at Everit Street) in the Fulton Ferry Historic District. The building's exterior has been given a vintage look with a light blue trim and black-and-white awning similar to the overhang found at River Cafe. We'll update as more info becomes available.
Smorgasburg, Atlantic Center Mall, 625 Atlantic Avenue, Fort Greene
The popular outdoor weekend food market, Smorgasburg, is heading indoors for the winter and taking over a 25,000 square feet space at the Atlantic Center Mall, Eater reports. The new venue will feature 25 food vendors, a full bar, cafe, and bocce court, as well as approximately 25 Brooklyn Flea vendors peddling clothing, furniture, housewares, and more. This venue will debut on Saturday, November 3 and will be open Saturdays from 11am to 8pm and Sundays from 11am to 5pm through March.
Smorgasburg is also launching a Night Market at Villain (307 Kent Avenue, Williamsburg) where there will be 15 food vendors, a full bar, DJs, and art installations. The Night Market will be open every Friday from November 2 through December.
Spudz, 1460 Fulton Street (between Brooklyn and Kingston Avenues), Bed-Stuy
The owners of CakeBoi (627 Throop Avenue, between Fulton & Decatur Streets), makers of Biggie cookies and Cake Jars, will be branching out with Spudz, a new "upscale American burger joint concept," Commercial Obeserver reports. The burger spot will occupy the 800-square-foot ground floor commercial space at 1460 Fulton in Bed-Stuy.