Residents To Realtors: "This House Is Not For Sale. Please Go Away."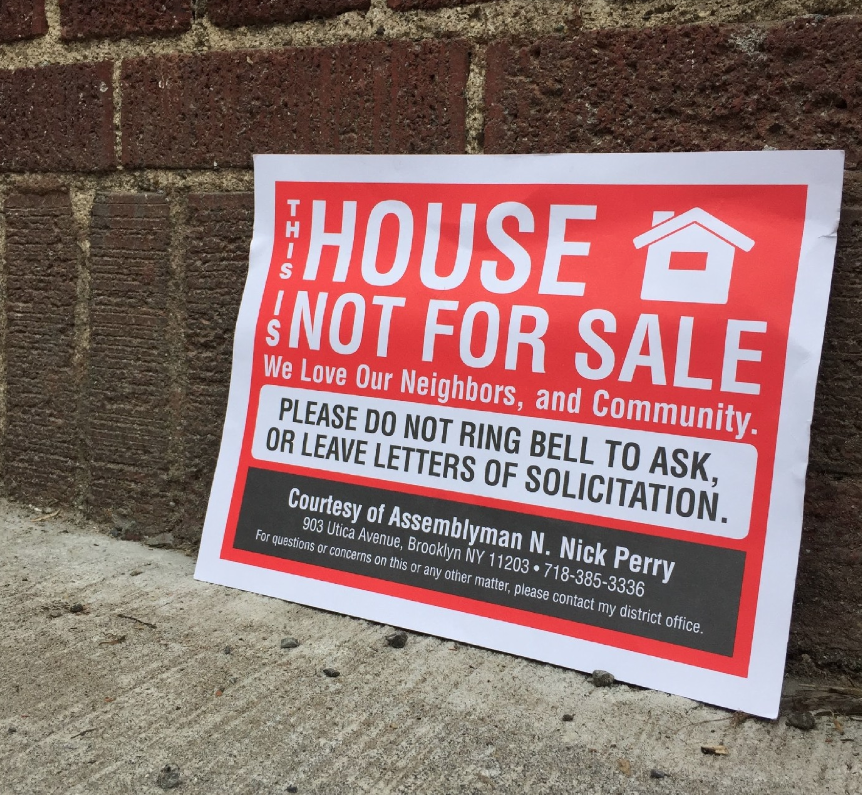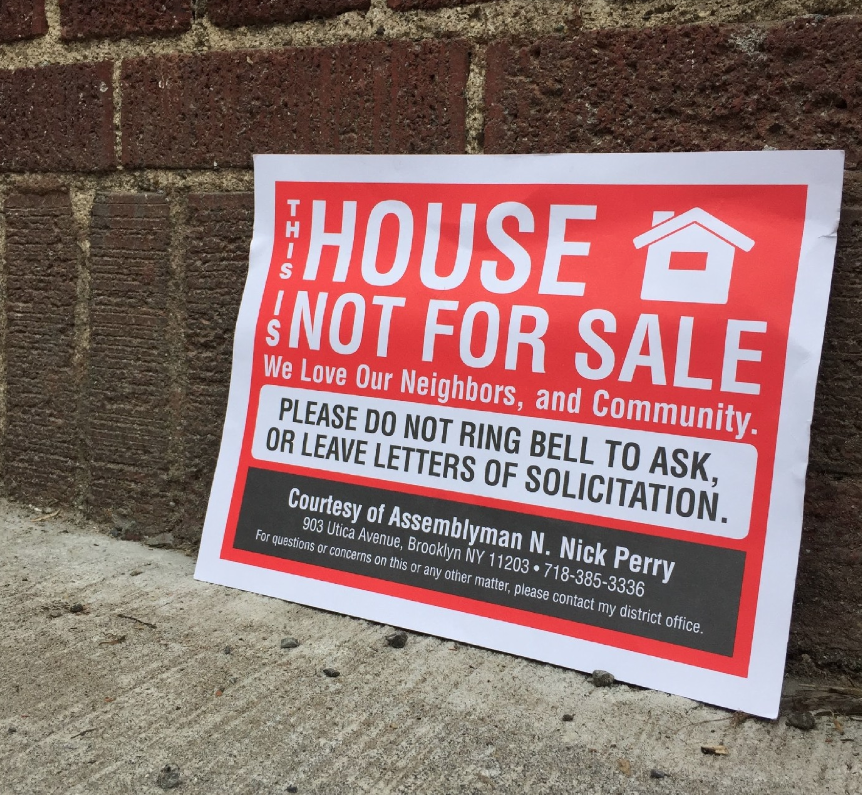 MARINE PARK/CANARSIE/EAST FLATBUSH – Marine Park resident Sharon Rebecca is wary of giving out her phone number, which she has changed multiple times. She finds flyers on her door and handwritten notes in her mail. They're from real estate agents who want to sell her house. Problem is, it's not for sale.
Yvette Barrow, another Marine Park resident, said the real estate agents walk through gates or across shared yards to reach a house. Sometimes when they knock at her door, it wakes her 18-month-old.
"We just want to be left alone," Barrow said.
They are among hundreds of homeowners in Marine Park and neighboring communities who complain that they have been subject to unrelenting and aggressive tactics by real estate agents seeking properties for buyers.
Homeowners in nearby Canarsie and East Flatbush are facing a similar deluge and are demanding action by local lawmakers. The elderly are the most harassed, according to Ian Gershick, legislative director for Assemblywoman Jaime Williams, because they've owned houses for long periods of time, so agents think they might be more open to selling.
The solution, so far? Front yard signs that, effectively, say:  "Please go away!"
Assemblyman Nick Perry, who represents bits of East Flatbush, Canarsie and Brownsville, began handing out signs for residents to place on their yards that say "This House is not for sale. We love our neighbors, and community. Please do not ring bell to ask, or leave letters of solicitation."
"We can't say they've stopped [solicitation], but people are enjoying them and say it's a good idea," said Perry's Chief of Staff Frank Shea. "People are trying to do anything to maintain the authenticity of their block."
Gershick said Assemblywoman Williams' office is considering handing out the same signs in her district, which includes Canarsie and Marine Park, because they've heard of Perry's success.
Thomas D'Alcamo Jr., co-owner of Exit Realty said he wouldn't approach a house that has one of these signs outside.
"If someone has a 'no soliciting' sign, you wouldn't want to bother them," D'Alcamo said.
However, he said that sometimes real estate agents issue mass mailings in which all houses in a neighborhood will receive the note whether they have a sign up or not. This could be prevented by joining a "cease and desist" list, D'Alcamo said, but according to the Department of State, Brooklyn is not in a "cease and desist" zone.
State Senator Kevin Parker, who represents East Flatbush and Flatlands, said he is trying to change this. He introduced legislation to institute "cease and desist" zones both in his district and across Brooklyn – if it passes, residents would be able to register for the lists. He hopes the Senate will act on this in January.
"My constituents deserve to live in peace without harassment from people who are constantly trying to buy their houses or making them feel like they are being pushed out," Parker said. "But this is a phenomenon affecting people all over the borough."
Parker said the signs from Perry's office could be a good temporary solution until his legislation is passed.