Residents Question Status Of 24th Street Hotel Currently Housing Homeless Families
A four-story building completed in 2015 at 235 24th Street (near 4th Avenue) has nearby residents confused about whether the building will function as a Howard Johnson hotel property or a city housing facility for the homeless.
"I just want to know what is going on with it," said Mary, a resident who declined to give her last name and has lived in the neighborhood for about 30 years. "I watched the building go up. It looks like a new hotel to me."
Mary noticed people and "security guards" going in and out of the building since early August. "I don't know why they haven't just put up a hotel sign," she said.
The New Empire Builder Corp. listed the building as a Howard Johnson hotel on its projects list. On the firm's website, a Howard Johnson logo is pictured in the rendering.
The Department of Homeless Services (DHS) confirmed it's currently renting some rooms at the Howard Johnson hotel. However, there are no plans to convert the hotel into a homeless shelter, the agency said.
"Each day, we are tasked with determining how to meet the City's legal obligation to house tens of thousands of homeless New Yorkers, including families with children, who would otherwise be on the street," Lauren Gray, a Department of Homeless Services spokesperson, told the Park Slope Stoop. "These homeless families come to us seeking help from every neighborhood."
A Google search of "235 24th Street Howard Johnson" does list the property as a hotel, and also providing a phone number and link to the Howard Johnson website. When we called the phone number to inquire about rooms, the person who answered verified the building was a hotel.
When we asked about room availability she responded with conflicting information. "No, we do not rent rooms. This is a private residence," she said.
"The people living there are very loud outside at night," Mary said. "I've seen some people on the street yelling and being nasty."
We stopped by the Howard Johnson hotel to inquire about room availability. A "No Trespassing" sign was taped to the sliding entrance doors. When we entered the doors, an employee behind the counter told us to "leave immediately."
When we began to identify ourselves, the employee interrupted us by saying, "Leave the property now! You are trespassing. You are not allowed in here." A man dressed in a security guard outfit stood up and began walking towards us, however, we left without incident.
The DHS confirmed it's currently providing 24/7 security and on-site social services for families during their stay at the hotel.
Council Member Carlos Menchaca's office did not respond when we reached out to them for a comment about the current usage and future of the property.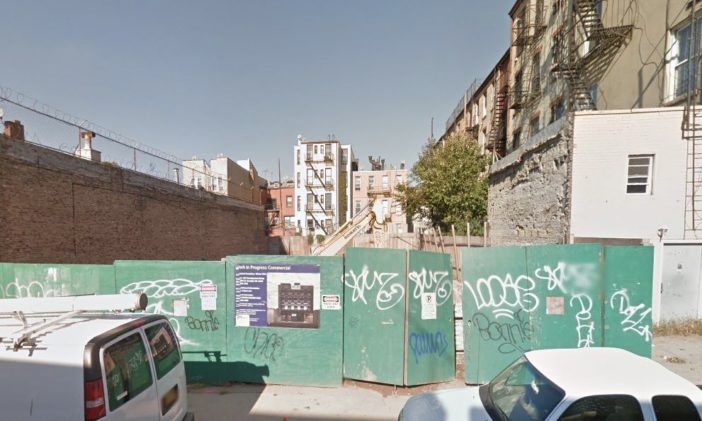 Mary says she hopes that the situation will be addressed at the Community Board 7 meeting on September 21. CB7 District Manager Jeremy Laufer said the item is not currently on the agenda, but will "address it if someone has concerns."
Laufer was unaware of the "No Trespassing" sign when we told him about the incident. However, he said he's knowledgeable about the citywide policy and the other homeless housing facilities in the CB7 area.
While there has not been any public outcry or organized community concern, other neighborhoods around the city have resisted hotels being converted to homeless shelters. The Holiday Inn Express in Maspeth Queens has become a recent lighting rod for controversy over city policy. A public hearing about the usage of the hotel is set to take place on Wednesday, August 31.
"We'd like to thank the communities, neighbors and businesses working with us to stand by our neighbors as they navigate some of the most difficult situations of their lives," Gray said. "And we are doing our part to bring appropriate security and social services to the sites we utilize, including those that are not homeless shelters."