Red Hook Pile Up – Cop Car Crash Trying To Stop Illegal Vehicle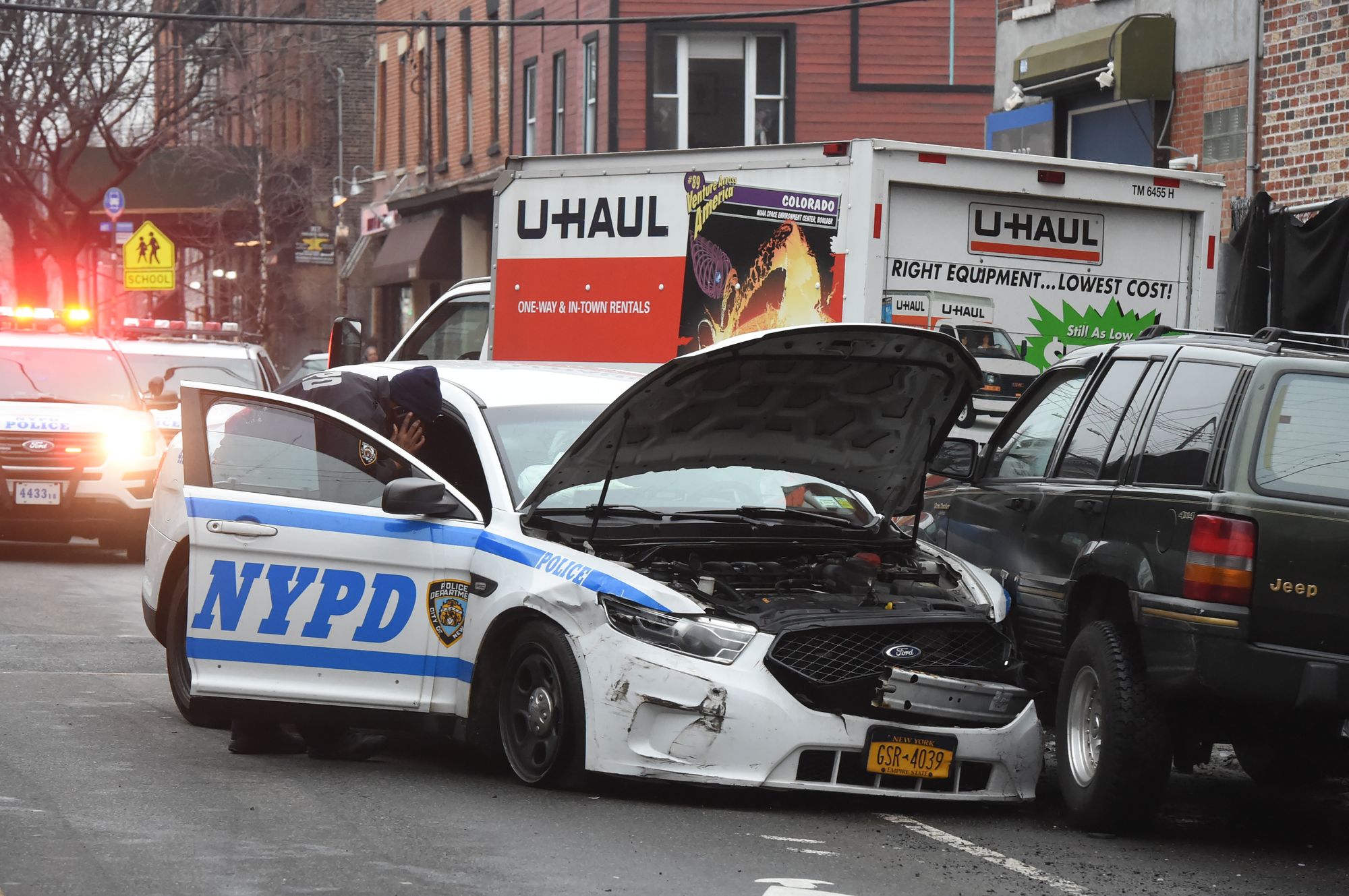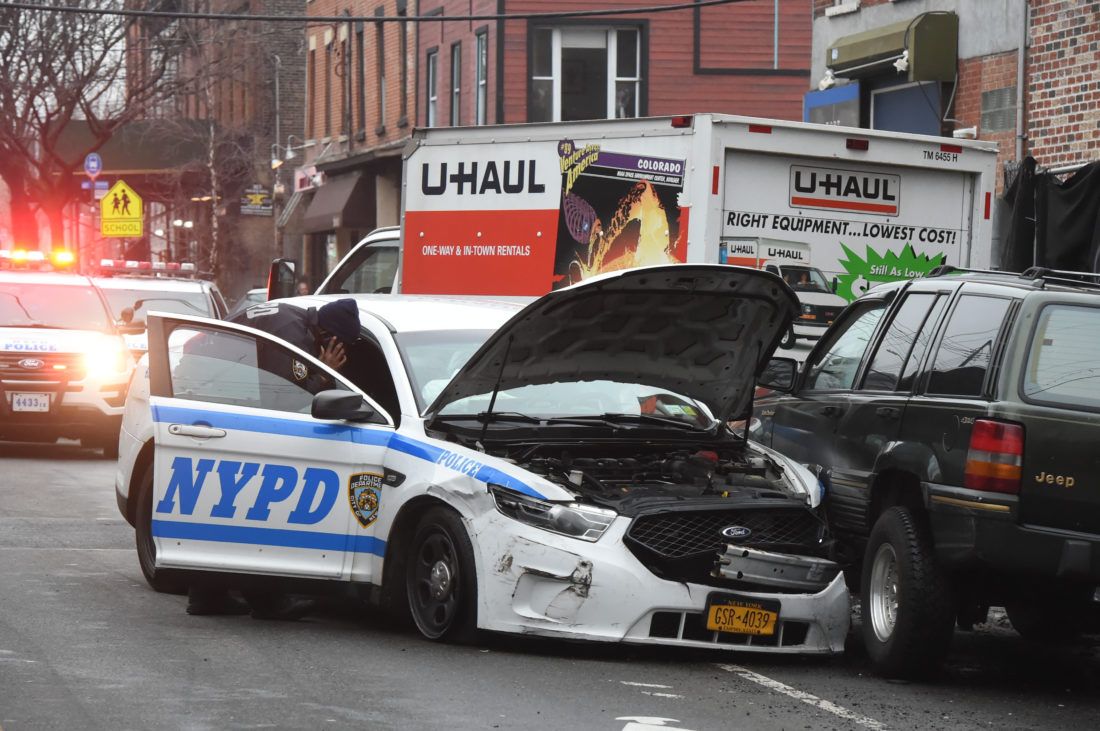 RED HOOK – Two police officers were injured when they crashed their patrol car into three vehicles on Van Brunt Street in Red Hook Sunday evening after they tried to pull over a suspicious car, police officials said.
A police spokesman insisted there was "no chase involved" in the incident where the patrol car lost control and hit the three parked vehicles, and instead, just "the car refused to pull over."
Two East Flatbush men were arrested after the incident in which the car they were driving, a Nissan, struck two vehicles on Coffey Street while trying to elude police.
The incident began at 5 p.m. when the officers from the 76th Precinct spotted the suspicious vehicle on Creamer Street and attempted to pull them over. The car kept going and turned right onto Dikeman Street and then left onto Van Brunt Street with the officers still in pursuit.
At that point, the patrol car lost control and struck a Honda Odyssey, bounced off into the opposite lane of traffic and hit a parked U-Haul truck and a Jeep Cherokee, knocking the truck onto the sidewalk.
Witnesses say one of the officers leaped from the vehicle with a fire extinguisher and stopped the smoking patrol car from going on fire. The Nissan made a left onto Dikeman Street where it then hit Jeep and a Volkswagen before coming to a stop mid-block, coming inches from striking yet another vehicle.
Ariel Derris, a resident of Dikeman Street said he was just doing clean-up around his home when he ran out and chased one of the two men and caught him nearby. "They hit my car, my neighbor's car and another guys car, and when they stopped, they jumped out and tried to run," he said.
"I chased and grabbed the guy with the black coat and grey hoodie, but when he put his hand in his pocket like he had a gun, I just let him go. I'm still beating myself up about that."
John Martinez said they ran out when his wife said the Nissan was "parked too close to his car," and then saw that the Nissan had come inches from destroying his vehicle, but instead, just cracked his side mirror."It's the usual that goes on around here, they are always stealing cars around here," Martinez said. "I saw them jump out of the car and started running."
The two men were chased by officers on foot and in patrol cars to Sullivan Street and Ferris Street near Atlantic Terminal where they were arrested by members of the Housing Police who joined in the hunt.
The injured officers were taken to Methodist Hospital with minor neck and back injuries. The two men arrested were identified as Jonathan Grant, 23, of East 93rdStreet in East Flatbush and Shawn Barrington, of Kings Highway.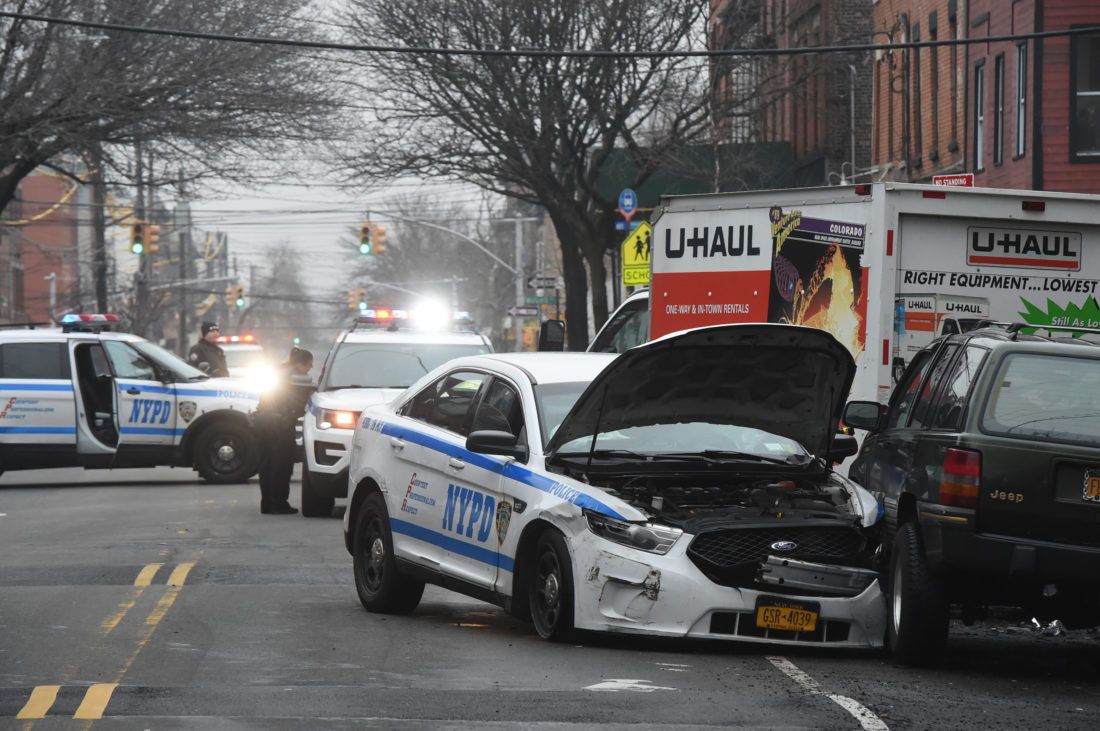 Grant was charged with leaving the scene of an accident and Barrington was hit with reckless endangerment, possession of stolen property, unlicensed operator, operating an unlicensed vehicle, a license plate violation, leaving the scene of an accident, and failure to obey traffic control device.
Kevin Hoyman, a 5-year resident of Van Brunt Street, said he came down from his apartment and found his van had been struck by the police car and was up on the sidewalk."
I had just come down because I left seltzer in the van, then I saw my van on the sidewalk," Hoyman said. "I didn't think the officer was injured because he was trying to put out the fire and radio for help."
"It's lucky cars were parked here, because otherwise, they would've shot off into the store," Hoyman said.