Rasputin Restaurant Evicted, Padlocked As Owner Faces Fraud Charges
Rasputin, the windowless, mausoleum-like restaurant and nightclub at 2670 Coney Island Avenue, has been shuttered and padlocked.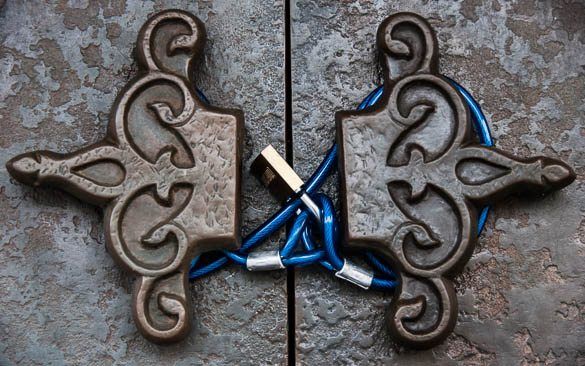 There is a notice taped near the entrance that shows it was closed by city marshals and turned over to the landlord.
It's unclear if this is related to the criminal case against Michael Levitis, the owner of Rasputin Restaurant. Levitis is alleged to be the ringleader of a fraud scheme, in which a company he controlled – Mission Settlement Agency – preyed on debt-laden victims. The company claimed to reduce a client's debt to creditors and make payments on their behalf. In reality, prosecutors say, the company collected fees and did little or nothing to help clients, and Levitis used the fees to pay operating expenses at Rasputin, lease two luxury Mercedes and pay off his mother's credit card bills.
Prosecutors have filed to seize approximately 40 bank accounts connected to Levitis, as well as Rasputin Restaurant and two properties he owns in Manhattan Beach. The assets would be used to pay back his victims if Levitis is found guilty.
However, the property on which Rasputin sits is not owned by Levitis. Notices like the one above are often left when a lessee fails to pay his rent and the landlord wins an eviction in court. It's unclear if that's the case, or if the landlord was somehow able to wrangle back control of the property amid Levitis' problems.
The landlord was not available to answer questions as we went to press, but we will update if we hear from them.
Meanwhile, a post on Michael Levitis' Facebook page that had announced the closure late last week or over the weekend has since disappeared. In reply to comments left on the post, Levitis had credited the closure to "higher powers," but had not elaborated beyond that point when we stumbled across it.