Roundup: Purim Celebrations Around Sheepshead Bay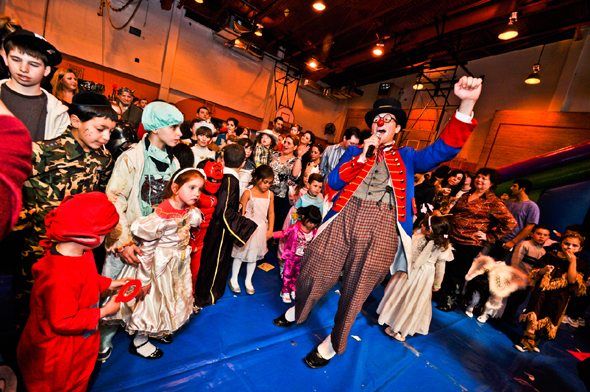 Let the Purim festivities begin! The Jewish holiday is just around the corner, kicking off Saturday evening and ending on Sunday. Celebrating the story of Esther, who rose to become queen of Persia, and who foiled the evil Haman's plans to eradicate the Jews, it's a time for the children of Israel to boogie down with food, drinks and costumes – as well as gifts to the needy.
To help you find your party, here's a list of local Purim events this weekend, with some for the kids and families, and some for adults eager to cut a rug to celebrate their people. L'chaim!
Purim and Costume Party At Congregation Israel of Kings Bay – Saturday, March 15, 8:00 – 3903 Nostrand Avenue – The party kicks of with the Megillah reading at 8:20 p.m., followed by celebration at 9:00 p.m. Hamantashen, graggers, Purim bags, prizes and raffles! Donations suggested. Call (718) 934-5176 for details.
Purim Party at Chabad of Sheepshead Bay – Saturday, March 15, 8:00 p.m. to 10:00 p.m. – 1315 Avenue Y – A kids Purim party with Megillah reading, magic show, free cotton candy and popcorn. Admission: $5/child, free for adults. For more information, call (718) 934-9331.
Purim Carnival at Kings Bay Y – Sunday, March 16, 11:00 a.m. to 2:00 p.m. – 3495 Nostrand Avenue – A community celebration with free hamantashen, giveaways, kosher food, music and fun. There will be rides for children, carnival games and other entertainment. Admission: free. Contact: Alina at 718-648-7703 ext. 224 or info@kingsbayy.org.
Purim Celebration at Shorefront Y – Sunday, March 16, 2:00 p.m. – 3300 Coney Island Avenue – Costume contests, delicious treats and kid's activities. There will also be a performance of "A Poppy Seed Purim," a lighthearted musical of the Biblical story of Esther. Admission is $8 per person, and free for kids under three. Call 718-646-1444 for more information.
Purim Party w/Circus Entertainment at Chabad of Kings Highway – Sunday, March 16, 2:00 p.m. to 4:00 p.m. – 815 Kings Highway, third floor – Amazing acrobats, hot dogs and hamantashen, live music and face painting. Come in costume for this celebration! Admission: free w/RSVP or $5 at the door ($10 for families). Call (718) 998-5394 to RSVP.
Western-Style Purim – Sunday, March 16, 5:00 p.m. to 10:00 p.m. – Produced by Chabad of Sheepshead Bay, hosted at S.L.C. Social Hall, 805 Avenue T – A western-themed party, where attendees will help "rustle up all the Haman bandits." Guests should come in Western attire, enjoy a buffet dinner, a reptile show, live music and Megilla reading. Admission: $36/adults, $15/children. Call (718) 934-9331 for reservations. Must RSVP by March 13.
Purim Night Out for Young Professionals & Parents – Sunday, March 16, 6:30 p.m. to 10:30 p.m. – 10007 4th Avenue – Leave the kids at home, or, for free, with Kings Bay Y's child caretakers, and go party your 'tashen off. Kings Bay Y is organizing this night out at Cats Club in Bay Ridge. Admission gets you two glasses of wine, valet, discount on future drinks, live DJ and finger foods. Admission in advance: $40/person, $70 for couple. Admission at the door: $45/person, $80/couple. For more info or to reserve, contact Angela at (718) 648-7703 ext. 223.