Council Members Host Public Forum Next Tuesday On Charter Revision Ballot Proposals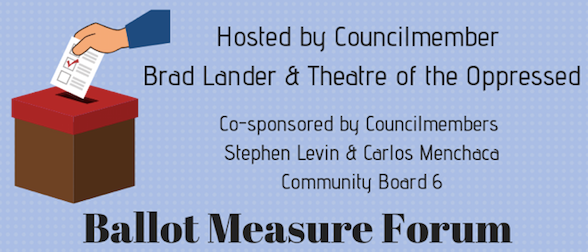 PROSPECT HEIGHTS – Council Members Brad Lander (District 39), Stephen Levin (District 33), and Carlos Menchaca (District 38) will be joined by Theatre of the Oppressed next Tuesday, October 23 in hosting a public forum about the three Charter Revision ballot proposals New Yorkers will vote on next month.
The ballot measures focus on campaign finance reform, civic engagement, and community board reform. The event will include a presentation explaining the three proposals, a Q & A session, as well as breakout discussions. Learn more about the proposed changes to the NYC Charter here.
NYC Charter Revision/Ballot Measure Forum
Tuesday, October 23 at 6:30pm
Brooklyn Public Library, Central Branch
10 Grand Army Plaza, Dweck Auditorium, Prospect Heights