Profit, Performance & Protest: Park Slope Schools Stand Up Against Cuomo's Proposed Education Budget & Reforms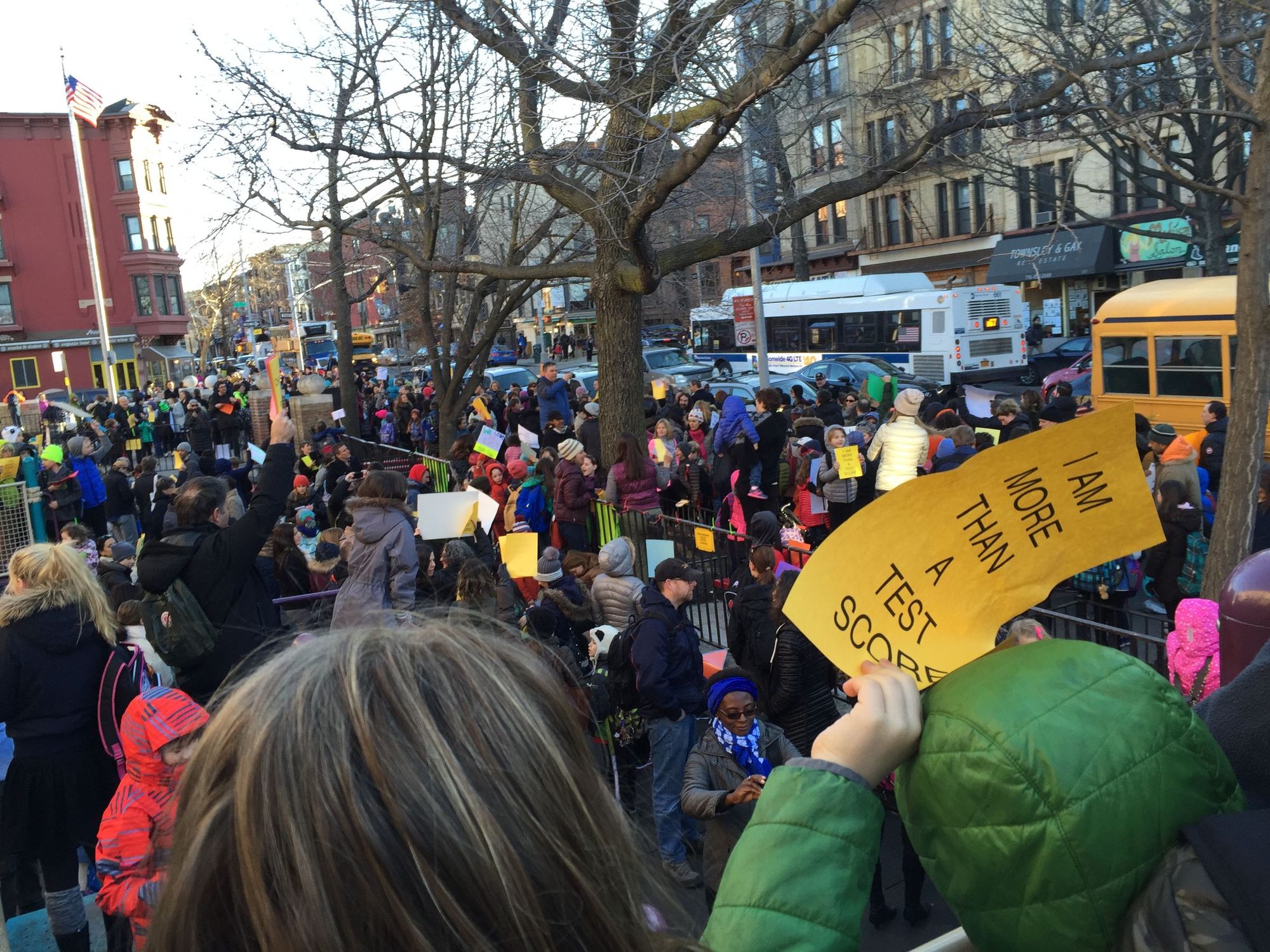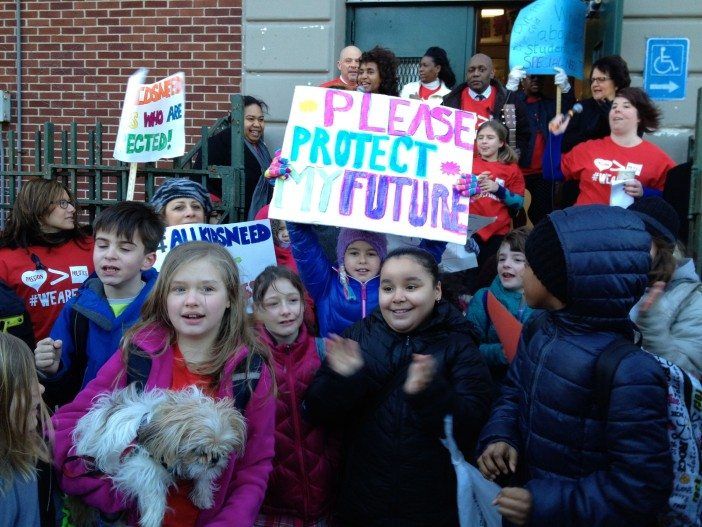 Chants of "Whose school? Our school!" reverberated from the sidewalks surrounding PS 10 (511 7th Avenue), one of several local schools where students, teachers, parents, and local politicians gathered this morning to send a message to Governor Andrew Cuomo: they are standing strong in the face of his proposed education reforms, which teachers across the state are slamming for
what they say is far too little funding for public schools and an overemphasis on standardized tests.
"Passion is greater than politics," said PS 10 principal Laura Scott, echoing the posters, T-shirts, and sentiments of all who gathered on the chilly morning to support their teachers.
PS 10 joined schools across the city that are protesting Cuomo's proposals today, in a movement organized by Class Size Matters, NYS Allies for Public Education, and the Alliance for Quality Education.

The governor announced in January a major overhaul of the state's education policy, which needs approval from the state legislature to be implemented, including significantly increasing the weight of students' standardized test scores in teacher evaluations and boosting the number of charter schools in New York.
"Our education system needs dramatic reform, and it has for years," Cuomo said during January's address. "This is the year to roll up our sleeves and take on the dramatic challenge that has eluded us for so many years and for so many reasons."
The governor also announced a $1.1 billion increase in state education funding, which is far less than what groups like the United Federation of Teachers and the Alliance for Quality Education say is needed. Cuomo's numbers are not final – the budget needs to be voted on by the Assembly and state Senate, and lawmakers are hoping to reach a deal by the April 1 deadline.
Additionally, the Alliance for Quality Education, recently called on Cuomo to also disburse billions of dollars it says is owed to the city's public schools. The Alliance for Quality Education issued a document saying that "Cuomo's chronic cuts to education and his noncompliance with the Campaign for Fiscal Equity" lawsuit has resulted in the state owing about $2.5 billion to the city's public education system — an average of about $2,667 to every student in the city's public education system.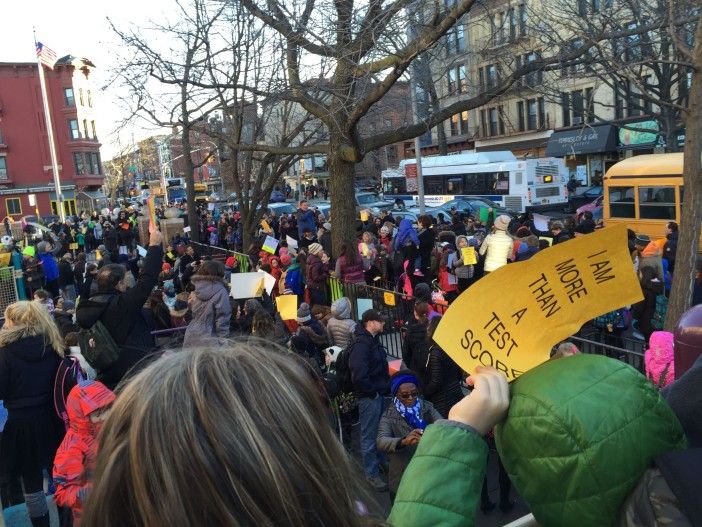 "Since my 5th grader joined the school, the budget has been cut so much, it's crazy," said Debbie Brukman, a parent at PS 321 (180 7th Avenue) who noted they now cover their art teacher's salary with money from the PTA budget. "How awful for the schools that don't have the resources that we do."
According to the Alliance for Quality Education, the state owes PS 321, for instance, $3,957,703.13 because of the Campaign for Fiscal Equity lawsuit. To see how much the AQE says your school is owed, you can go here.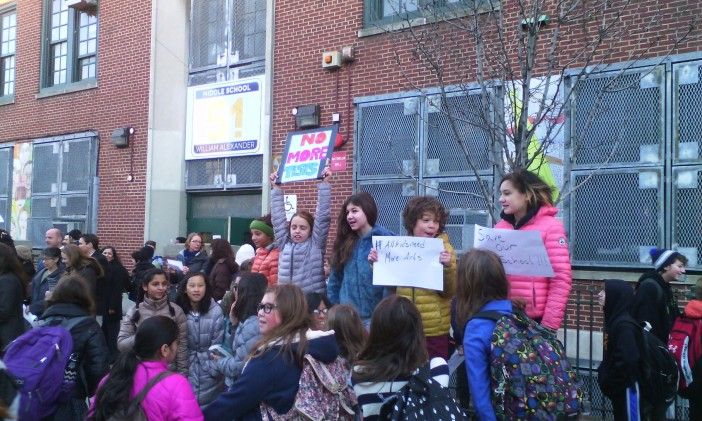 Dean Bell, a parent at MS 51 (350 5th Avenue), agrees that Cuomo is shortchanging urban schools.
"He hides this inequity behind a call for a huge increase in charter schools, which will actually end up siphoning even more money away from our public schools," said Bell. "Let's talk about what's right with our public schools and start building from there, rather than starting with what's wrong and tearing the whole thing down."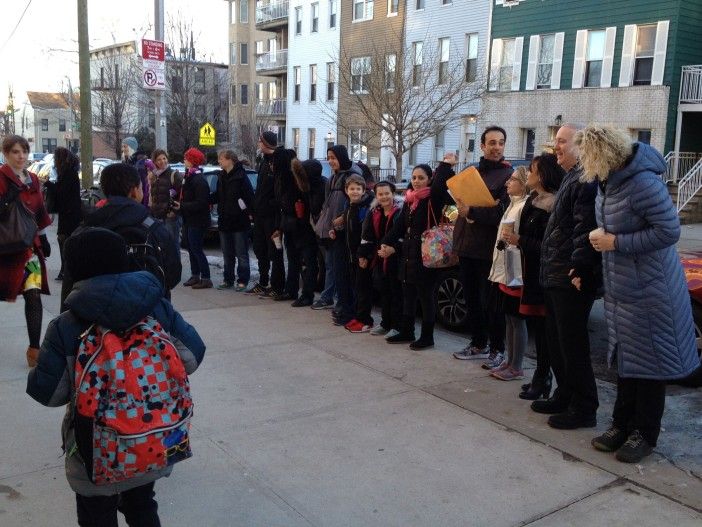 Teachers at local schools also feel that money is going to the wrong places — for instance, toward the company administering the standardized tests, rather than toward the schools that need it most.
"Testing has its place, but when it becomes a monopoly on making money, it's not fair to the kids," said Ghazi Albuliwi, the UFT chapter leader and an ESL teacher at New Voices Middle School (330 18th Street), who added that, even more importantly, the kids who have to deal with these tests are cracking under the pressure.

"One kid last week was staying home because what was happening with test prep, he felt that staying home to study was better than being in school," Albuliwi said. "And that pressure goes all the way down to first grade."
Teachers and parents are particularly against the governor's plan to base 50 percent of teacher evaluations on students' standardized test scores — currently only 20 percent of the evaluations are tied to the test results.
"My daughter has been at PS 124 since pre-K and she's now in grade 5, so we know well what we have at our 'little school with a big heart,'" said Jim Newman, PTA president at PS 124 (515 4th Avenue). "We have teachers who love what they do and are dedicated to our children. The value that is placed on guiding students to be well-rounded citizens through inspiring our children to learn, honing leadership, and encouraging creativity is second to none. The thought that our teachers could have 85% of their evaluations removed from the PS 124 community and placed in the hands of the state, with the understanding that any teacher rated ineffective two years in a row could be fired, is absolutely unacceptable. Period."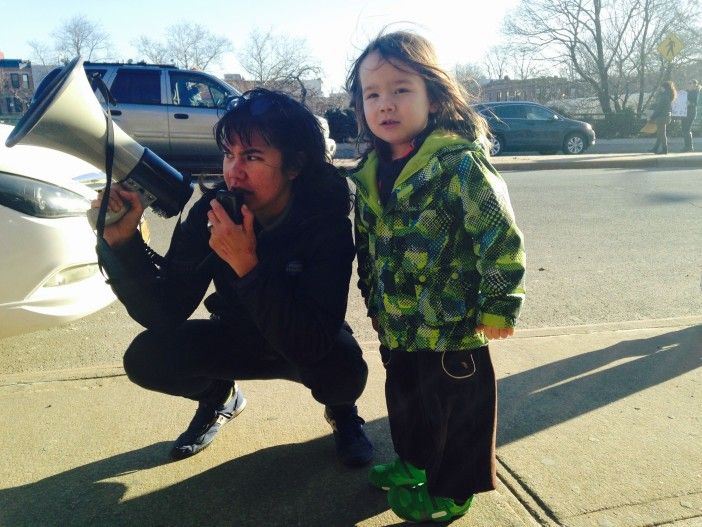 Even parents of young children spoke out today, voicing concerns about the future of their kids' education. At PS K280, the universal pre-K that recently opened in the former Bishop Ford High School space at 500 19th Street, the 160 students will soon enter elementary school, where they would be subjected to Cuomo's plans.
"Right now, in pre-K, my child is exposed to inquiry-based, child-led, and play-based learning that works on socio-emotional skills," said PS K280 PTA co-president Arsenia Reilly-Collins. "More schools should have that pedagogy rather than the one-size-fits all testing model that Cuomo is pushing. Cuomo has no experience in the classroom or child development. There is no evidence-based science that proves that his plan works. In fact, there has been failure after failure (e.g. Washington DC, New Orleans). The only parties that Cuomo seems to be listening to are businesses who are cashing in on education. Our children will be the victims of his profit-driven motives."
Legislators too have joined the rallying cry against Cuomo's education budget — in our area, Assemblyman Jim Brennan launched a petition calling on the governor to amend his proposal. In the petition, he wrote:
The New York City public school system needs and deserves increases in state aid for education to further improve the schools," Brennan wrote in the petition. "Class sizes should be reduced, after-school programs expanded, and enrichment programs in academics, the arts, sports, health, and other services should be strengthened. The State government has still not addressed the Campaign for Fiscal Equity court decision, which said New York City schools and other school systems are not adequately funded, and the State should add $2.2 billion in funding statewide to the schools to make progress on this vital concern.
Instead of recognizing these basic needs, your budget provides no increase to New York City schools unless the legislature approves increasing the use of test scores to fire teachers, principals, and close schools, and allows tens of thousands more children to be diverted from the public schools by adding 100 more charter schools. These proposals will damage the school system by demoralizing staff, students, and parents, and destabilize schools as more families leave.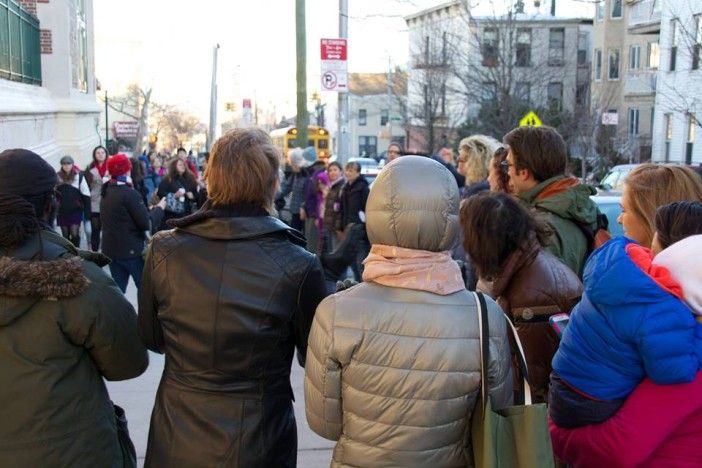 The actions taken around the neighborhood and across the city today reflect a building resentment against the state's education policies, and for some, these proposed changes feel like the last straw.
"Instead of placing more emphasis on high-stakes testing, undermining teachers and principals, and diverting funds to charter organizations — when the state already owes NYC schools over $2 billion from the Campaign for Fiscal Equity lawsuit — Governor Cuomo should be working to help public schools succeed," said Dan Janzen, PTA president at PS 295 (330 18th Street). "We're not going to let him hold our kids hostage to score political points and please his backers. This is the moment when parents say enough is enough."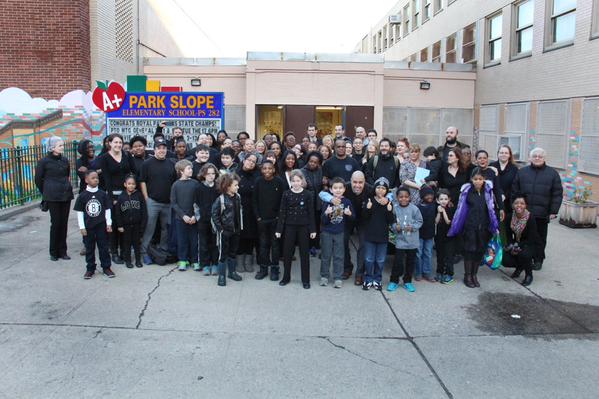 If you'd like to add your voice to the protest, you can sign Brennan's petition, email Governor Cuomo at gov.cuomo@chamber.state.ny.us, and add your name to the New York Teacher's Letter.
With additional reporting by Anna Gustafson.