Presidential Candidate Pete Buttigieg First To Make A Campaign Stop In Brooklyn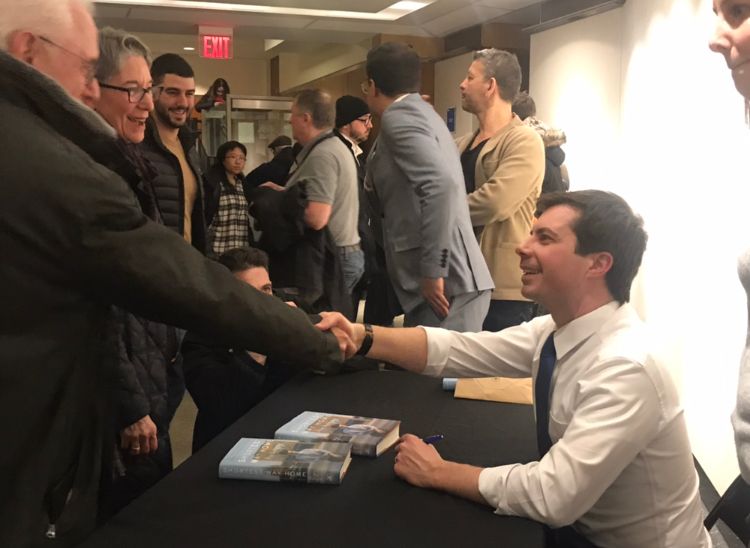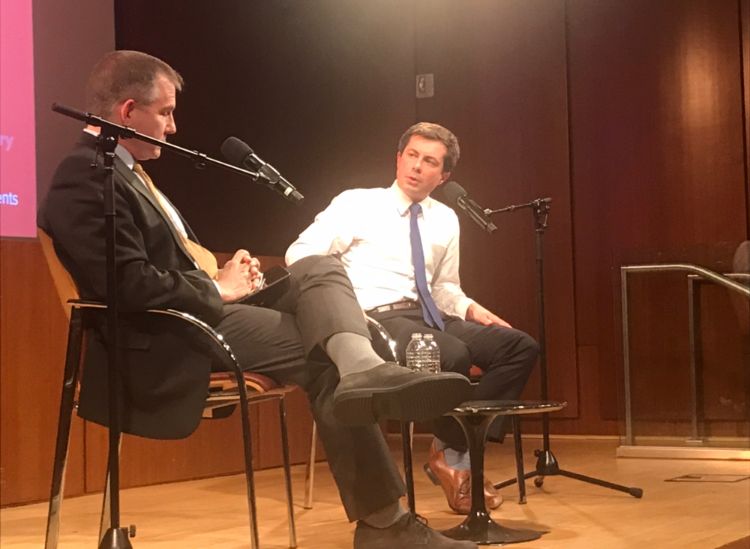 PROSPECT HEIGHTS —  The first presidential candidate to visit Brooklyn is Pete Buttigieg from South Bend, Indiana. Bernie Sanders was rumored to announce in Brooklyn but chose to deliver his announcement via a radio station in his home state, Vermont.
Keeping with tradition, Buttigieg released a memoir where you can learn everything he wants you to know about him, some of which was discussed during a Q&A with Frank Bruni of the New York Times in front of more than 300 people at the Brooklyn Public Library on Monday. Feb. 18, 2019.
The Midwestern Democrat, who won his mayoral seat at age 29, is a month into his national bid for president. For those who question his audacity to run for the high office having only surpassed the constitutional age limit by a mere two years, Buttigieg presents to you the nation's current situation.
"Is it just maybe the case for a country where, and especially a Party, that has really lost touch with the industrial Midwest and so-called forgotten communities—in a moment that seems to be crying out for generational change—at a time when our politics has become unbelievably crass and also divorced from reality and also disconnected from the extent to which politics matters most because it affects individual lives—is it maybe the right idea for a young mid-Western millennial, intellectual, gay, mayor to have something to offer?"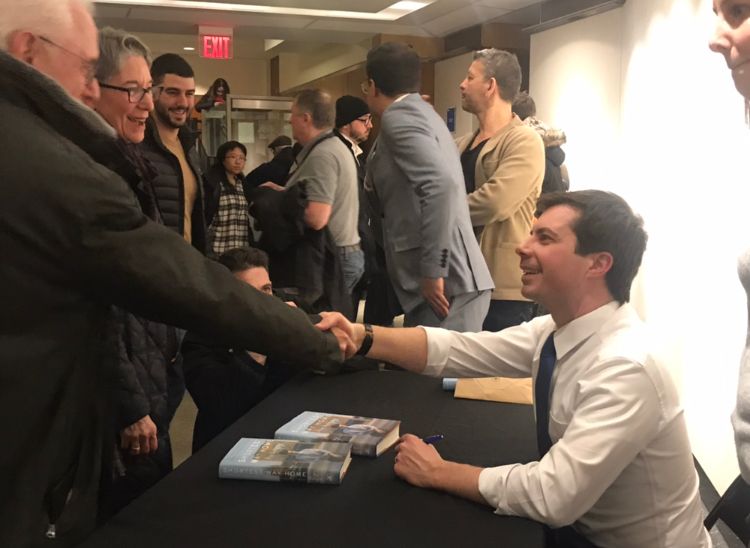 The first openly gay presidential candidate married his husband Chasten Glezman last June. The two met on a dating app. "Not that one," he joked. When prompted, he offered an explanation as to why he came out during his 30s and not sooner.
"The honest answer is I was running down the clock on maybe, some chance, that somehow, I wasn't as gay as it seemed like I was," Buttigieg told Bruni. "At a certain point, I was wasting my time. I was wasting the time of these really remarkable women who deserved better than to go on dates with a guy who couldn't admit he was gay."
The Rhodes scholar graduated from Harvard University with a bachelor's degree and received an MA from Pembroke College at the University of Oxford. It's his Ivy League experience and knocking on doors in low-income communities in Iowa during the 2008 election that he says "pushed him over the top" to join the military.
He said he was shocked at the number of people under age 20 who were in or going to serve.
"It set me reflecting on how few—like I could count on one hand few— people I knew at Harvard who had been part of the military," said Buttigieg who was deployed to Afghanistan in 2014 after serving in the Naval Reserve since 2009.  "I began realizing I was probably part of the problem. The problem being, that people with one background in education serve and another [doesn't]."
His policy positions?
On the Green New Deal: I support it. Any honest answer to that question has to acknowledge that it is currently a set of goals, not a fully articulated plan.
Buttigieg said the country needs to treat climate change like the major emergency that it is and sees an economic benefit.
On the war in Syria and Afghanistan: I regard the withdrawal of troops from Afghanistan not only as something that has to happen— but it is happening. We are leaving. I'm not a fan of being entangled in Syria either. I do think that we will probably have to have some type of kind of special operations and intelligence capability as we do—disclosed or undisclosed in a lot of places— where we think something might happen that threatens U.S. lives.
On Universal Healthcare:  I don't think that private insurance can remain the central way to get our coverage," he said but doesn't agree with doing away with it in its entirety.  "In the case of Medicare for All, which is where we need to go. I think the way to do it, by the way, is to make some version of Medicare available on the exchanges, as this sort of public option. Invite people to buy into it, and then if people like me are right, then it's going to be better and more efficient. Then that's going to be a very good pathway for Medicare for All.
On gun control:  In Indiana, it's not necessarily popular to adopt gun safety policies that I view as common sense.
He's in favor of common sense laws, including universal background checks. He's a member of Mayors Against Illegal Guns.
On campaign finance: Citizens United was a disaster for our democracy.
The candidate isn't averse to calling for a constitutional amendment for better campaign finance laws. He's rejecting corporate PAC money.
The millennial candidate described the office of the presidency as one that should pass and implement good policy, running an organization and administration, holding people to their highest values and bringing them together.
When asked if President Donald Trump is "possibly the worst [president]," he responded, "yeah, probably," then added that the "mix of corruption" and "disregard for the meaning of the office," shaped his opinion.
His criticism of Vice President Mike Pence is a bit more personal. Buttigieg "came out" while Pence served as Indiana state governor. During which, the veep signed into law, and then revised, the Religious Freedom Restoration Act (RFRA). Critics of the bill say can it can be used by individuals and businesses to discriminate against members of the LGBTQ community on the basis of religion. That was in 2015. There are reports of discrimination as of this week.
"There's this kind of social fanaticism with him," Buttigieg said. "It divided our state and it harmed our city and it hurt a lot of people.
It's not obvious how this mayor would be a better President than the Mayor from Park Slope who "hasn't ruled out a run," but the race has just begun and we'll keep an eye on it where Brooklyn is concerned.
Who's next to visit Brooklyn?