Powerful "We Are Brooklyn" Exhibition Showcases Immigrant Stories At Brooklyn College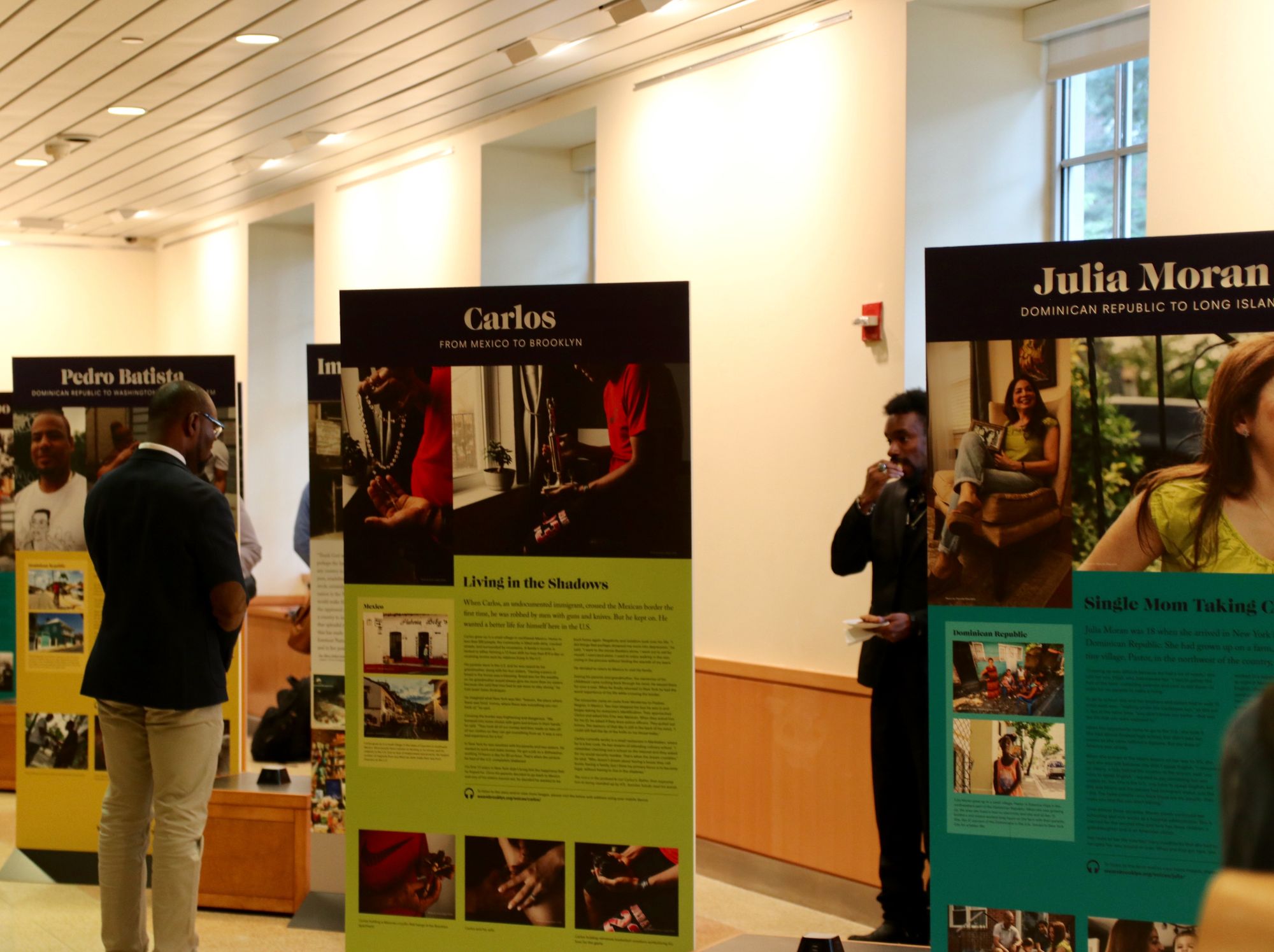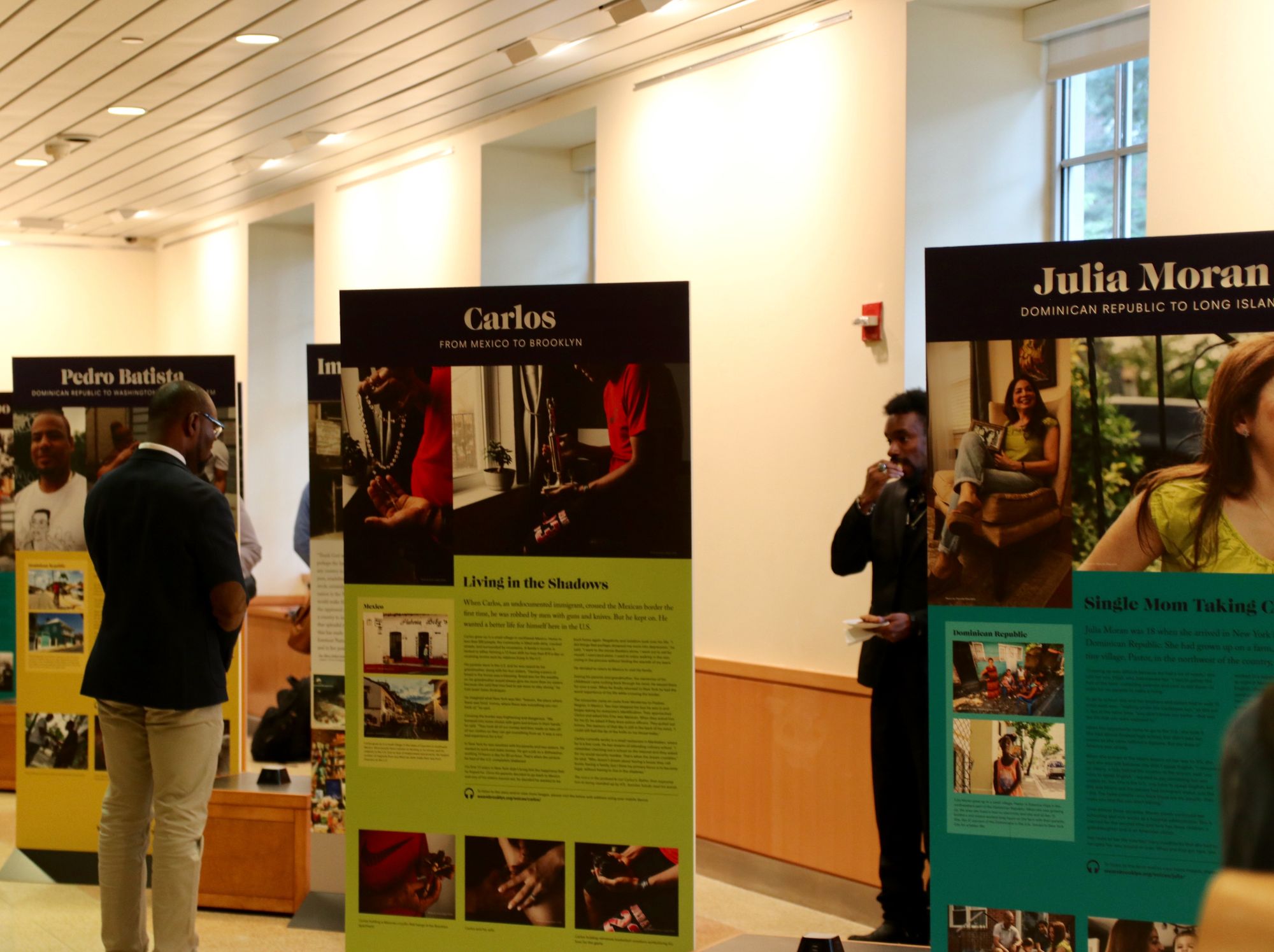 FLATBUSH – At the lobby of the Brooklyn College Library, lies a new exhibit celebrating Brooklyn's diversity and immigrant life. The various panels tell the stories of immigrants in their own words. It's called "We are Brooklyn."
"Here we are in one of the most diverse places in the world, Brooklyn," Brooklyn College President Michelle Anderson said when the exhibition made its debut two weeks ago. "The language we speak here of diversity and engagement is language that is around the world, people know Brooklyn increasingly because it's experiencing this incredible renaissance."
Back in 2014, Jessica Siegel, Joseph Entin, Philip Napoli, Miguel Macias, and Madeline Fox — all professors of different disciplines at Brooklyn College — got together and thought about creating an oral history project based at the college. A year later, it became reality and the Brooklyn College Listening Project (BCLP) was launched.
"We just thought the students could be the people that are going out there and are doing real reporting, interviewing, and coming back and sharing that with other people," Siegel, the director of BCLP, told Bklyner. "Our students have so much to offer in terms of doing their own research, their own interviewing. And because they have access to their communities, they can bring back stuff and hopefully share it with the larger world."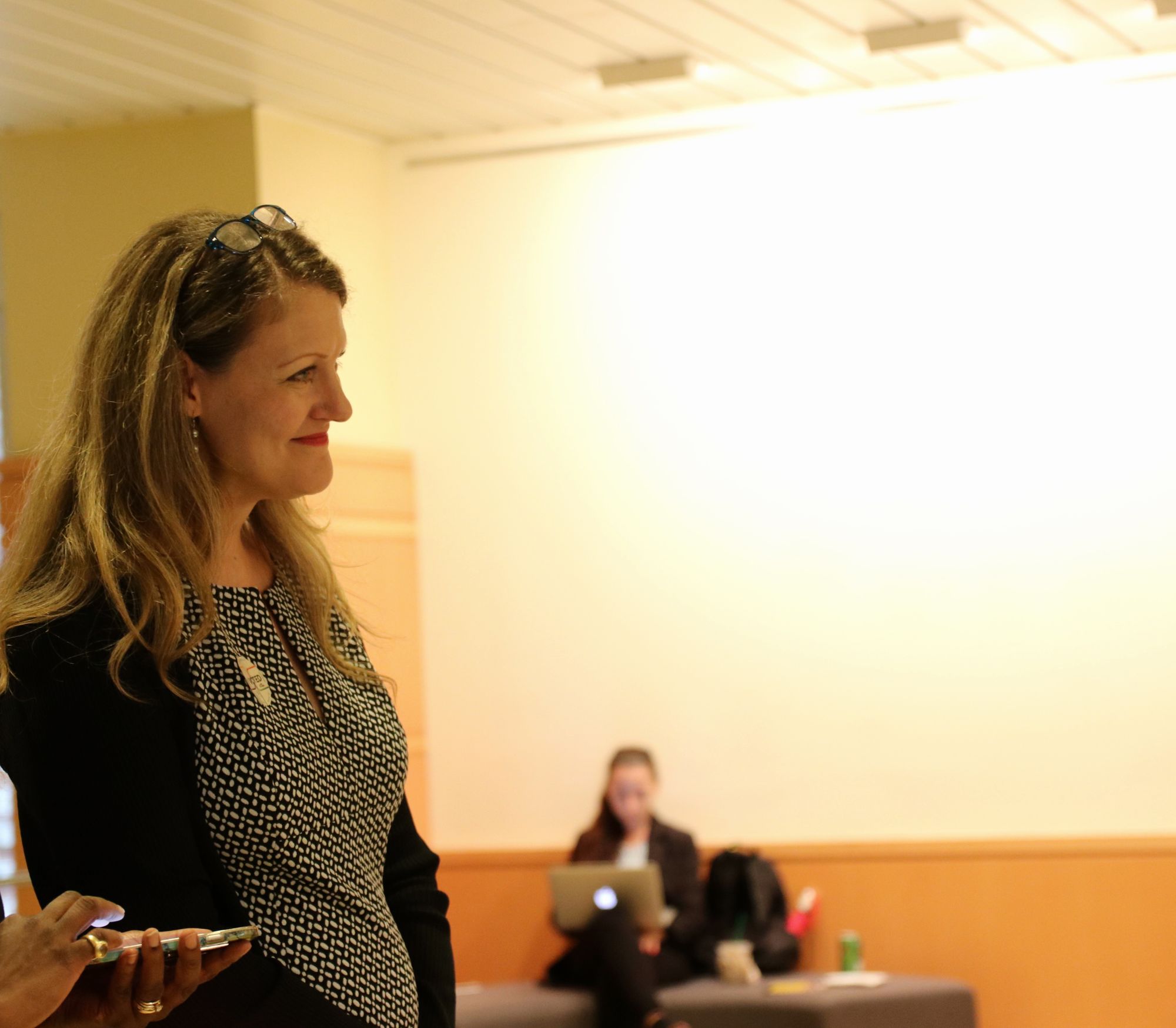 BCLP is an interdisciplinary program which allows students from various majors to extensively interview someone. The interview is recorded, archived, and turned into a podcast on the BCLP website. It makes sense for a Journalism class to get its students out interviewing, but how do the other disciplines do it?
One Health and Nutrition Science professor had her students explore immigrant markets. A professor in the Music department had his students interview a relative or a friend about music that had meaning to them. A History professor had his students interview Vietnam War veterans.
"Everybody shapes the project to what their course is," Siegel said.
The "We are Brooklyn" exhibit comes out of BCLP. Last year, Siegel received a fellowship from the Whiting Foundation to expand BCLP, and used the money to create the BCLP website and to create an exhibition. She felt that the oral histories were all being archived and the only people listening to them were students or faculty.
"I thought they were too good to just sit there and not have other people learn about these people's lives and let these people talk to them," she said. She decided to focus the exhibition on immigration because many of the oral histories were about immigrants or children of immigrants. President Trump's immigration policies also played a big factor.
"I would say it's a talkback to [Trump], absolutely," she said. "I think that any fair-minded person or any person who keeps their eyes and ears open can be convinced that immigrants are what makeup NYC and Brooklyn — underscoring the fact that we are all immigrants."
In the exhibition, ten immigrant stories are told. Carlos shares his story of life as an undocumented person from Mexico. He said his first 13 years in NY didn't bring him the happiness he yearned for. "I did things that perhaps drowned me more into depression," he said. "I went to the movie theaters alone, I went out to eat by myself, I exercised alone. I used to enjoy walking in the rain, crying in the process without feeling the warmth of my tears."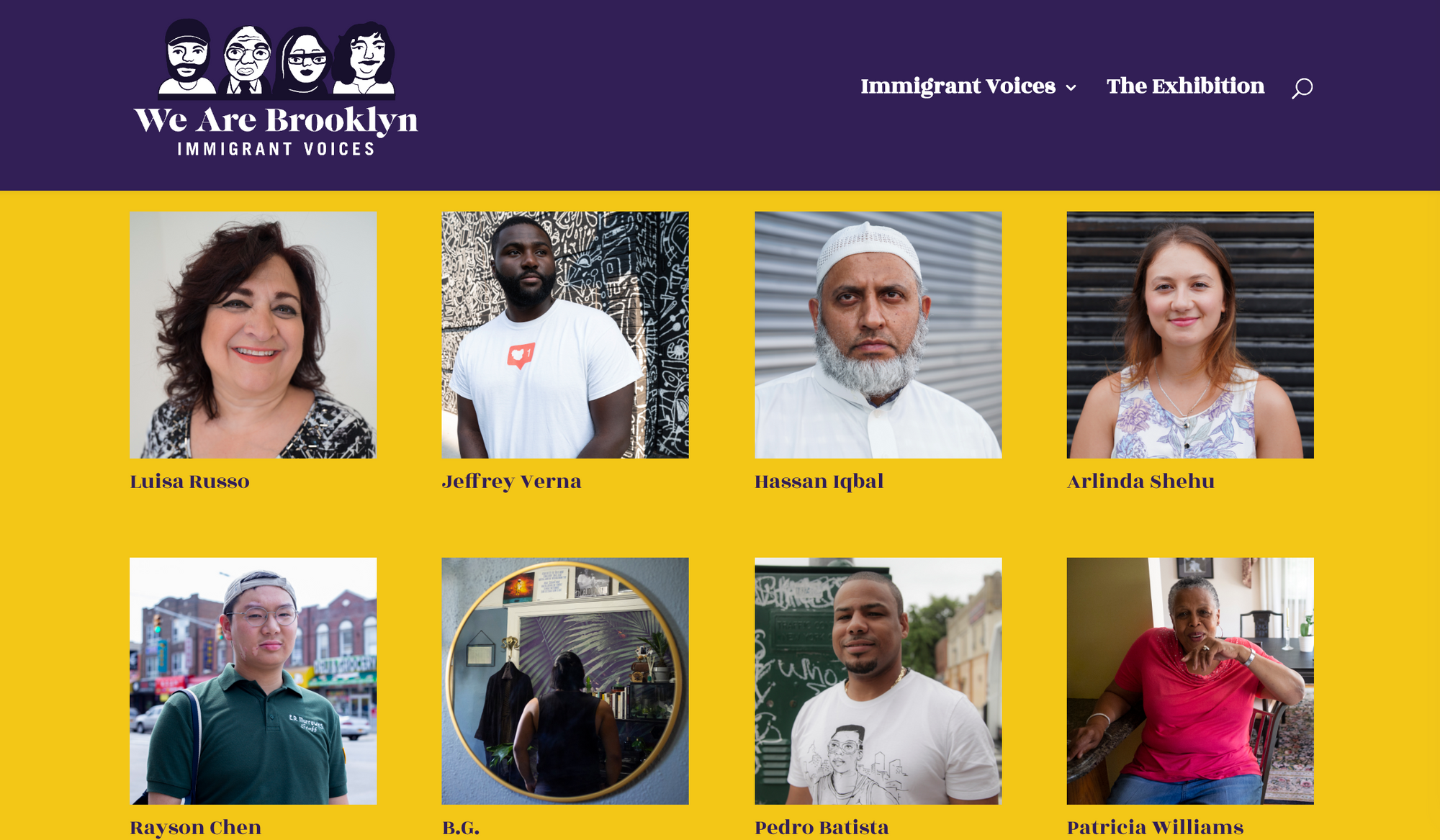 A person who went by the name B.G. to protect his identity is a Deferred Action for Childhood Arrivals (DACA) recipient and fears for himself after Trump ended DACA in 2017. Though he's working on the books at his job, he said, "There is no security. You completely have to be complicit to all the rules that go to immigrants without papers. You won't say anything; you're not going to speak out. You just have to conform to everything. They basically tell you: it is a privilege to have a job so there should be no complaints."
Jumaane Williams' mother, Patricia Williams, also shared her story. She was interviewed by Siegel herself.
"I can identify with the people coming here today," Williams said. "Everybody I knew came on a student visa and worked illegally. They didn't hurt anybody but they had to find a way to eat. And they're assimilated into the system now."
Aside from allowing people to hear the stories of immigrants, Siegel also wants people to understand the history of immigration to the US.
"There were periods where it was completely open and times where there were restrictions," she said. "I want people to try to put Trump's policies in a context, but at the same time show very clearly what he and his administration have done to restrict immigrants, refugees, and anybody that's trying to make a better life for themselves."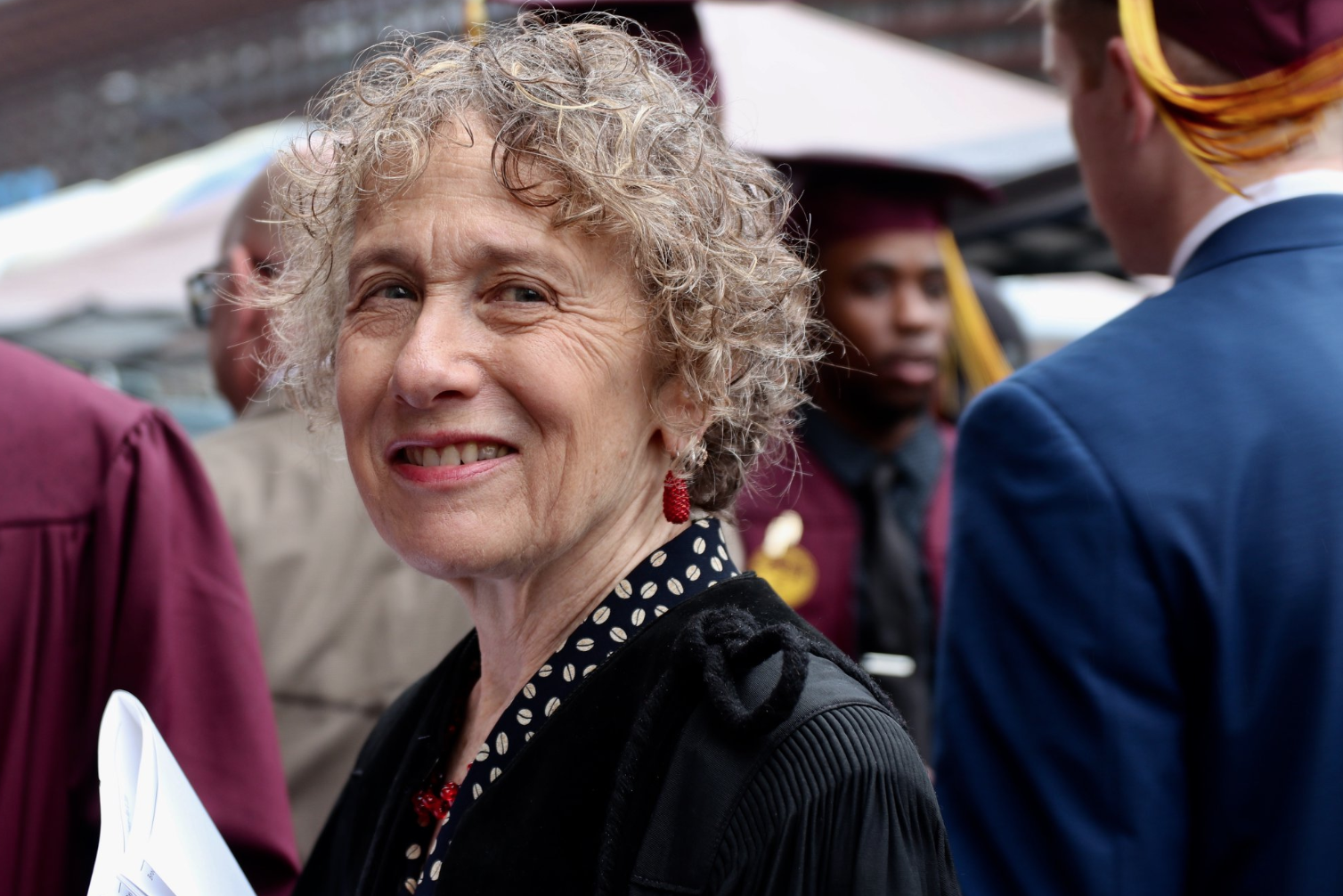 The exhibition has been getting tons of positive feedback, Siegel said. Several students suggested showcasing the exhibit in other City University of NY (CUNY) colleges.
"I want to keep traveling this particular exhibition," she said. "I would love for it to travel all around the City. But I also want it to go to places that don't have so many immigrants because it really tells powerful stories."
Siegel has lived in Ditmas Park for ten years and loves her neighborhood. She is the granddaughter of immigrants and acknowledged that it is immigrants that really make this borough great.
"All these different communities bring so much culture to Brooklyn. There's a lot of history, where you walk around a block and you see a really old house from the 19th century up against a new tower," she said. "But really, it's the people. That's why I think these voices are so important."
"It really allows you to meet these people in a very powerful way."
The exhibition will be at the Brooklyn College Library until November.  Go check it out!