Policiano's Italian Sausage – Simply Perfect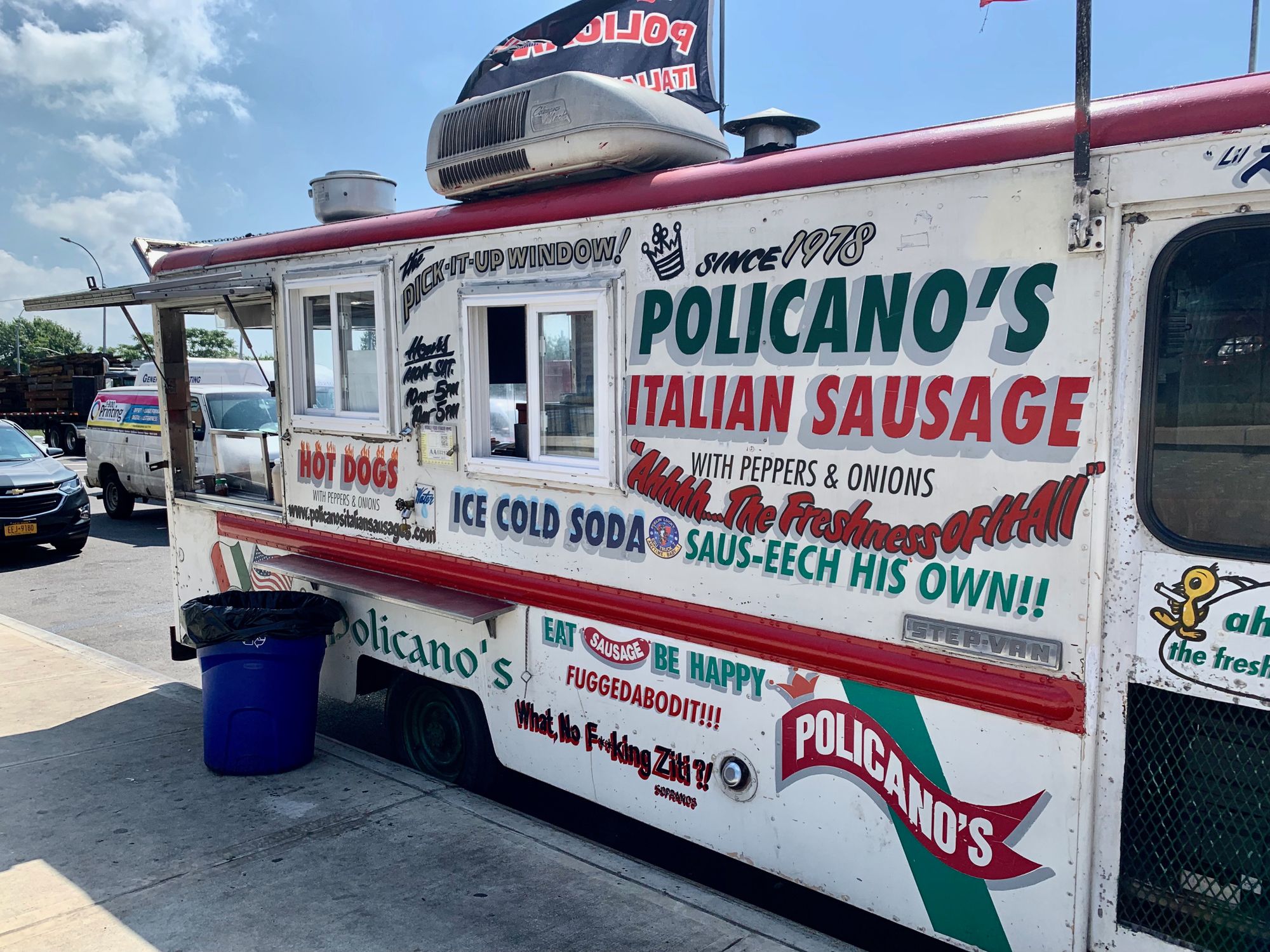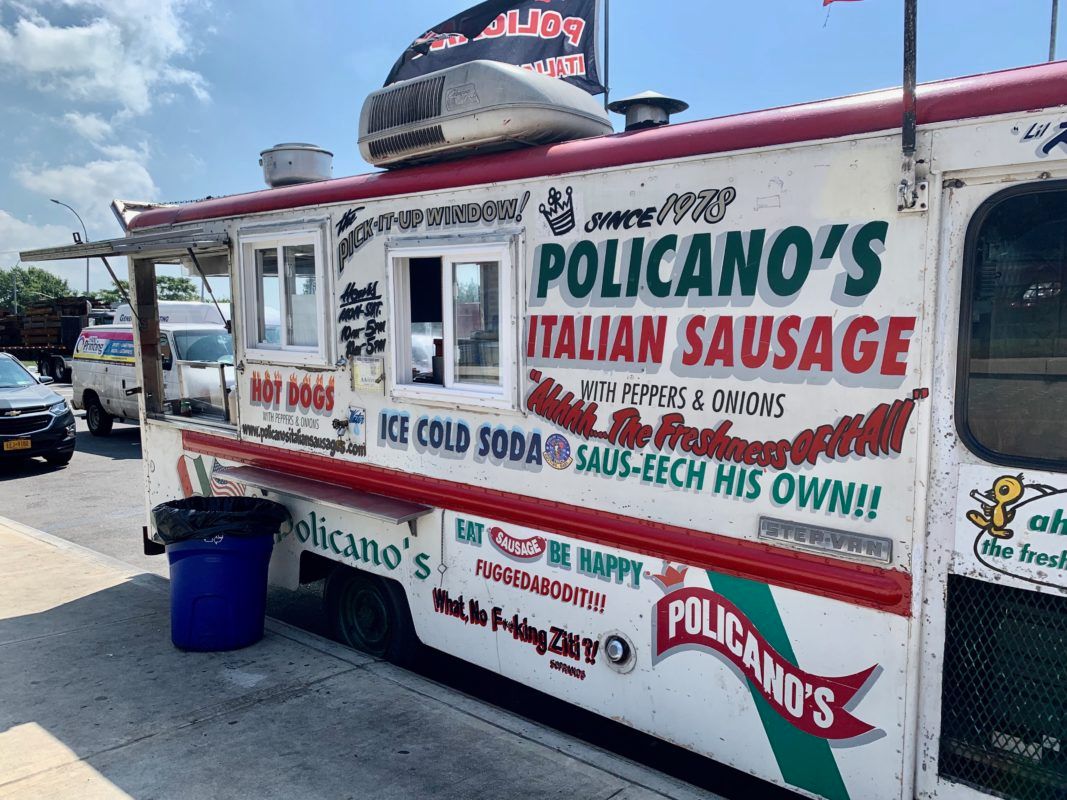 EAST NEW YORK/LINDEN MALL – The best lunch around Linden Mall is at Policano's Italian Sausage truck.
Doug Policano has been parking his truck on the north side of Linden Boulevard at 79th Street since 1978, right on the border of Brooklyn and Queens, and locals claim you won't find a better sausage in either borough. Policiano's Italian Sausage is about one thing, and one thing only – and it's right there in the name, and also on the license plate. Sausage.
You can get a sausage sandwich, or a box of sausages. You can get them with peppers, or with onions, or with both or neither. You can get water. Sodas. You can also get knishes and hot dogs, but we don't think you'll be needing those.
Honestly, we don't think you'll be needing the bread. The star of the show here, if we haven't been clear enough, is the sausage.
Order the sausage sandwich, it's $7.00, and take it spicy with peppers and onions and no other condiments. Throw away the bread, and eat the sausage and pinches of the other stuff with your fingers. What you'll get is perfectly spicy – not the kind of spicy that will make you cry, but you will get a hint of sniffles.
The onions are what we can only be described as al dente, but they work, with the rubbery, charred casing of the sausage and the slightly crumbly texture of the meat. Don't worry about getting messy, you're either in your car or sitting there on the sidewalk. Go ahead, lick your fingers. Eat the other half you were planning on saving.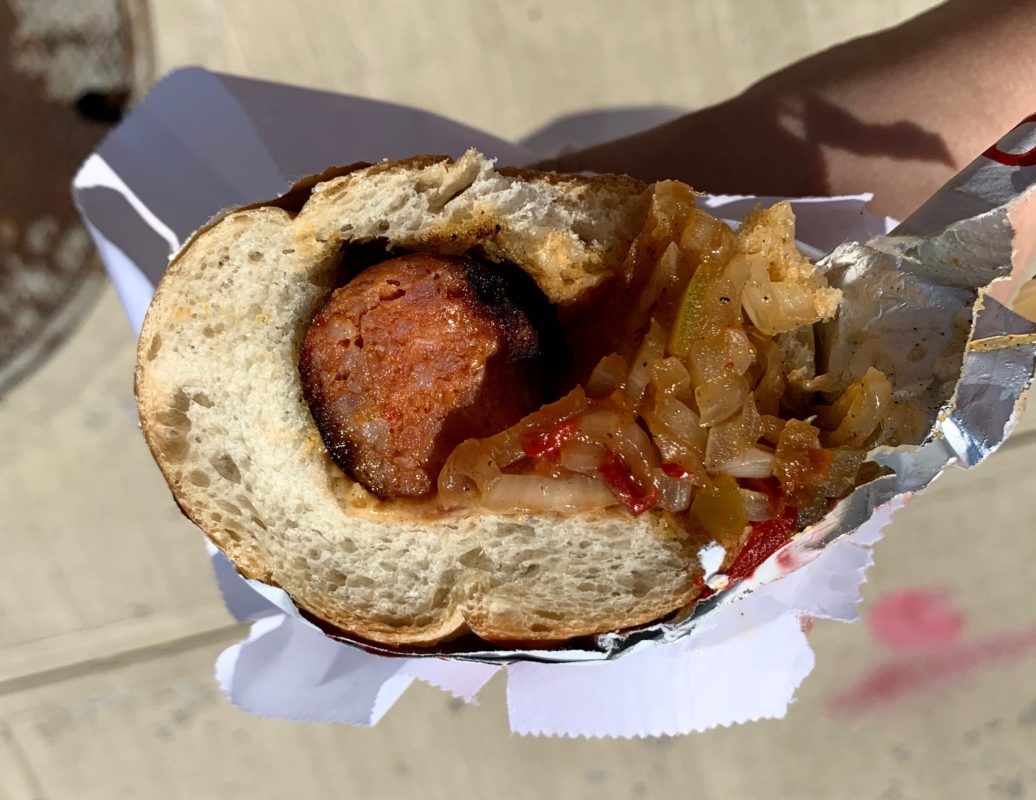 If you were to chat with the people behind the counter, you might not get very far. Or depending on the day, you might, and hear the perfect accent of a guy who runs an Italian sausage truck – especially one that's been there since 1978.
The folks in line, whether they know or not, are extremely lucky.  And, you will be too, if you ever find yourself up there on the border, and you if happen to spot the truck – do pull over. It's worth it. (B15 will also get you there.)