Police Seek Suspects In Attempted Robbery On A 2 Train From Atlantic Avenue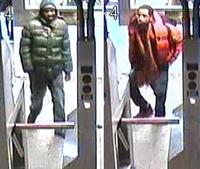 Police are looking for two men wanted in connection to an attempted robbery on a 2 train in February.
Police say the 39-year-old male victim boarded a northbound 2 train at the Atlantic Avenue/Barclays Center stop at 11:15am on Wednesday, February 25, and at the Central Park North/110th Street in Harlem, the two suspects got on the train and approached him, demanding $20 and, according to cops, "threatened the victim with his fist." The victim switched cars at 125th Street, but the suspects followed him — he switched again at 135th Street, and again was followed, but he slipped onto the train as the doors closed, before the suspects were able to get back on the train.
Cops say the victim wasn't injured.
The police describe the suspects both as black men in the mid-twenties — the first man was last seen wearing a red jacket, and the second a green jacket.
Anyone with information in regards to this incident is asked to call the NYPD's crime stoppers hotline at 1-800-577-TIPS (8477). You can also submit tips by logging onto the crime stoppers website or by texting tips to 274637 (CRIMES) and then entering TIP577. Police say all calls are confidential.