PLG Bite Of The Day: Gratitude For Coffee & Croissants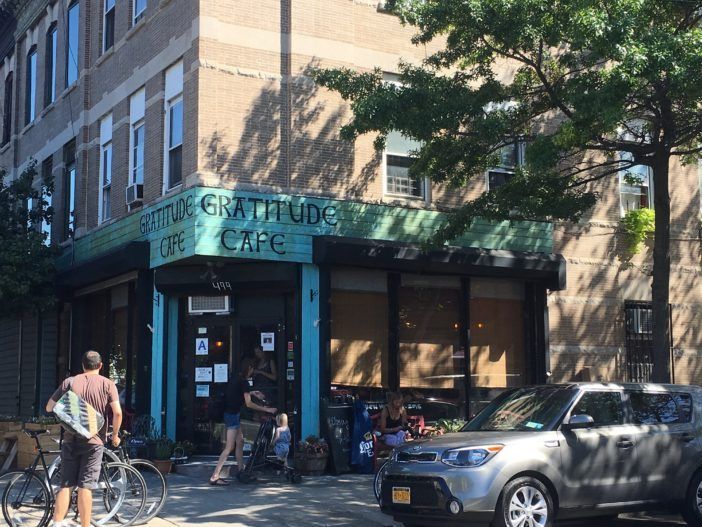 We ventured outside of our coffee shop routine on this beautiful Wednesday morning and landed at a reputed Prospect-Lefferts Gardens staple.
Gratitude Cafe, 499 Rogers Avenue at the corner of Midwood Street, is undergoing a slow rebranding to become the PLG Coffeehouse and Tavern, with a full beer and dinner menu starting September 8.
The cafe's friendly barista told us that they're making a slow transition, so customers know that the cafe isn't changing ownership and will retain the qualities (and local ingredients) neighbors know and love.
We went by this morning to sample the stuff that Gratitude built its reputation on — locally sourced coffee and sandwiches in an arty, homey atmosphere.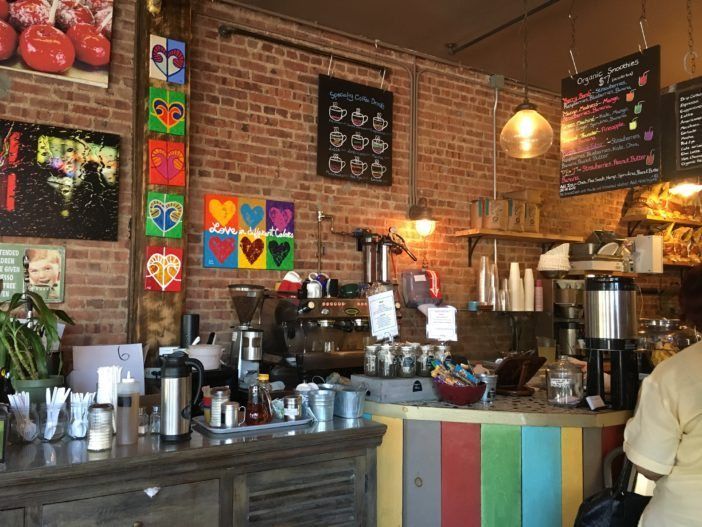 The cafe's organic breads hail from from Bread Alone (headquartered in Kingston, NY), bagels from Terrace Bagels (in Windsor Terrace), and pastries from Colson Patisserie (in Park Slope). And they brew Kitten Coffee, direct from a local Brooklyn Roaster.
We tried the Turkey & Cheese Croissant Sandwich, with Applegate roast turkey and Irish cheddar ($4.50), with a small coffee ($2). (This was my staple order at now-shuttered Parco on 7th Avenue in Park Slope, and I've been missing it ever since the cafe closed suddenly in 2014.)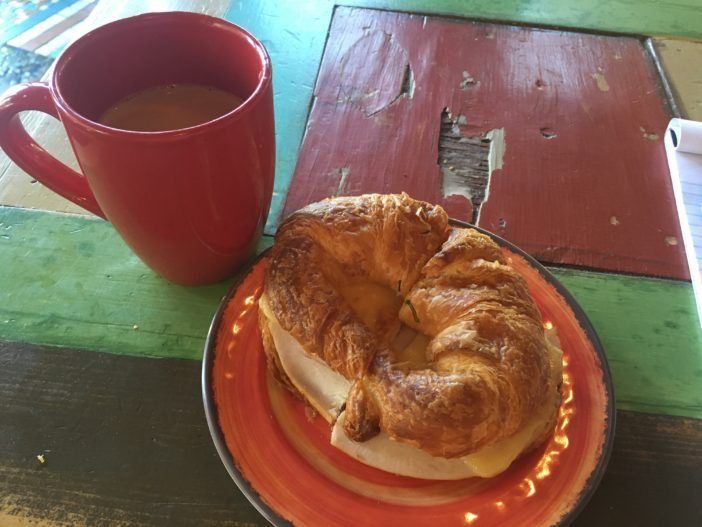 This croissant was dense and buttery, stuffed with a layer of cold turkey. Though it looks small, the heavy buttery croissant was so filling that I couldn't finish it. It was a little disappointing that the slice of cheese wasn't melted all the way through, leaving the middle bites cold.
So the sandwich wasn't quite worth writing home about, but the coffee was solid — with an earthy and not-too-bitter bite — and the atmosphere was well worth the trip to PLG. The cafe's bright colors are inviting, from the painted wooden tables and chairs, to lively local art covering the walls, to a children's play area overflowing with toys.
The two huge windows facing Rogers Avenue and Midwood Street are draped in bamboo curtains, filtering the natural light so the cafe is dark enough to work on a laptop or have an intimate conversation. And on a Wednesday morning, there were enough people clicking and chatting to fill almost every table.
Gratitude, true to its (previous) name, was brimming with small acts of kindness. After a brief chat, the barista brought the sandwich to my table and remembered my name. A New York Times paper sat at a table, inviting a rotating cast of readers to sit briefly then leave the paper for the next person. The ample, outdoor bench seating overflows with potted plants, lending a bright lens to the neighborhood foot traffic.
PLG Coffee House and Tavern (the awning still says Gratitude Cafe) is located at 499 Rogers Avenue between Midwood and Maple Streets. They're currently open from 7am to 5pm; serving breakfast, lunch, pastries and coffee. Look out for expanded dinner hours, 6pm to 10pm, starting September 8.