Picture of the Past: Flatbush Gas Co.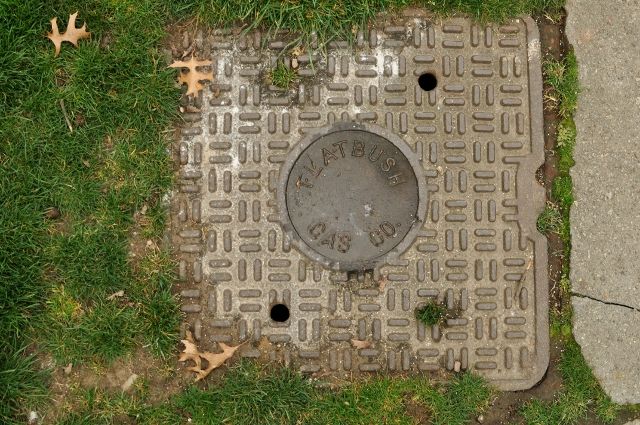 If you've walked down Marlborough Road between Beverley and Albemarle Roads, you may have noticed the Flatbush Gas Company plates that are on both sides of the street. You know they're old, but just how old are they?
Flatbush Gas Company was formed in 1864 by John A. Lott, John Lefferts, John J. vanderbilt, Henry Wall, Homer L. Bartlett, and Ambraham Lott. By 1893, they had the contract to "supply electric arc street lamps for the town," according to Flatbush: The Heart Of Brooklyn, by historian and neighbor Nedda C. Allbray. Flatbush Gas Company was purchased by Brooklyn Union Gas in 1897, which became Keyspan Energy Corporation after a merger in 1998, which was then purchased by National Grid in 2006.
So those metal plates could be about 115 years old.
Nearby, according to the Environmental Assessment Report for the Lowe's Kings Theatre renovation project, the building at 19 Duryea Place was built by the Flatbush Gas Company, operating as a subsidiary of the Brooklyn Union Gas Company, in 1930. This was their Flatbush branch sales office. According to the report, the building "recently housed the Loehmann's Department Store, and is currently occupied by the Federation Employment and Guidance Service (FEGS) Yatzkan Center."
If you see something around the neighborhood that you have a question about, send us an email at ditmasparkcorner@gmail.com, and we'll try to find out its history.