Photo: Breakers Condo Development Rebuilding Pier Wiped Out By Sandy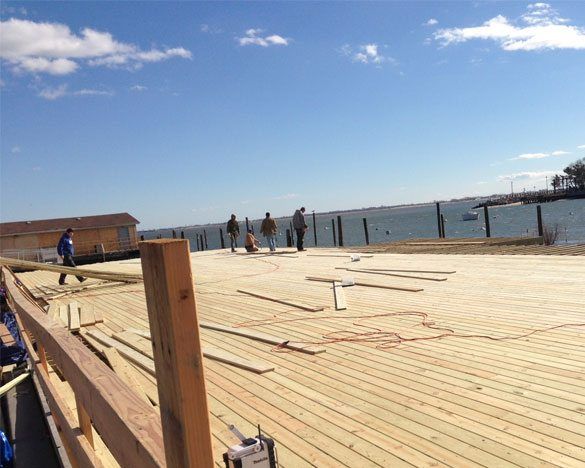 I don't think there's any secret that there's no love lost between myself and the Breakers condo development (3128 Emmons Avenue), which I've alternately referred to as "fugly," the "fanciest storage unit complex in the borough," and marketed by unscrupulous wags (who ultimately pushed the development into bankruptcy). So when the pier's surface – built less than five years ago – totally separated from the pilings it stood upon during Superstorm Sandy, I couldn't help but wonder if it was a matter of shoddy construction or if somehow was hit by more force than some other older structures that took the water's might with little damage.
Chances are, we'll never know. But one of the development's residents sent the above photo to us today, letting us know work on rebuilding the pier is well under way. We hope that it's being built to be a little more future-proof, and capable of withstanding a Sandy-like event.
Oh, and after it came off and collided with the dilapidated club house of the Greenlawn Bungalow Colony, it settled next to the club house's old pilings, and we got a shot of it a few days after Sandy.
Top photo by Albert.