Pet Events: Adoptapalooza And Brooklyn Bark Dog Wash Fundraiser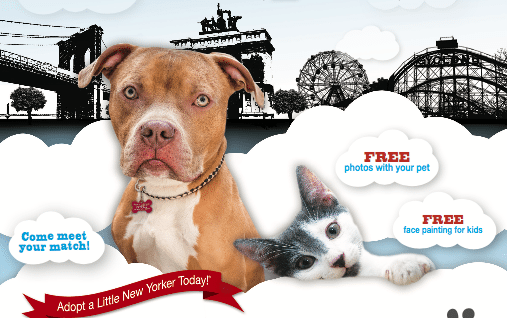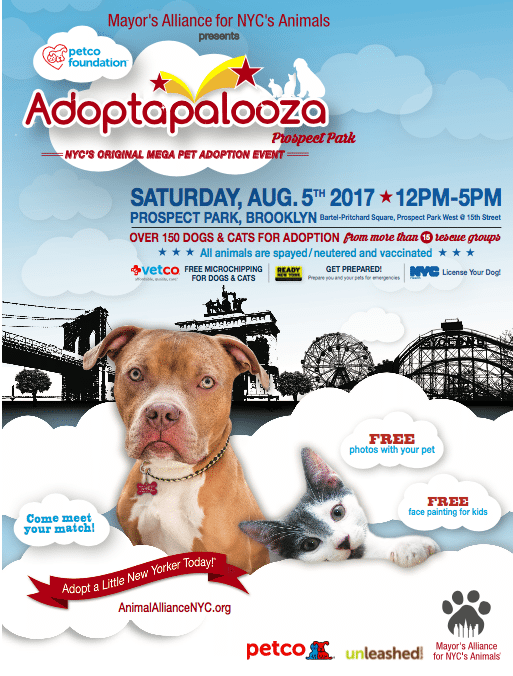 Prospect Park is going to be overrun with animals tomorrow. That's when the Mayor's Alliance for NYC's Animals is hosting the annual mega pet adoption event—Adoptapalooza!
Looking for a new bff or fur-baby, head over to Prospect Park's Bartel-Pritchard Square on Saturday, August 5, between 12pm to 5pm and meet 150 cats, kittens, dogs, and puppies (and maybe even some rabbits!) in need of a loving home and family.
The animals come from 15 New York City area shelters and rescue groups. The pet adoption fees vary for each of the participating organizations.
There will be free microchipping for cats and dogs provided by Vetco, personalized pet tag giveaways, and free photos of pets and their peeps. Dog licenses will also be available from the NYC Department of Health for $8.50 or $34 for animals that have not been spayed or neutered.
Pooches can also try out a Dog Parker—the smart dog houses popping up on sidewalks around Brooklyn where you can temporarily secure your dog.
Cheeky Chipmunk will also be on hand to entertain human kids with free face painting and temporary tattoos.
Please note if you plan to visit Adoptapalooza with your pet that dogs need to be leashed and cats should be inside carriers.
Learn more about Adoptapalooza at the Mayor's Alliance for NYC's Animals website. You can see some of the dogs available for adoption here, and some of the cats here.
Check out last year's Adoptapalooza here.
Adoptapalooza Prospect Park
Saturday, August 5, 12pm to 5pm
Prospect Park, Bartel-Pritchard Square
Prospect Park West and 15th Street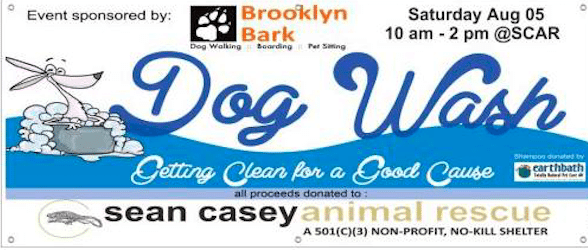 If you already have a dog and he/she is in need of a good bath, take your four-legged friend to the 6th Annual Brooklyn Bark Dog Wash Fund Raiser. Volunteers from the dog walking and pet care provider, Brooklyn Bark, will bathe your pooch for a donation that will go to the Sean Casey Animal Rescue.
Pups will receive doggy bags filled with treats after their baths.
6th Annual Brooklyn Bark Dog Wash Fund Raiser
Saturday, August 5, 10am to 2pm
Sean Casey Animal Rescue, 153 3rd Avenue (between Fort Hamilton Parkway & Caton Avenue), Windsor Terrace
Donations of any amount will be accepted