Percolating in Park Slope: Your Go-To Guide for Coffeehouses, Part Deux
We know that you've all been on the edge of your seats, waiting for Part 2 of our energizing round up of coffeehouses in the Slope. A lot of walking was required, a great deal of coffee was consumed, and a slight twitch was developed from too much caffeine. But here it is, Park Slope–the remaining roster of distinctive, dynamic, and top-notch coffeehouses that our town has to offer.
(Previously: Percolating in Park Slope, Part One)
1. Café Martin, 355 5th Avenue between 4th & 5th Streets
Most European
Excusez-moi monsieur Martin, mais est-ce que je peux prendre le café et un croissant s'il vous-plait?
Odds are, Martin will oblige and moodily brew one of the best cups of coffee you've ever consumed. Regulars attest to his top-notch espresso and adorably European demeanor along with the rustic comfort of spending a lazy afternoon at the cozy and intimate Café Martin. With an elegant background of classical music and multilingual surrounding chatter, you can settle into the cushioned window seat with your pain au chocolat and rich espresso, and relax.
(Photo via Cafe Martin)
2. Hungry Ghost, 253 Flatbush Avenue between Prospect Place & St. Mark's, (718) 483-8666
Best Iced Coffee
As the number one distributor of Stumptown Roasters in the country, Hungry Ghost serves a high-caliber selection in both coffee and organic fare. Hipster baristas steam espresso drinks and pour iced coffee from the tap (I'm not kidding) to loud and edgy music (i.e. White Stripes) in a spacious setting of mirrors, hardwood furniture, and eclectic modern art. Set on a busy corner of Flatbush Avenue, the Ghost accommodates its patrons with plush leather armchairs, a mirrored coffee bar, and rustic, hand-crafted wooden tables designated as laptop and non-laptop friendly. Renowned chef Pete Solomita offers a menu of healthy gourmet options prepared on premises—ranging from vegan scones and fluffy muffins to gourmet sandwiches, salads and paninis. My favorite: the Roasted Chicken, Fontina, Arugula & Pesto Mayo ($8.45). It's impossible not to feel cool at Hungry Ghost.
(Photo via Hungry Ghost)
3. Prospect Perk, 183 Sterling Place at Flatbush Avenue, (718) 783-7375
Friendliest service
"We know all of our neighbors; we watch their kids and dogs grow up." –Manager
The baristas have your beverage ready before you enter Prospect Perk; that's what it means to be a regular at this cozy corner spot. Sister store to Hungry Ghost, Perk is more conducive to making new friends than lazing on your laptop (outlets are not available). Instead, grab a latte and croissant (courtesy of Balthazar Bakery) and soak up the Brooklyn scene on their homespun front patio overlooking Grand Army Plaza. Consistent with Perk's old Brooklyn vibe, the menu offers childhood favorites ranging from tuna and egg salad to old-school grilled cheese and PB&J on white.
4. Root Hill Café, 262 4th Avenue at Carroll Street, (718) 797-0100
Best French Press coffee
Located on the border of Park Slope and Gowanus, Root Hill is a diamond in the rough on an avenue populated with auto repair shops and old warehouses. The main attraction here is the coffee. Allow me to introduce the "Clover:" a high-tech industrial French Press that brews premium espresso for the serious connossieur. Although a bit pricey for the neighborhood, Root Hill's in-house kitchen offers a full breakfast and lunch menu, with gourmet sandwiches and fresh baked pastries. A welcome addition to 4th Avenue, Root Hill supports the Park Slope creative community with weekly live entertainment, local art exhibits, and free WIFI (albeit limited outlets).
5. Two Moon Cafe, 315 4th Avenue between 2nd & 3rd Streets, (718) 499-0460
Best Local Art
An art gallery, film house, wine bar, comedy club, restaurant, and coffeehouse in one, Two Moon has become a cultural center for Park Slope. Hosting nightly live entertainment, events vary from poetry readings and children's sing-along sessions to local live music and stand-up comedy. Savor a rich Birch coffee or glass of sangria while admiring the latest art exhibit with a loved one. Or, nosh on a slice of rosemary sea salt shortbread ($2) or a vegan brownie ($2.50) and spend the afternoon soaking up Two Moon's creative vibe.
(Photo via Two Moon)
6. Venticinque, 162 5th Avenue between Douglass & Degraw Streets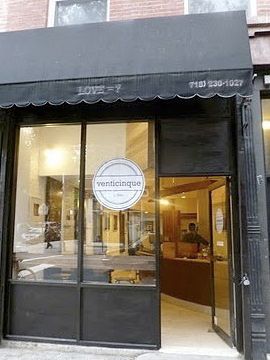 Best soy latte ever
A foamy cloud of coffee flavored cream meets your lips, followed by a sip of warm, rich and full-bodied espresso; there is no choice but to stop, close your eyes and savor. A cozy space with intimate seating, a modern coffee bar, free WIFI, and one friendly barista, Venticinque serves addictive espresso drinks and fresh pastries from Colson's Patisserie. The perfect spot to steal a quiet moment, Venticinque is ideal for enjoying a solitary coffee break, grabbing a muffin on the run, or camping out with your laptop for the afternoon.
(Photo via Here's Park Slope)
Have I left anyone out, Park Slope? Please write in!
(Top photo of coffee mug via Gorilla Coffee)