Fans Turn Out For "Labyrinth" In Fort Greene Park Despite Weather
Through dangers untold and hardships unnumbered, I fought my way to the screening of "Labyrinth" in Fort Greene Park on Saturday night.
The screening of the cult classic, originally planned for Friday, June 3, was held at sundown in Fort Greene Park on Saturday, June 4 as a part of a series of movies presented by Alamo Drafthouse.
"I was nervous about it because it's hard to spread the word last minute, but we had to make the call early, and obviously it still rained, but people are still coming out," said Cristina Cacioppo, program manager of Alamo Drafthouse.
While not an overwhelming crowd, the event was well-attended and many were clearly longtime fans. Some parents brought their children, passing the legacy of the Jim Henson-directed film on to a new generation.
Props like whoopie cushions and candy bracelets were distributed to fans who braved the wet grass and hazy sky.
During the showing, moviegoers were encouraged to quote along with the flick by presence of subtitles for the most memorable portions of the film. Additionally, bubbles were blown during select portions of the movie, much to the delight of attendees who were not much older than baby Toby.
"It's great to see so many people of all ages out to watch it together, especially after the tragic loss of David Bowie earlier this year. 'Labyrinth' is part of his legacy," said Jillian, who had come all the way from Queens.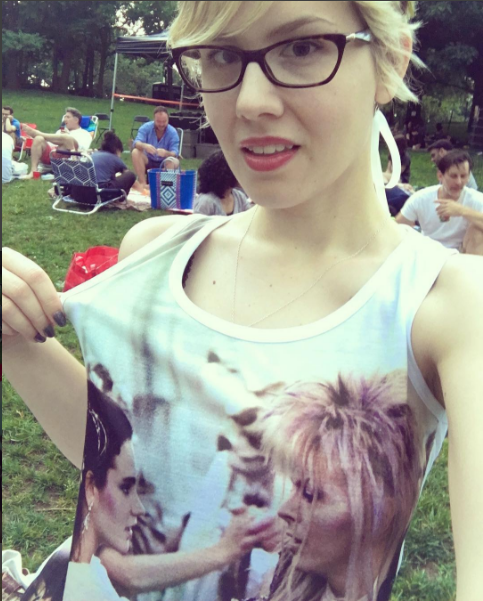 While the threat of rain managed to hang over both nights, it did not rain during the showing itself on Saturday night. However, some moviegoers would have preferred that the showing had remained on Friday as planned.
"I think it was a cool idea, but they should have stuck with the original night, since it didn't actually rain, and it did on Saturday, which I think thinned the crowd considerably," said Hannah of Sunset Park, who'd come with three brave friends just like young Sarah.
Perhaps in a nod to how things are not what they seem, it began to rain mere moments after the end of the film.