Park Slope Gets the C.K. Treatment Thursday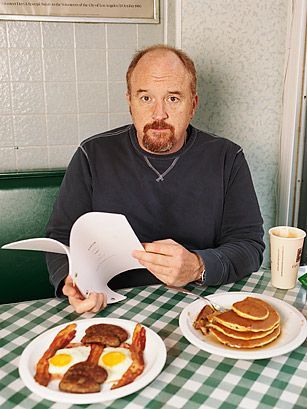 http://www.youtube.com/watch?v=4Muf6Gl2pHM&feature=player_embedded
In late May, we noticed "Louie" filming on the streets of 7th Avenue, and ever since the 3rd season premiered three weeks ago, we've been waiting for our close-up.
The time has come.
On Thursday, July 19th, Community Bookstore plays the role of "Community Bookstore" (typecasting, I'm telling you) on what everyone has collectively determined to be pretty much the best show ever. It's the first Park Slope appearance on the show, but it's hardly the last. According to DNAinfo:
The doughy-bodied comedian with the razor-sharp mind also shot episodes spotlighting the Key Food on Seventh Avenue and Carroll Street, P.S. 321 on Seventh Avenue and First Street, Cafe Regular du Nord on Berkeley Place and Seventh Avenue, the Prospect Park carousel, and the Brooklyn Public Library at Grand Army Plaza, a member of the show's locations department told DNAinfo.com New York.
The locations department wouldn't tell DNAinfo what plot point brings Louie to the Slope, but given that the episode is titled "Daddy's Girlfriend Part 1" and the following episode is called "Daddy's Girlfriend Part 2," and given that Community's slated to appear on two episodes, I'm going to venture a guess that the reason has something to do with Daddy's Girlfriend.
According to the bookstore's newsletter, there's a viewing party in the works. Details, however, have yet to be finalized:
We're still trying to find a site with cable TV and plenty of space (and alcohol). We'll let you know where we're landing via e-mail, Twitter, Facebook, etc.
Stay tuned. Alternately, tune in at home — as always, the show airs Thursday at 10:30 on FX.