Park Slope Brunch Beat: Caribbean Comfort At BK9
With so many places in the neighborhood to grab a mimosa and a plate of eggs on the weekend, how can you decide which is the best spot to take your visiting in-laws or where you'll want to sit quietly for a couple hours with the hair of the dog? The Park Slope Brunch Beat aims to guide you through the choices — we'll break down the basics, share some special tips, and provide a quick scorecard to help you pick the best place for what you need next Saturday and Sunday.
"Not only do they have roots here, they have roots in many other places — from the West Indies to Cuba, Jamaica, Haiti, Trinidad. We have a thousand years of the spice route to influence us." That's what Chef Christian Ortiz told us when we asked him about the owners when we interviewed him right before BK9 opened at the end of August 2015.
It also speaks to the diverse brunch menu at BK9.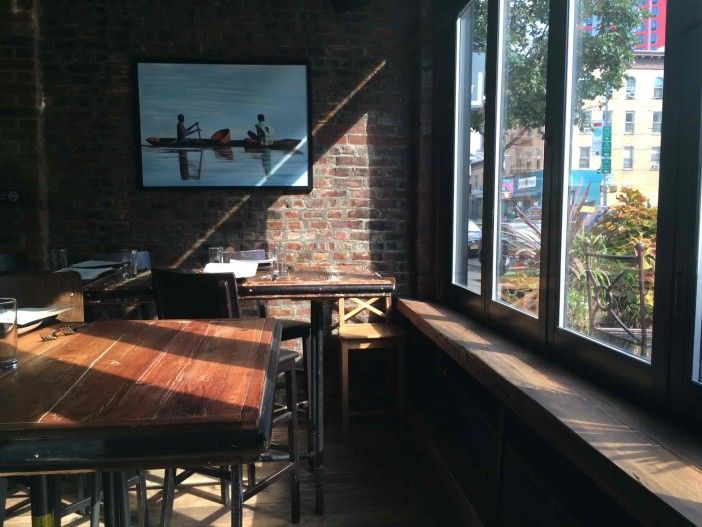 It seems that the 5th Avenue area near Barclays Center is becoming one of the go-to places to have brunch in the neighborhood. The recently opened Wasan (440 Bergen Street between 5th and Flatbush Avenues) and the tried and true Miriam (79 5th Avenue at Prospect Place) are now joined by BK9 (62 5th Avenue between Bergen Street and St. Marks Place) as a delicious and eclectic brunch trilogy.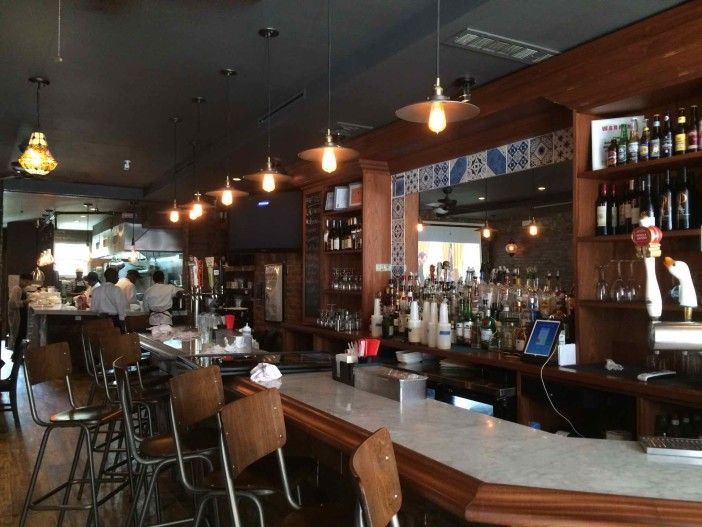 Similar to the goals of the restaurant's Caribbean comfort food, the atmosphere is comfortable — featuring deep wood textures and finishes throughout the restaurant and low lighting. My only concern was the large flat screen t.v., which does seem to stick out in relationship to the rest of the environment. We sat facing away from it, so it was no trouble for us.
We began our meal with the fruit salad ($6), which was fresh and seasonal. The mint complemented the melon base well. And for the amount you receive, you can easily split it between two people.
With a well-curated menu of five main brunch items, we had a tough time deciding which one to select. When we first met Ortiz a few months back, we asked him about his comfort foods. "Slow-cooked eggs on a thick, cracked-pepper bread," he said.
So we selected the Caribbean Breakfast ($15), consisting of poached eggs, roasted pork (we opted out of the pork), and habanero hollandaise served over plantains. It comes with a side salad and fingerling potatoes.
The hollandaise is silky, with the habanero used to create a seasoned texture, rather than a spiciness. The plantains were cooked just firmly enough so they wouldn't soften in the hollandaise. For poached egg lovers … well, you've just come to the right place.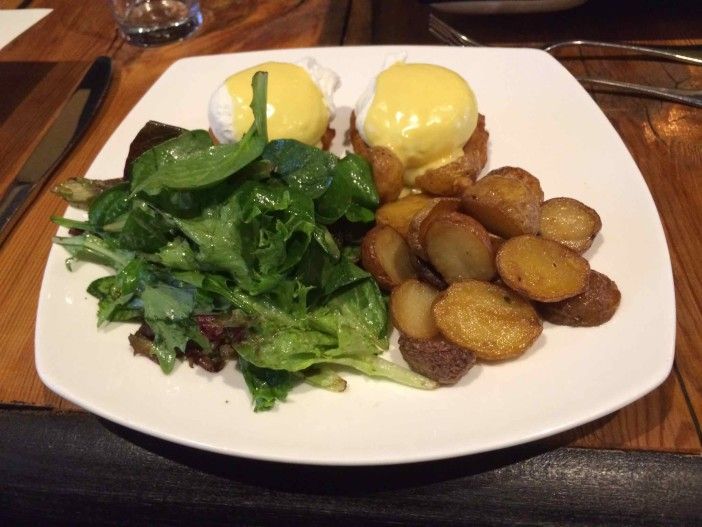 With two waffle-based dishes, we certainly had to try one of the them. We opted for the Banana and Rum Waffles ($12), which is served with caramelized banana. It's all about texture again, because the softness of the banana complements the home-made waffle extremely well. The whipped cream is served on the side so you can add the amount that you prefer.
Ok, let's not move on from the waffles just yet. They are just fluffy enough and have a very hard to pin down smokiness to them that makes them work perfectly with the sweetness of the rum. They were cooked so well, that'd you'd be just fine eating those waffles alone.
If you're a Chicken and Waffles fan ($13), you'll get those excellent waffles with organic chicken.
If you feel like wine, beer, or a mixed drink with your brunch, the selection is extensive. The menu features 10 specialty cocktails. We went with the Punch de Crème ($9) which is made with rum, sweetened milk, and a hint of nutmeg and cinnamon. It's sweet, a bit decadent (in a very good way) and is a perfect cocktail for the upcoming fall. In addition to the rum-based cocktails, they also feature gin- and tequila-based drinks.
In addition to the upstairs, there is a quiet downstairs room that can be used for private events. Keep this in mind for small gatherings, celebrations, and meetings. In addition to the space being comfortable, BK9 boasts a staff that works very well together.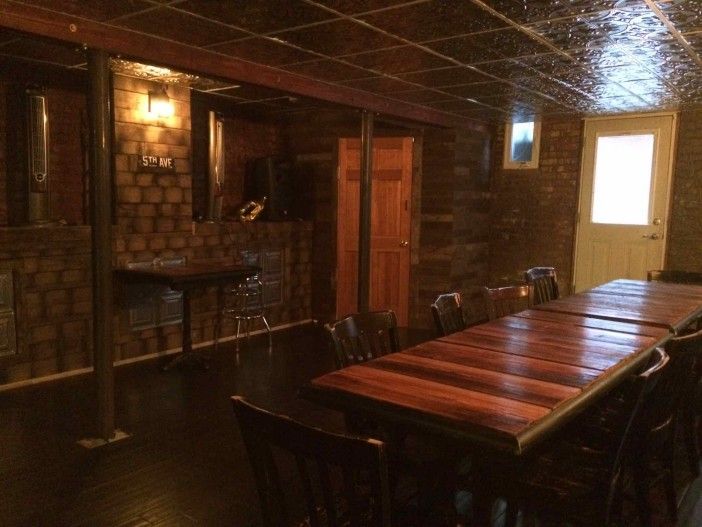 "Together" is the operative word here. We know from our previous interview that Ortiz takes his staff seriously. "You'd be surprised at what you can learn from your staff […] And how they can help you," he said. "One time I wanted to make a chapulines (crickets) dish and I had no idea where to get them. The dishwasher turned to me and said, 'Want me to call my grandma for you?'"
The brunch experience here is going to provide you with warm service and nuanced dishes. The upcoming weather seems ideal for this kind of meal, so make your plans soon. We'll probably run into you there when we come back.
Park Slope Brunch Beat Rundown: BK9
Where: 62 5th Avenue (between Bergen Street and St. Marks Place)
Phone: 718-780-2176
Brunch Hours: Saturdays & Sundays, 11:00am-4:00pm
Reservations: You can call and make a reservation, but unless you're a big party, it isn't necessary.
Who To Bring: This space is great for couples, but there is room for larger parties.
Kid Friendly? Yes. High chairs are available, and the wait staff is very accommodating.
Best Bites: The seasonal fruit salad ($6) is refreshing and great to split with another person. If you want an egg dish, you'll be in for a treat with the Caribbean Breakfast ($15). Waffle fans unite! You can either go with the Banana and Rum Waffles ($12) or the Chicken and Waffles ($13). The Punch de Crème ($9) is a perfect cocktail for the season.