Pakistani Community Leader Shahid Khan Had A Long Road From Lahore To Brooklyn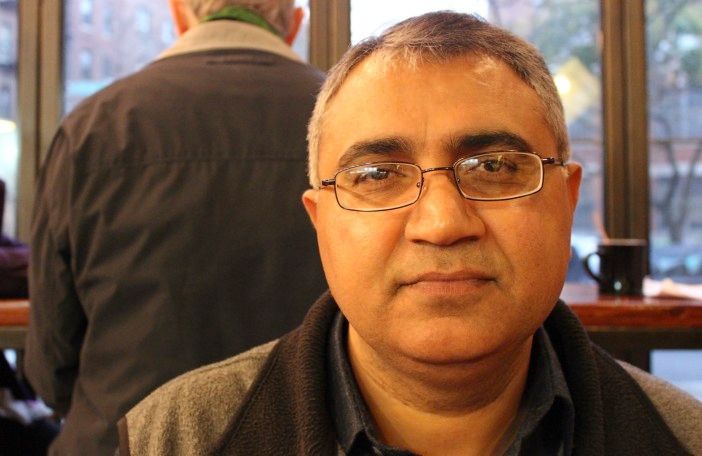 Shahid Khan has become an important local community leader in the past few years. Earlier this year, he opened the BRICK Community Center. He helps run the Startalk Urdu language program for local students, and recently started a Female Literacy Center to help immigrant women who had lost their literacy courses.
But for Shahid, the road to this point has not been easy. We met up on a cool, November afternoon for tea at Milk & Honey (1119 Newkirk Avenue), one of Shahid's favorite neighborhood spots, to talk about his journey from Pakistan to Brooklyn.
Shahid was born in Lahore, Pakistan in 1970. His father died when he was 14 years old and he had to drop out of school in order to help support his mother and five siblings.
"The whole responsibility was on my shoulders," says Shahid.
He worked a number of different jobs to help his family, including working in a book binding shop, a department store, and an auto shop.
Over time he was able to start working with youth organizations in Pakistan and began getting involved with human rights activism, as well as continue his education.
Over the years, he participated in protests and rallies, and faced tear gas. But things came to a head after he attended an international conference in Australia. By 2010, issues with extremism became problematic in Pakistan and when he returned from the conference, he was tortured.
So he fled alone to the United States seeking asylum, leaving his family in Pakistan. A Catholic organization assisted him in getting to the US and for the first three weeks he lived in a church in Lake Charles, Louisiana. But he felt isolated.
"I felt depression, anxiety, a lot of stress," describes Shahid, emotionally. "Since I was away from my family, who were facing problems."
So he searched for a place where other Pakistanis lived and he found that Brooklyn had one of the largest Pakistani populations in the US.
He was was able to raise the $165 necessary to purchase a bus ticket to New York City and spent 46 hours traveling via Greyhound, changing buses three times. But once he arrived at Newkirk Plaza, he had nowhere to go. He spent his first night walking up and down Coney Island Avenue trying to find a place to stay.
"The next day I saw an article about an immigration office in a Pakistani newspaper," says Shahid. "So I called them."
The immigration office allowed him to stay there for a month and a half. He started working at a Pakistani restaurant and in construction to start making money. All the while, worried about his family back in Pakistan, who continued to face persecution from extremist groups.
In February of 2012, he was granted asylum with legal support from Catholic Charities.
Shahid was also always looking for ways to get involved in the community, but it was difficult to find people who wanted to put as much time and money into the work as he did. He started working with a partner he met through his construction work to set up a Pakistani community center. After three or four months, Shahid had gotten everything set up, but his partner decided it wasn't worth it and asked Shahid to work in construction instead.
Shahid noticed a lot of stress in the Pakistani community surrounding immigration, literacy, and fear following September 11th. He wanted to create a space where the community could address some of these issues.
He feels particularly passionate about language. Children who have largely grown up here have trouble communicating with their parents who primarily speak Urdu, while adults — particularly women — have trouble venturing outside the community because they don't understand English.
"We are unable to convey our views to others," says Shahid.
His passion for remedying these language barriers led him to work with NYU's Allance for Pakistani and Urdu Studies and Startalk. And finally in 2014, he was able to start his own organization.
But his interest in welcoming everyone has, in some cases, lead to making enemies. The majority of Pakistanis are Muslim and there is a problem of discrimination against other religious groups within the community, particularly Christians and Hindus.
Shahid says some members of the community didn't like that he included members of other religious groups, so they started spreading rumors that he was in the US illegally.
But Shahid persevered and in August 2014, his family was able to join him here in Brooklyn. "Just in time for Mela," says Shahid. His family arriving also helped dispel the rumors about his immigration status.
This past year has seen a number of successes for Shahid. He opened the BRICK Community Center and continues to provide services for the Pakistani community. But he says there is much yet to do.
"It's hard as an immigrant; you lose your identity," says Shahid. "I'm trying with all of my effort. It's hard, but this is my passion."