Opening Events At Coney Island (March 25) & Prospect Park (April 7+8)
CONEY ISLAND/PROSPECT PARK – Though the weather outside might suggest otherwise, it's officially Spring. Two iconic outdoor Brooklyn attractions will soon host their annual openings. See what Coney Island and Prospect Park have in store below.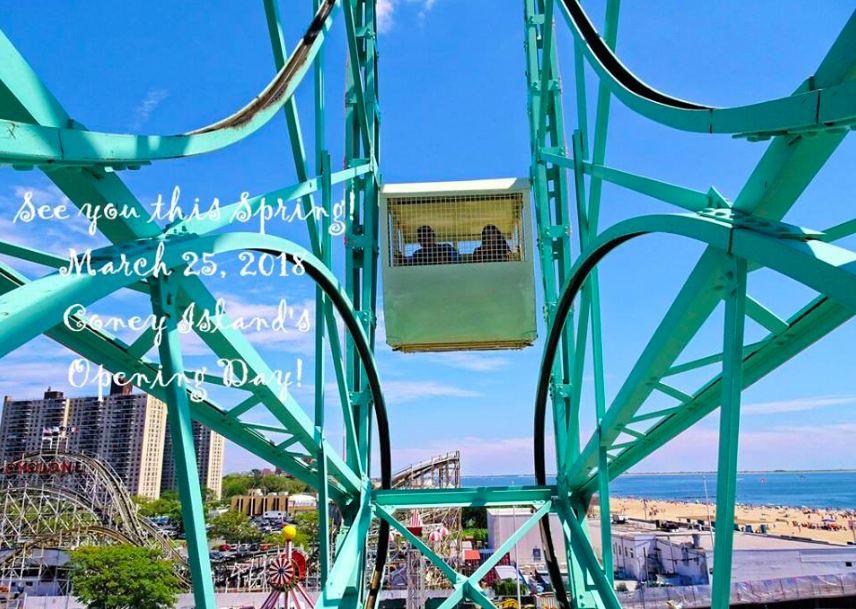 Coney Island invites visitors to its opening day festivities on Sunday, March 25. The event kicks off at 10:45am with the 34th Annual Blessing of the Rides at Deno's Wonder Wheel Park (3059 W 12th Street) and the NYC Fire Department Ceremonial Unit singing the National Anthem.
Deno's Wonder Wheel Park owners, Dennis and Steve Vourderis, will host a ribbon-cutting ceremony followed by free rides on the Wonder Wheel for the first 98 guests to celebrate the ride's 98th anniversary.
The first 100 visitors in line for the Cyclone Roller Coaster will get a free ride and the Brooklyn Seltzer Boys will be handing out egg cream samples over at Luna Park (1000 Surf Avenue).
Both the Wonder Wheel (1920) and the Cyclone (1927) are New York City landmarks, according to the Coney Island History Project (3059 W 12th Street at the entrance to the Wonder Wheel), whose exhibition showcasing historic artifacts, photos, maps, ephemera, and films about Coney Island will be open to the public from 1pm to 6pm. Visitors can take free souvenir photos with the Cyclops head from the Deno's Spook-A-Rama ride and an original Steeplechase horse from the ride that Steeplechase Park was named after.
A couple of weeks later, Prospect Park will host its annual Opening Weekend on April 7 and 8. The Prospect Park Alliance will kick off the season with a slew of events and activities including a parade, an 1860s-style exhibition baseball game, a fair, a Greenmarket Grillout, a scavenger hunt, and the return of Smorgasburg.
Opening Weekend Baseball Parade and 1860s Exhibition Baseball Game, Saturday, 10am to 2pm, Free – Prospect Park Alliance and the Prospect Park Baseball Association will host this community event featuring more than 1,000 youth league players parading down 7th Avenue alongside local marching bands and civic leaders. The procession marches to the Long Meadow Ball Fields where ceremonial first pitches will be thrown. At 11 am, the Brooklyn Atlantics, dressed in historic uniforms and gear, will play an 1860s exhibition game.
Opening Weekend Fair, Saturday, 11am to 3pm, Free – Following the Opening Day Parade, join Prospect Park Alliance for an afternoon of music, family-friendly activities, and food vendors.
Prospect Park Grill-Out at the Greenmarket, Saturday, 11am to 1pm, Free – Prospect Park Alliance and GrowNYC welcome Spring with a grill-out of meats and veggies provided by the Greenmarket farmers.
Prospect Park Scavenger Hunt, Saturday, 12pm to 3pm, Free – Prospect Park Alliance and Urban Archive host a historical scavenger hunt in which participants search for landmarks throughout the Park.
Smorgasburg, Sunday, 11am to 6pm – The popular open-air food market returns to Prospect Park, with more than 100 vendors setting up on on Breeze Hill every Sunday from April through October. See some of the new vendors for 2018 here.
The weekend's events will include much more, including Campfire Conversations (a community "open mic" around an outdoor campfire), birdwatching, history tours, nature exploration, ice skating, carousel rides, and of course, the Prospect Park Zoo.
Go to prospectpark.org for more information and the full schedule of events.