On Eleventh Anniversary, Heroes Honored At Bedford Park 9/11 Memorial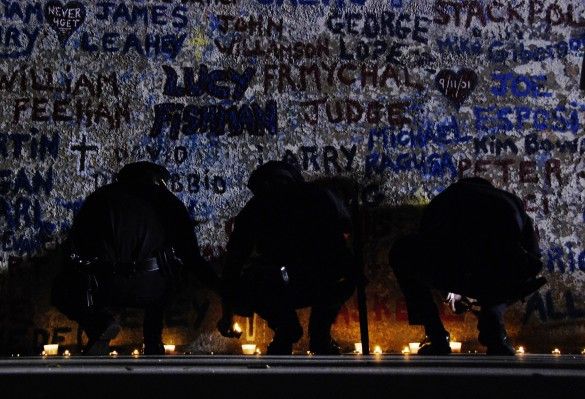 With the backdrop of Rockin' Ray Fiore's heartfelt mural on the handball courts of Bill Brown Park (Avenue X and Bedford Avenue), more than one hundred mourners, neighbors, firefighters from Ladder Co. 169, 61st Precinct officers and local EMS responders gathered last night to remember the lives lost on September 11, 2001.
But it wasn't just a tribute to those who passed and the heroes of the day, it was a passing of the torch from the eclectic neighborhood character who maintains the memorial mural to his son, who is taking on the responsibility after his father's move out of Brooklyn.
Fiore moved to Michigan recently, removing from the neighborhood his colorful hand-painted car and, perhaps, one of Brooklyn's most ebullient sons. His son, Ray Fiore, Jr., took his place, and last night marked the 31-year-old's first visit to the mural on September 11.
He brought fire engine red and royal blue paint to touch up any chips in the names, as his father does during the event and throughout the year, and he was asked to add two more names to the mural. He spent much of the memorial ceremony up close to the mural, working on it diligently throughout the night, but said he really felt the significance of it when he was able to take a step back and admire it.
Ray Jr. led the mourners in saying the Our Father, like his father had done in years past. A note was read from "Rockin' Ray" that sent his love in his absence, and the song "He Ain't Heavy, He's My Brother" was played in honor of him.
Linda and John Errante, members of the Brooklyn / Bedford Park 9/11 Memorial committee, said their son was the first to tell them about Fiore's mural. He was driving home late one night from his girlfriend's and saw Fiore hard at work painting shortly after the attack. Wanting to help, he drove his Mustang into the park and pointed the headlights at the handball courts to help Fiore see. It took Fiore six days to complete the mural. When the Errante's heard this story, they were inspired to work with other members of the community to create a memorial near the mural each year.
This year's theme of the annual Brooklyn / Bedford Park 9/11 Memorial was "Heroes," and in a crowd thick of cops, firefighters, EMS and volunteers, there were many. Family of Abe Zelmanowitz, who worked in Tower One of the World Trade Center, spoke at the event in tribute to their deceased family member. Zelmanowitz lost his life because he refused to leave his co-worker and best friend, Ed Beyea, a quadriplegic. He could have easily run down the stairs, but waited with Ed for help that never came. Zelmanowitz's family was there and spoke about their memories of him.
Samantha Fishman, whose mother Lucy Fishman perished in Tower 2, wept as she read a moving poem in her mother's name. Fishman visited the World Trade Center for her first since the attacks yesterday morning. Mary Dwyer and Mary Bracken, Samantha's aunt and grandmother, are members of the memorial committee and help plan the ceremony each year. Her uncle Ed Bracken spoke as well, recounting his experience at the arraignment of the terrorist Khalid Sheikh Mohammed and his conspirators in Guantanamo Bay, Cuba, earlier this year.
Dubbed the "People's Memorial," the only politician organizers invite to speak at the memorial is Councilman Lew Fidler. Fidler, who has been suffering health problems and has not made many public appearances recently, stayed for the majority of the event, and spoke at the organizers' request.
"Growing up as kids we're taught that a hero is a guy who can make a home run or a three-point shot and that is a terrible lesson that we are teaching our children. Heroes are people who run into danger and not away from it – selflessly," said Fidler.
Below is an almost complete video of the ceremony. We apologize to the Brooklyn / Bedford Park 9/11 Memorial Committee for not capturing the first set of speakers on video.
All photos by Ned Berke.