Old-School Tools, New-School Learning: Where Hammer And Nails Rule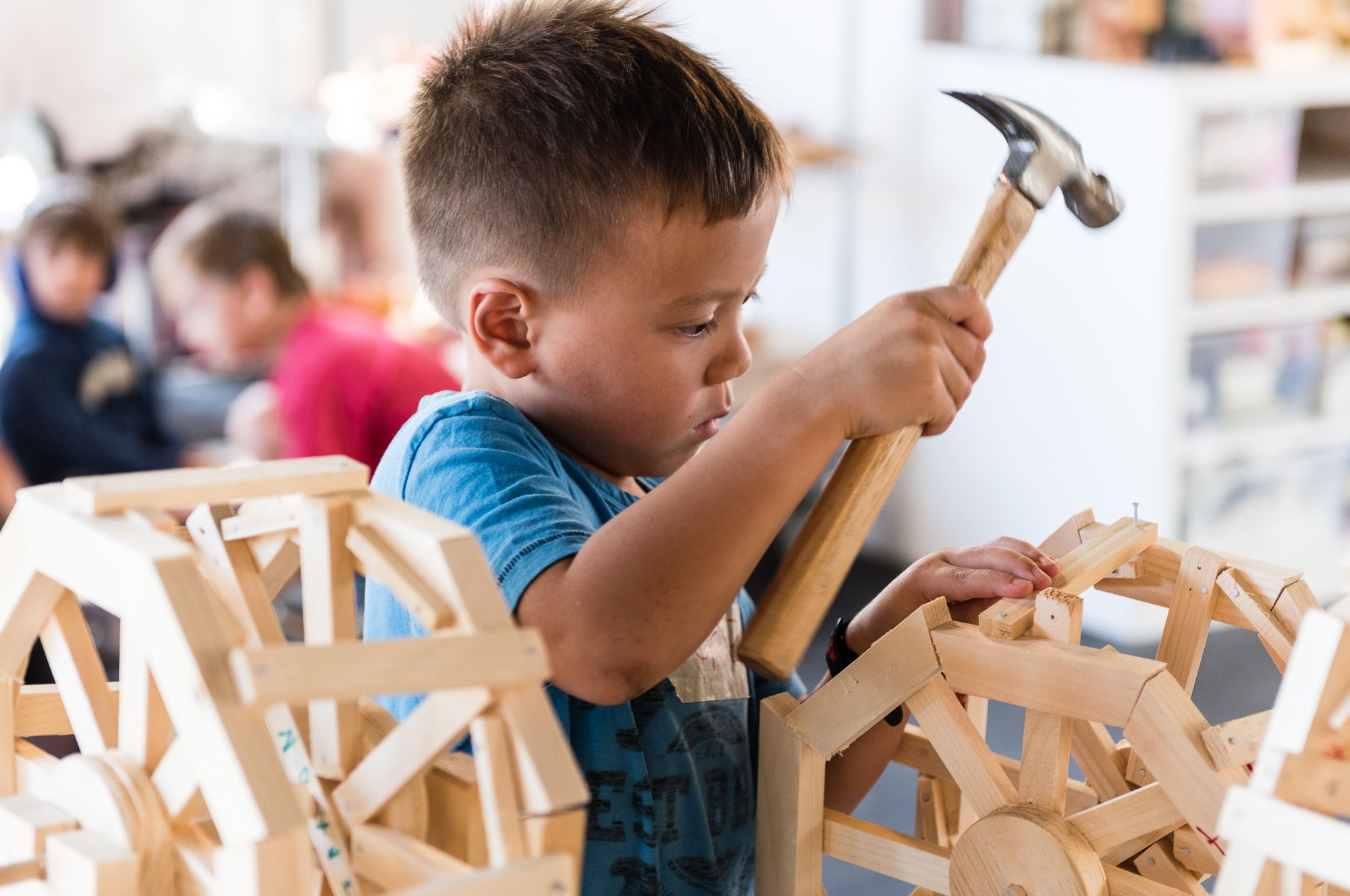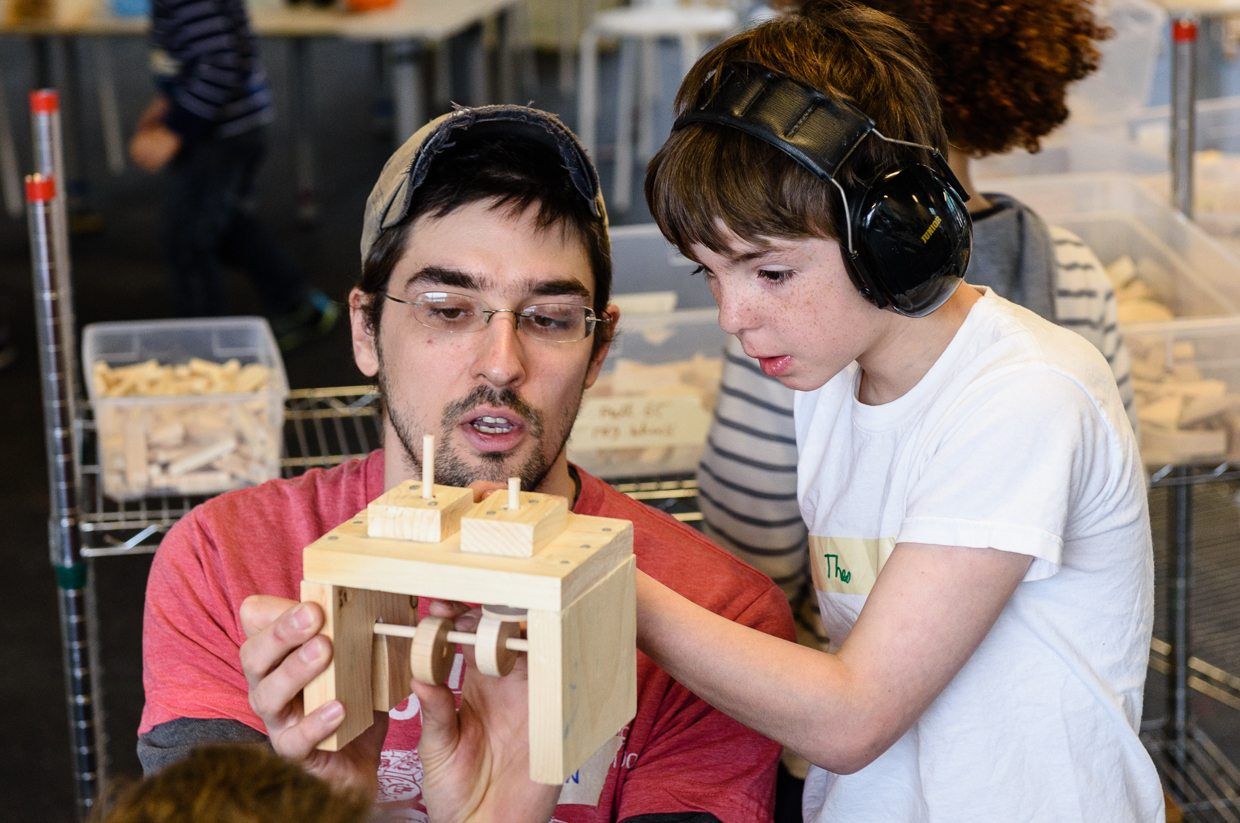 As the Camp Season kicks into full gear, we decided to take a closer look at some of our favorite camps that offer something a bit unusual.
Construction Kids started in Prospect Lefferts Gardens, back in 2009, based on the belief that it is important for children to be allowed to tinker, hammer and build – and that there were very few opportunities for them to do so, especially in dense urban environments like Brooklyn.   We talked to Summer Camp Director Tony Kent about how Construction Kids grew from an idea to a program working with approximately 150 schools, and running multiple summer camp locations and the importance of hands on learning. (Answers have been slightly edited for clarity).
What was the inspiration for Construction Kids?
We at Construction Kids believe strongly that children need to learn and explore in unscripted settings: creating their own games and amusement,  without adult micro-management or having their decisions predefined by an overly controlled setting.
This is especially true in NYC, where the concept of young kids just walking over to the neighbor's house or a park and spending a day alone with kids their age seems like a scene from a Norman Rockwell painting.
So we created a space for them to do just that.  Our company is built on this concept –  that play, tinkering, and making are all extremely important parts of a child's development, no less important than a class in math or reading.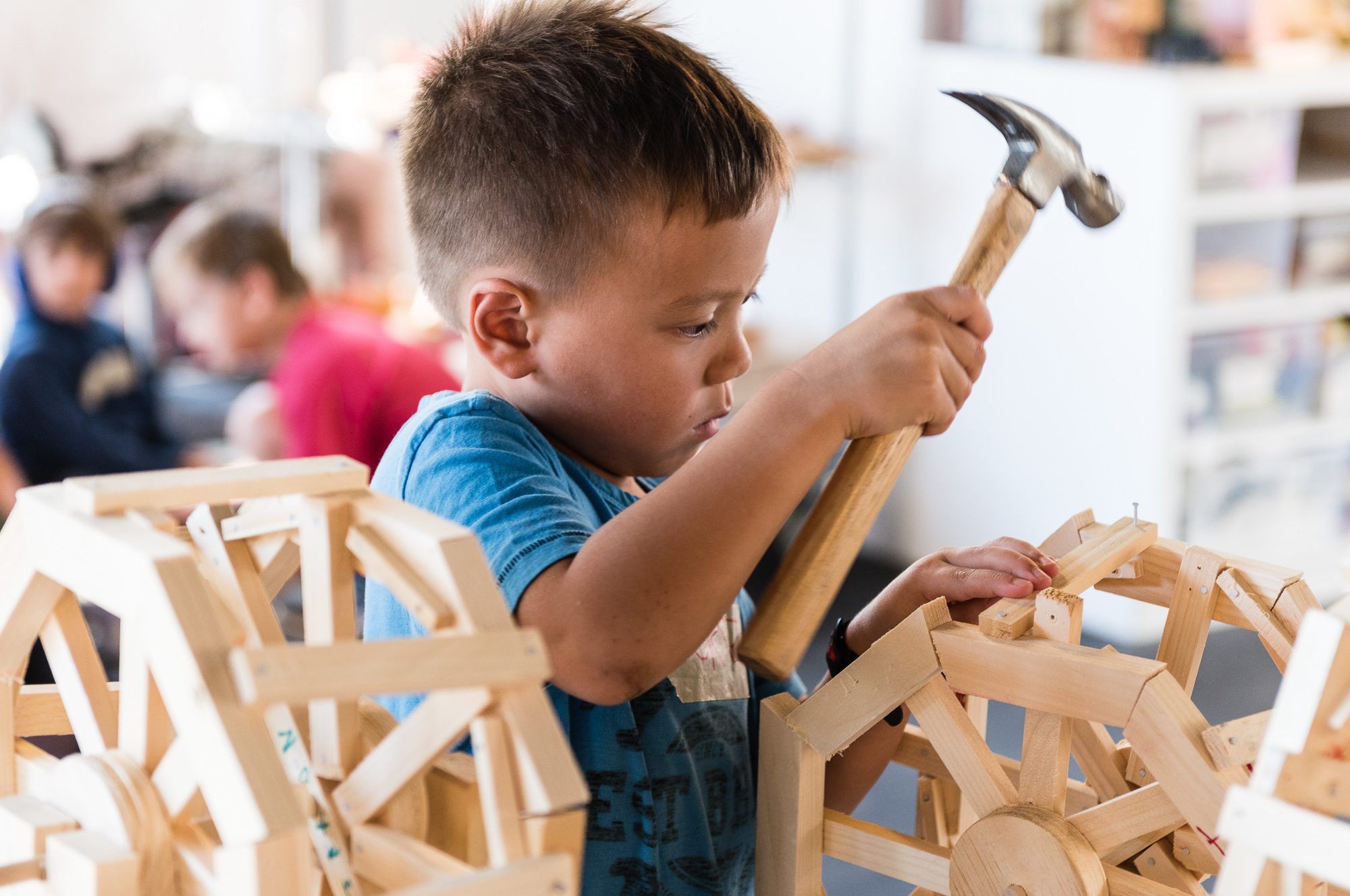 Your young builders get to use real tools, safely.  In order to teach kids how to use tools properly, you have them, for example, hammer nails 500 times.
Safety for Construction Kids is about culture, first and foremost. Safety can't just be a lesson you teach at the start of a project. Safety is something we think about every minute: from the start of the design stage of a project to the materials we use in the project, to the project's initial prototyping, and then, ultimately, to how it's being taught to children.
Every tool we use —and they are all real tools—has a 101 lesson that is taught to our builders before they can use the tool. We build on a series of small successes until they are confident in their skills with the tool.
Think of it like driving – it's dangerous if you drive too fast and recklessly. But, it can be even more dangerous if you are a scared driver and are too timid. That timidity or fear of the tools can create its own risks.
For example, as you mentioned in your question, we hammer over 500 times as part of our hammer 101. Through this, children know the right way to hammer, but also are confident with the hammer.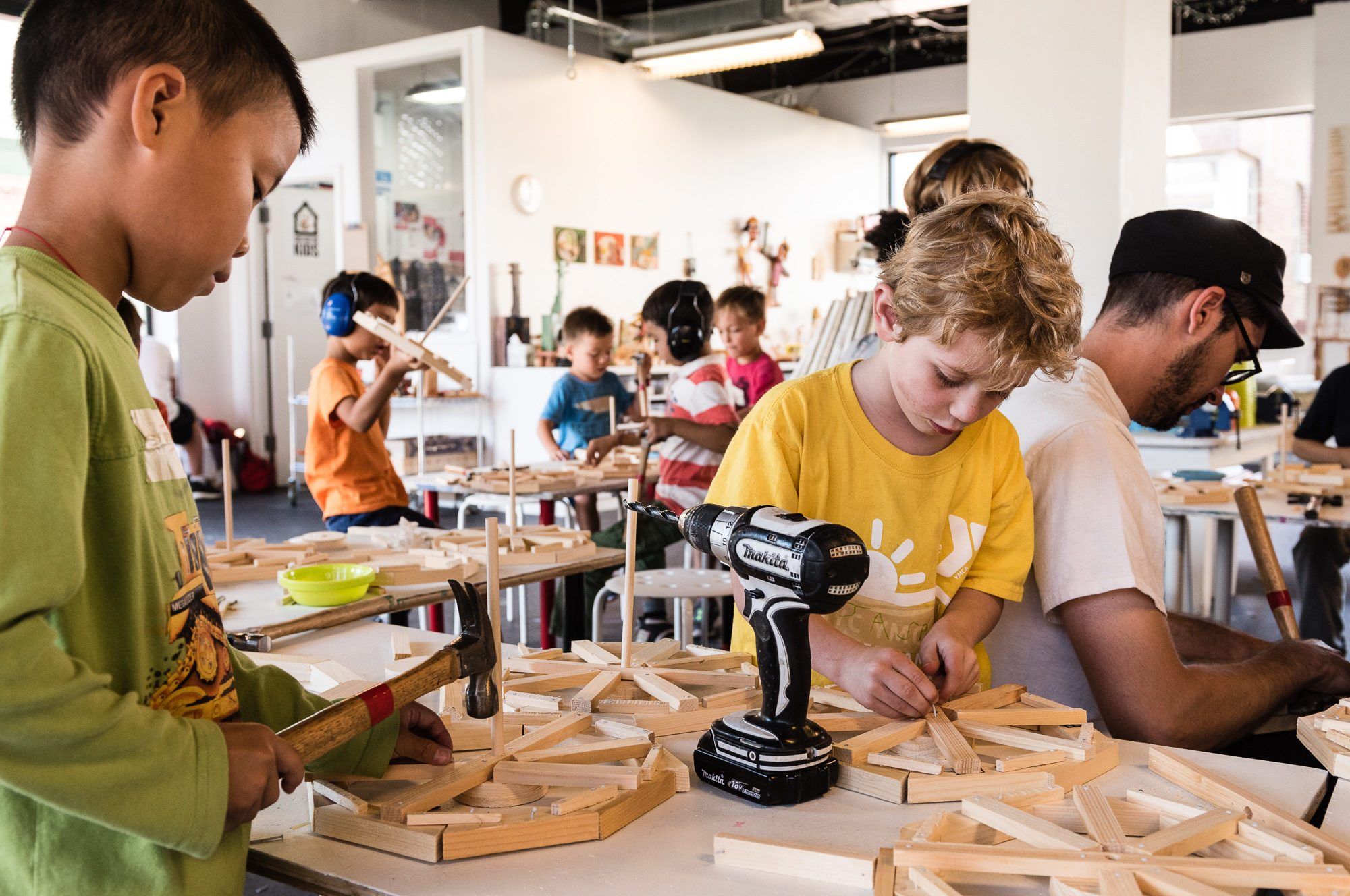 What kinds of tools do you use? Do you use traditional power tools?
We use real tools, however, we don't use power tools!
We teach children math, science, physics, and so much more through using "old school" tools. We are a hammer and nail based educational company.  The power tools reference in your question makes people think of the old industrial model of shop classes. That's not what we do at Construction Kids.
Our program is about learning balance and body position for 4 or 5-year-olds, as they discover their body and its abilities. It's about a 6 or 7-year-old learning angles and forces by making a marble run. It's math and physics taught in a unique and fun way.
The only "power tools" we use are cordless handheld tools like drills. But, even the use of cordless tools is minimal. We are about hands-on work where the power comes from the builder.
There are no design programs, or computer screens with programs running in the background, that get in the way of the children problem solving on their own. We want children to get back to basics: think through problems, frame solutions, and try to solve the problems with their skills. Sometimes they're successful and sometimes they're not, but they learn from both outcomes.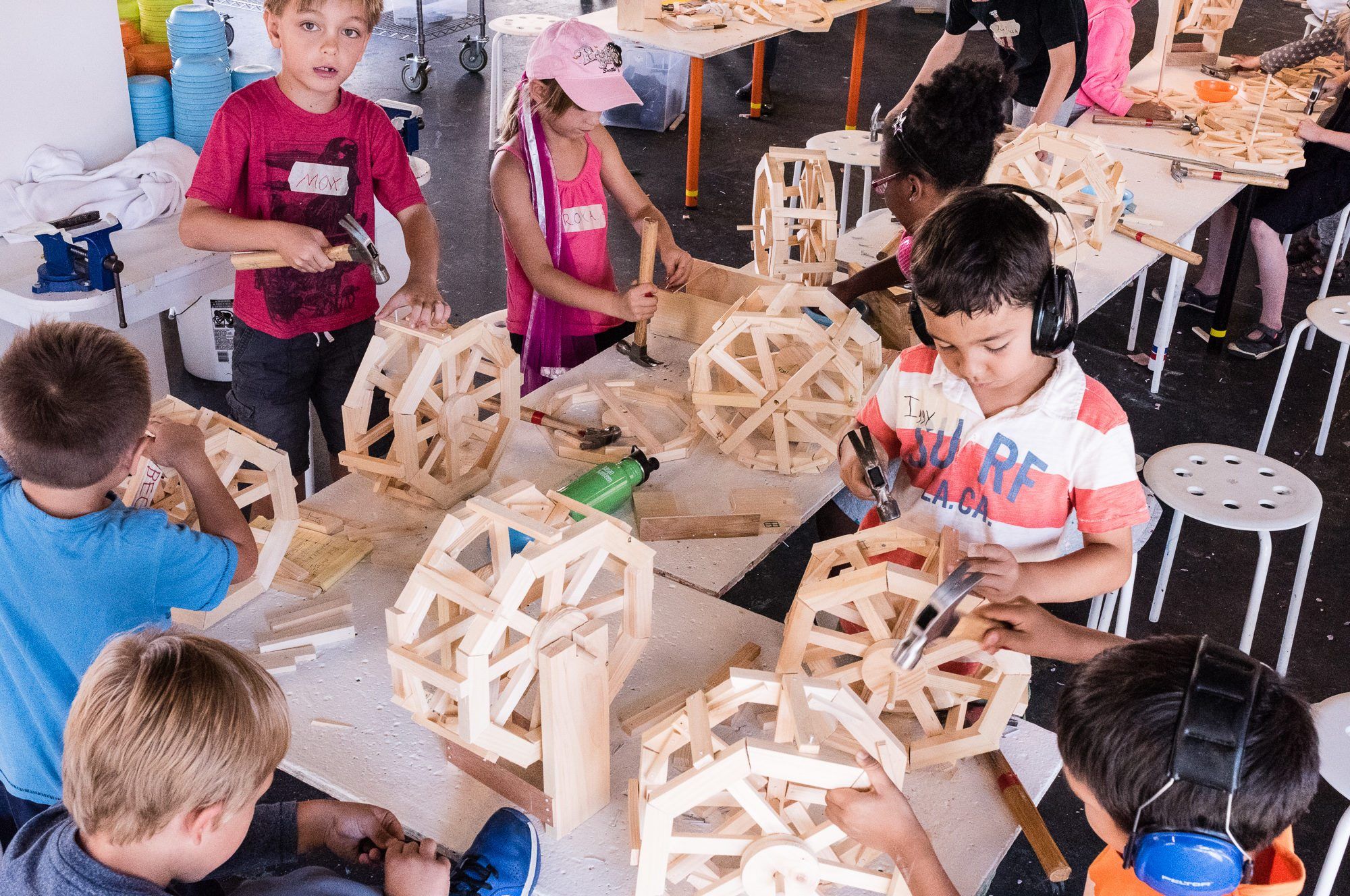 What kinds of materials do children work with?
This goes back to our culture of safety.  At Construction Kids, we want to know where every material that children will use comes from – how it was made, stored, handled. We will never use donated or found wood since we don't know how it was treated, how it was stored, or if anything was done to the wood that could harm our campers.
We source our wood directly from a mill in the northeast. We know them. We know who is cutting the trees and who processes it. We hire trucks and drivers to deliver it to us at Construction Kids, ensuring that we know how it's tarped and transported. From delivery, we store it where only we have access to it. We are not going to a chain and buying our wood.
We do buy some materials from national chains like plywood or MDF but only if we are sure it's safe for children.
Your company has expanded tremendously over the last eight years.
Over the years, a huge triumph for Construction Kids has been that so many educators, schools, academics, and parents have joined us in believing that hands-on learning is extremely important to the development of children.
Now, we are in approximately 150 schools, offering Field trips and afterschool programs.
We work with kids as young as 3, and that also took some educating of parents to convince them that yes, their young child can use hammers and nails safely, even if mom and dad are not handy.
Since the Summer is around the corner, tell us a bit about the summer programs.
Our summer program is designed for children from Pre-K to 4th grade, so 4-10-year-olds.
This year we have two distinct camps, one camp is for children ages 4 to 6,  and one for children ages 7 to 9. This allows us to create a more complex and advanced program for their older children who have been with us for years.
We are extremely excited for our new 7 to 9 years old camps. The new projects are amazing. I am really excited about our new Advanced Building and Cities. We rolled that camp out to our test group and it blew us away! Also, our make-your-own erector set is amazing—although I may be biased because I could not put my erector set down when I was a kid.
For the 4 to 6-year-olds, our Castles and Catapults and Marble Madness Weeks are new. We can't wait to see the unique ways children will take our concepts and make them their own.
What do children get from your programs?
The builders leave with a sense of accomplishment from what they built and, we believe, enhanced self-confidence to try things and take risks. Taking risks, building something and learning from its sometimes failure as we revise and repair, is key to a Construction Kids.
For our 4 to 6-year-old camps, at the end of almost every day, they will have projects they bring home. There are one, two or three day projects in some camps. So, they will have envisioned, designed and built multiple projects.
For our 7 to 9-year-olds, the week is centered on a more complex, week-long project. This is a project that will challenge them to problem solve, plan, and then execute the build. This is a project that, when they take it home at the end of the week, will be something they are incredibly proud to have built.
If you think this is a great fit for your kid, sign them up:
Construction Kids
Brooklyn Navy Yard, BLDG 92 2ndFloor
Brooklyn, NY 11205
(718) 522-2902
info@constructionkids.com
(All images via Construction Kids)