Ocean Parkway Repaving Begins Monday Night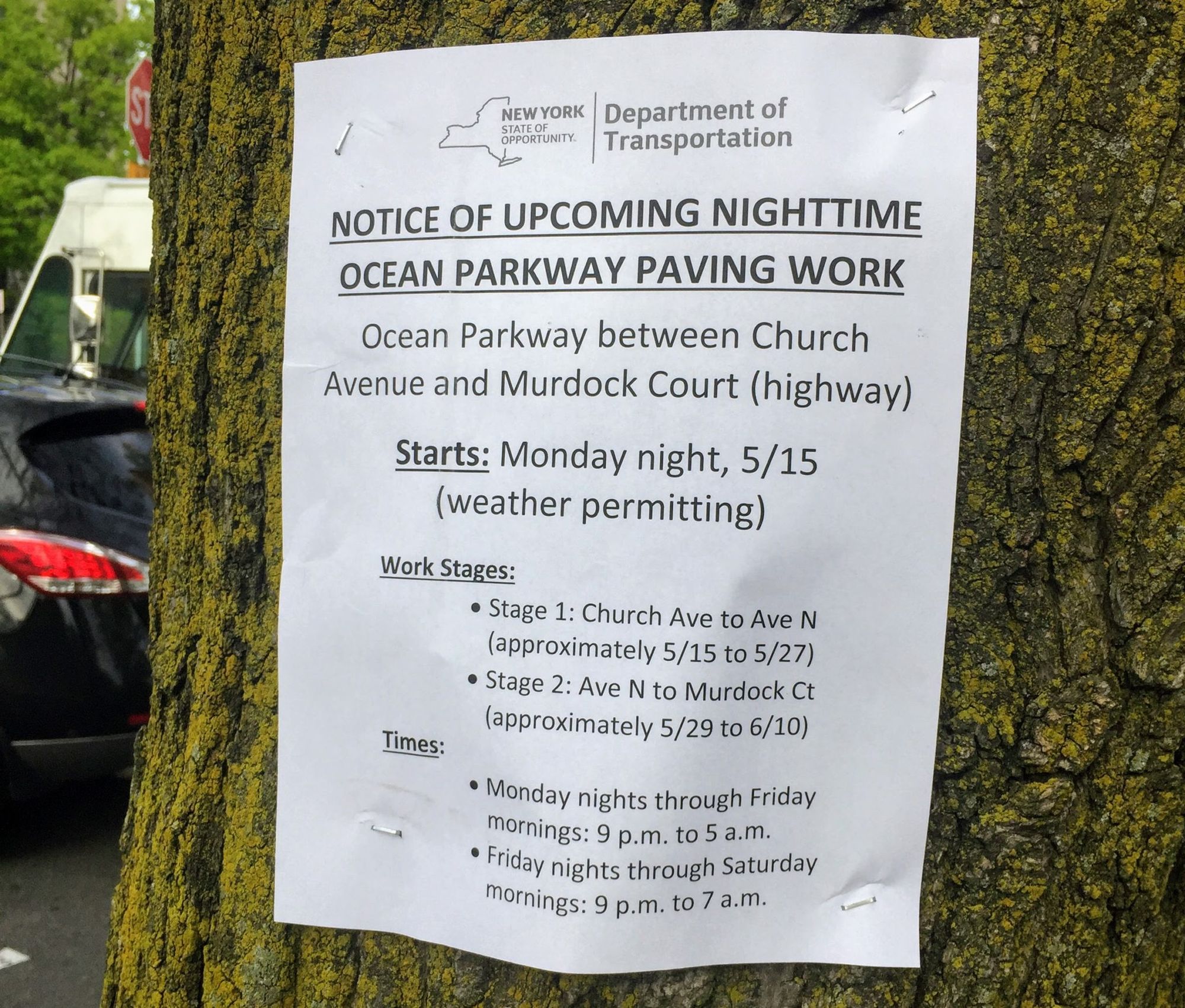 Weather permitting, repaving of Ocean Parkway will start on Monday 5/15, from 9 pm to 5 am, and on weekends they plan to work from 9 pm to 7 am.
The work is to be performed in two phases. Resurfacing will begin at Church Avenue to Avenue N first, starting this coming Monday, May 15th, at 9 pm, and they expect to be finished by May 27th (Memorial Day Weekend).
The work will then continue on the remaining stretch of Ocean Parkway from Avenue N to Murdock Ct ( Coney Island Hospital) starting on May 29th and ending June 10th.
Last year many changes were implemented along Ocean Parkway as part of the $8.5 million project to improve safety and traffic flow on Ocean Parkway, funded by Governor Andrew Cuomo.
Governor at the time had also announced a separate, $6.7 million project to resurface the asphalt and install new pavement markings on Ocean Parkway. It is this second project that is currently underway.
"Creating a safer Ocean Parkway will benefit neighborhoods and families throughout Brooklyn – and ultimately help save lives," the governor said in a press release. "Every day, nearly 45,000 vehicles and thousands of bicyclists and pedestrians rely on Ocean Parkway. They deserve a roadway that is safely designed and constructed, and this project will ensure a safer route for all."
Those who have lived through a repaving are already lamenting the noise and light pollution it inevitably brings and recommending newer neighbors invest in blackout curtains or blinds and noise machines.
On the other hand – the Parkway was pothole central, and very much in need of repairs. Hopefully, in a month, it will all be over.
For other Brooklyn road repairs – here is next week's schedule.