NYPD Officer Dies Of 9/11-Related Illness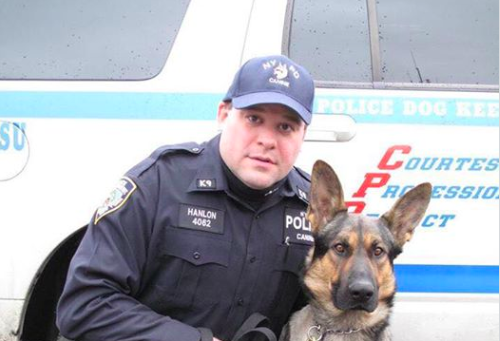 Flags flew at half-staff on Monday at the 77th precinct in Crown Heights as the department mourned the loss of Retired Police Officer Anthony Hanlon who died of a World Trade Center-related illness. He was 49.
The 21-year veteran is the 157th member of the NYPD to die from 9/11 illnesses, according to the department's website. He died one day before this 50th birthday.
Hanlon was appointed in 1989 and retired in 2010. Throughout his two decades of service, he was assigned to the Emergency Service Canine Unit, Midtown South, 75th and 77th precincts.
While at the 77th precinct, Hanlon served as a youth officer and the bureau's Youth Strategies Division. The NYPD program aims to reduce youth violence and prevent drug use by fostering relationships between a community's youth and police officers.
"He was phenomenal when working with the youth and the entire community loved him," said Ret. Detective Todd Taylor who worked with Hanlon at the 77th pct. for four years.
Hanlon was described as a "'cop's cop" a partner, a brother a friend," on the 77th precinct's Facebook page Monday. "Tony worked tirelessly with our precinct club and as a PBA delegate to help his colleagues and ensure for their well-being. He didn't look for praise or attention but just wanted to help, to make a difference," the post read.
During a Community Council meeting at the 77th pct. on Monday, Community Board 8 member Shalawn Langhorne spoke about meeting Hanlon nearly 18 years ago when she helped coordinate the precinct's Youth Council.
"They took me on my first ride-along, which was interesting because I think we ate more than anything else," said Langhorne of Hanlon and his partner at the time, Dave Watson.
Services will be held at N.F. Walker Funeral Home at 2039 Merrick Avenue in Merrick, NY. The viewing is October 25 from 2 pm – 4 pm and 7 pm – 9 pm. The funeral services will be held on October 26.