Novice Rower From Miami Passes The Verrazano On His 2,000 Mile Charitable Journey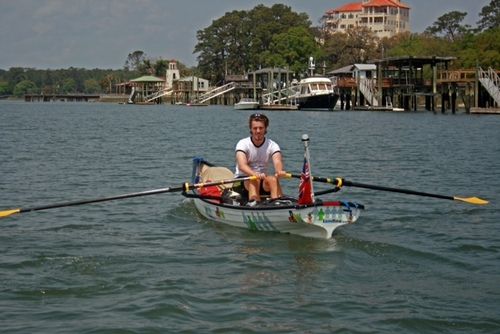 Lewis Colam watched someone he loved dearly succumb to Alzheimer's disease. The 24-year-old former management consultant knew he had to do something to raise funds and awareness so that others who in a similar position have the support and resources they need.
He took to the sea. Having no prior rowing experience did not stop Colam. He decided to undertake a 2,000 mile, 100 day rowboat journey from Miami to New York to raise $50,000 for research of the disease.
Yesterday was the final leg of Colam's journey, starting near the Verrazano Bridge at which he arrived around 11 a.m. He rowed along the New Jersey shoreline, past the Statue of Liberty, and up the Hudson River, arriving at the Intrepid Sea, Air and Space Museum at approximately 3 p.m.
He tweeted his adventures and kept his fans afloat on Facebook.
Colam has been rowing since since March 3rd for approximately 18 hours each day. He carried no motor, sail or fellow rower aboard his 15-foot open-decked row boat. Most nights, he anchored and slept aboard the boat, completely exposed to the elements.
So far, Colam is approximately halfway to his fundraising goal of $50,000 to support research at the Fisher Center for Alzheimer's Research Foundation. The Fisher Center for Alzheimer's Research Foundation was founded by Zachary and Elizabeth Fisher, who also founded the Intrepid Sea, Air and Space Museum where Colam ended his journey.