Non-Profit Combats Misinformation & Immigration Fraud In Bensonhurst
Yesterday, the Bensonhurst-based Chinese American Social Services Center (CASS), packed the house for their immigration forum for a community where many have fallen victim to local immigration scams.
With every seat filled and a crowd spilling out the door, community members and civic leaders asked questions related to becoming a U.S. citizen — safely. Dr. Tim Law, a retired Department of Education administrator and CASS volunteer, translated the presentation into Cantonese and firmly kept the Q & A session moving.
"Despite what you're hearing in the news, the USCIS is still conducting business as usual," said Shyconia Burden from the United States Customs and Immigration Services (USCIS), which includes issuing green cards, work permits, processing applications for Deferred Action for Childhood Arrivals (DACA) and citizenship.
She went through the basic steps to apply for citizenship, which requires background checks, proof of current tax payments, proof of presence in the U.S., and a civics test — which some green card holders are eligible to take in a non-English language. At this moment, the entire process can take six to eight months, and 9–12 months to renew a green card, she said.
But despite engaging in the citizenship process, many locals still harbor fears about immigration authorities and changing rules. CASS plans to hold monthly immigration forums to educate as many neighbors as possible.
A big issue for many in the audience was what Burden called the 'physical presence' requirement, meaning applicants cannot have a total of 30 (consecutive or non-consecutive) months outside the U.S. within the last five years.
"Green card holders in this community are afraid not being allowed back into the country when they travel back and forth," said Nancy Tong, Community Liaison from NY State Assemblyman William Colton's office. In addition, she said, they're afraid of being approached on the street and asked for ID.
Cost was clearly another burden for many in the audience. The application to become a naturalized citizen is $720, said Burden, at which point many attendees groaned. But there are cases where the fee may be waived, she said, for low-income or people with disabilities. Read more about the application here.
Burden gave out a booklet with the questions and answers for the civics test, and a DVD to help prepare for the interview, a practice the USCIS began about eight years ago.
"Every four years there's an uptick in citizenship applications because people want to vote," Burden told BKLYNER after her presentation. "People want to integrate, and more people are passing the test because they're preparing."
"This is so helpful for this community," said one woman who has been a citizen for many years, but came to help her neighbors. "There are a lot of elderly people here and people don't understand this process."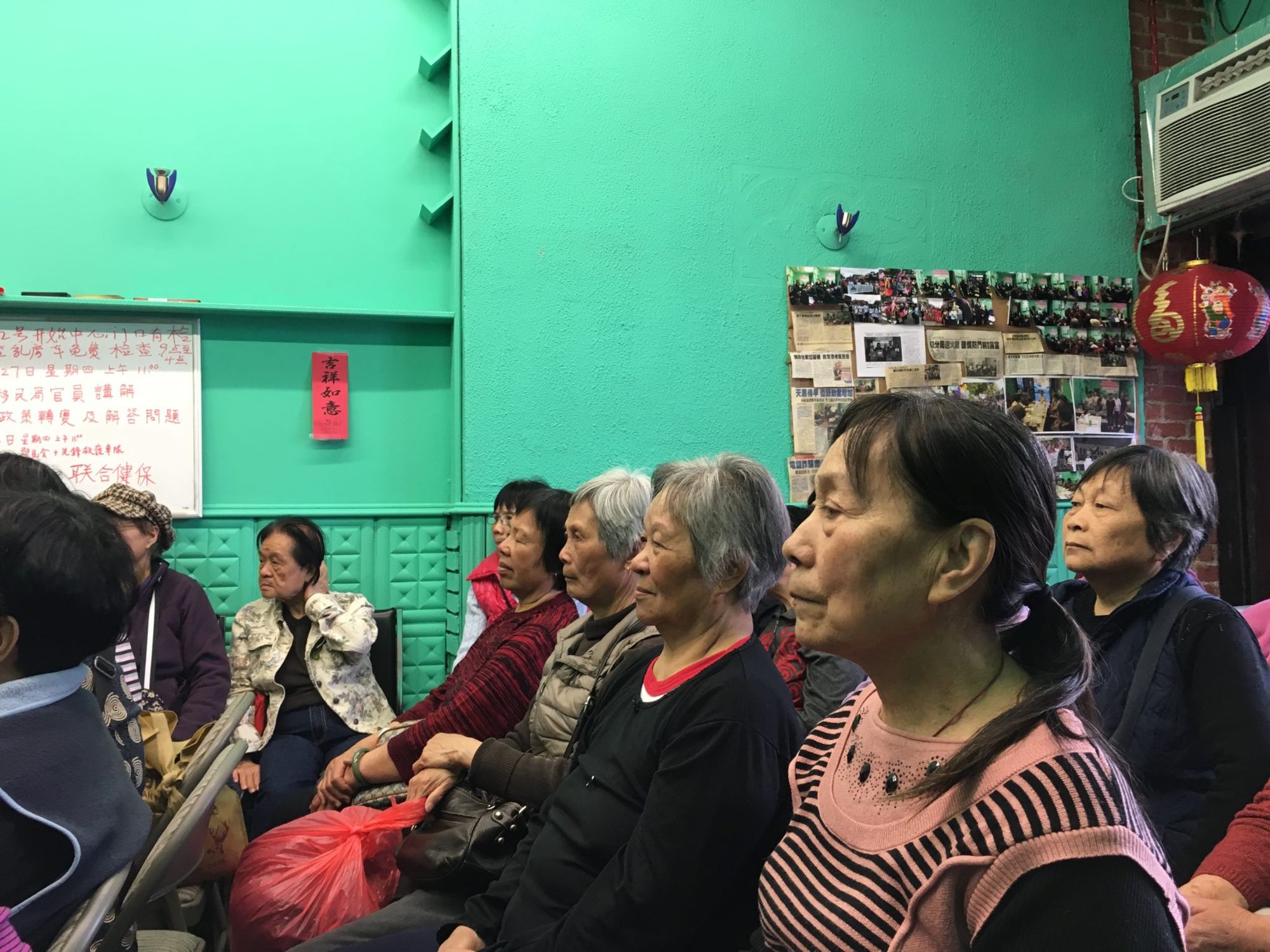 "Misunderstanding is the biggest problem, even among legal immigrants," echoed Dr. Tim Law. "I've told people so many times, NYPD cannot check immigration status." Misinformation was also a catalyst for fear in Flatbush, after rumors of ICE raids spread via social media in February.
Law said that a Chinese-American newspaper printed a picture of ICE agents in the same shot with NYPD officers and it caused a frenzy in the community of immigrants mostly from China and Taiwan. And this fear leads to people being afraid to report scams to the police.
During her presentation, Burden firmly reminded attendees about the warning signs of immigration fraud — and to never give out original official documents.
"Two ladies told me that they were charged several hundred dollars for free immigration forms, then not getting their application," he said, noting that immigration fraud is rampant, especially on 8th Avenue in Chinatown. "I tell people, 'You have to report those cases to the police.' Otherwise, they don't know."