"No Impact Man" To Be Green Party Candidate In Local Congressional Race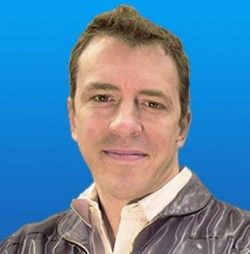 If you live in our coverage area, chances are you didn't have reason to know much about Congressman Edolphus Towns until recently. After all, for the last 29 years the Democrat has represented Bed-Stuy, Canarsie and Brownsville – neighborhoods that have little in common with our own.
But, thanks to this year's Congressional redistricting, Towns' district sprouts southwest, pulling the communities of Marine Park, Plumb Beach, Manhattan Beach and Brighton Beach into a 71 percent black and Hispanic district.
Now Towns is stepping down, and the race to replace him is heating up. Vying for the Democratic ticket are City Councilman Charles Barron, a controversial figure citywide with a strong following in his East New York, Brownsville, East Flatbush, and Canarsie base, and Assemblyman Hakeem Jeffries, who has won the endorsement of many of our local elected.
But no Congressional race would be complete without a couple of long-shot candidates. Enter Alan Bellone and Colin Beavan.
Bellone, a t-shirt maker from Marine Park (who, for what it's worth, printed Sheepshead Bites' t-shirts), running on the GOP line. Bellone previously ran against Assemblywoman Helene Weinstein in 2008. And that much, so far, has been more than anyone else has said about Bellone in this race.
Beavan, however, is a bit of a celebrity. Running on the Green Party line, Beavan is also known as "No Impact Man," an environmentalist who made headlines (and a documentary, and a book) for a project in which he eschewed all the amenities of a modern consumerist lifestyle while still living in New York City. Beavan, his patient wife and young daughter went about their lives creating the smallest impact possible. No carbon-based transportation (even mass transit), no garbage (they composted everything), no food not grown within a 250-mile radius, and, heck, even no toilet paper.
According to a New York Times profile that discusses his Congressional run, Beavan's "platform is as much about getting New Yorkers engaged in politics, promoting local businesses and reducing economic dependence on corporations as it is about fossil fuels," but he still keeps up some of his old habits.
His press release announcing the campaign elaborates a little more:
Basic campaign policies, based on strengthening local community include:
Corporate money out of politics
A constitutional amendment making the right to vote inalienable
Massive voter registration and civic engagement promotion
Keeping youth out of prison (treatment not incarceration)
An end to stop and frisk
Food stamps for use at farmer's markets
Tax breaks for sole proprietorships
Massive shift of military spending towards education
U.S. leadership on climate change mitigation and adaptation
Community-based assisted living programs for the elderly
Encouragement of service rather than product-based economies
Prioritizing human connection before goods consumption
The response so far from the Jeffries campaign – considered a shoe-in by most – about an environmental celebrity jumping into the race for Towns' seat?
"We're focused on the primary right now," a spokesperson said. "We will not comment on possible general election challengers until the appropriate time."
Whatever. We just hope all those old district maps get recycled. Or, hey, maybe Mr. No Impact Man can use them for toilet paper.