NITEHAWK Prospect Park Is Open
PARK SLOPE/WINDSOR TERRACE – NITEHAWK Prospect Park opens today in the building last occupied by The Pavillion movie house at 188 Prospect Park West with a 3:30 PM screening of The World Before Your Feet.
The beautifully restored movie house has 7 theaters to show movies to 650 patrons at a time, and is now accessible to people with disabilities thanks to an elevator.
Theaters range in size from an intimate 48 seats to 194 seats, there are two bars, downstairs by the ticket counter and up on the second floor, with additional seating at the balcony level.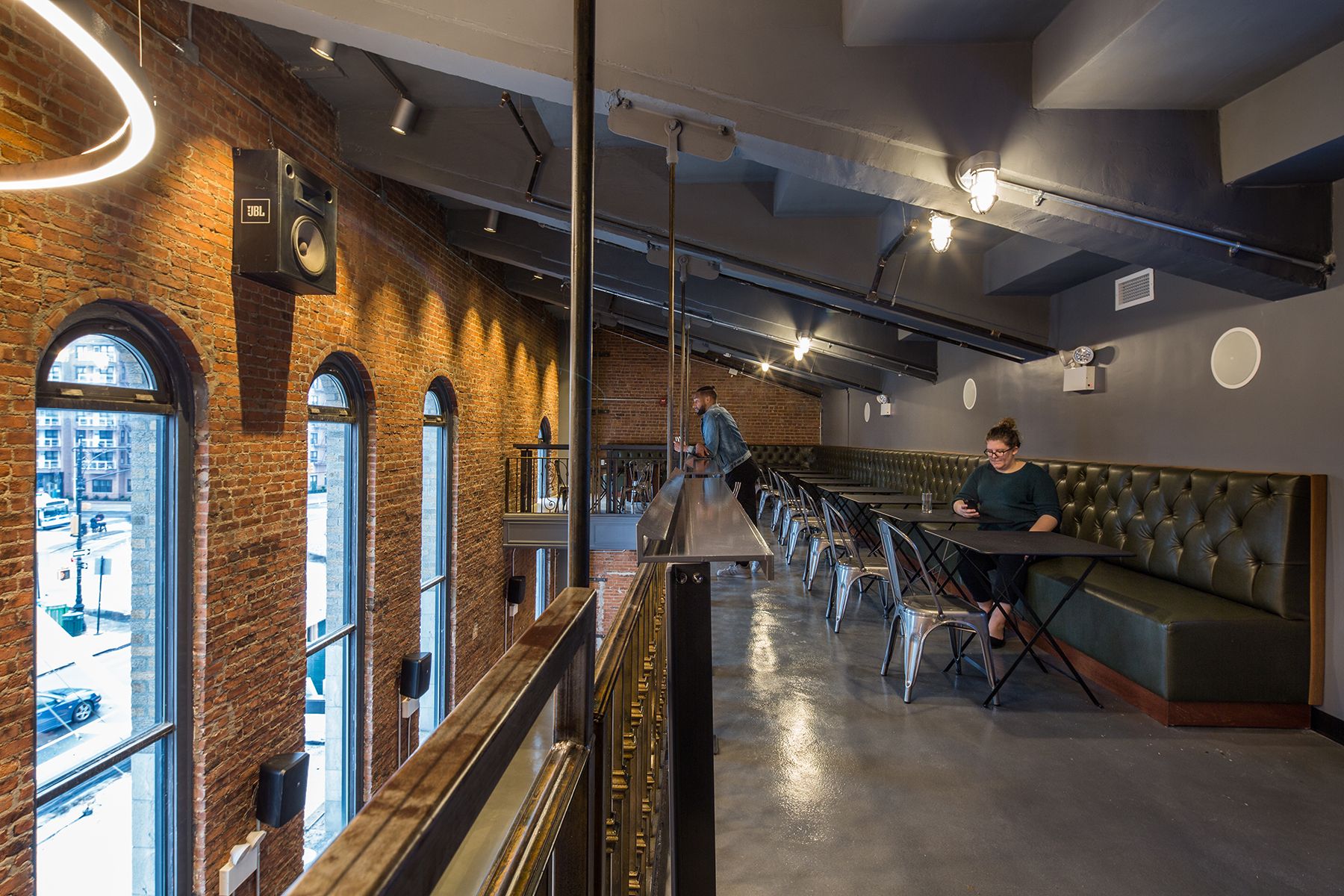 The upstairs bar offers full-service food and drink and is open to the public not attending a movie as well, offering lovely park views and a great space for gatherings.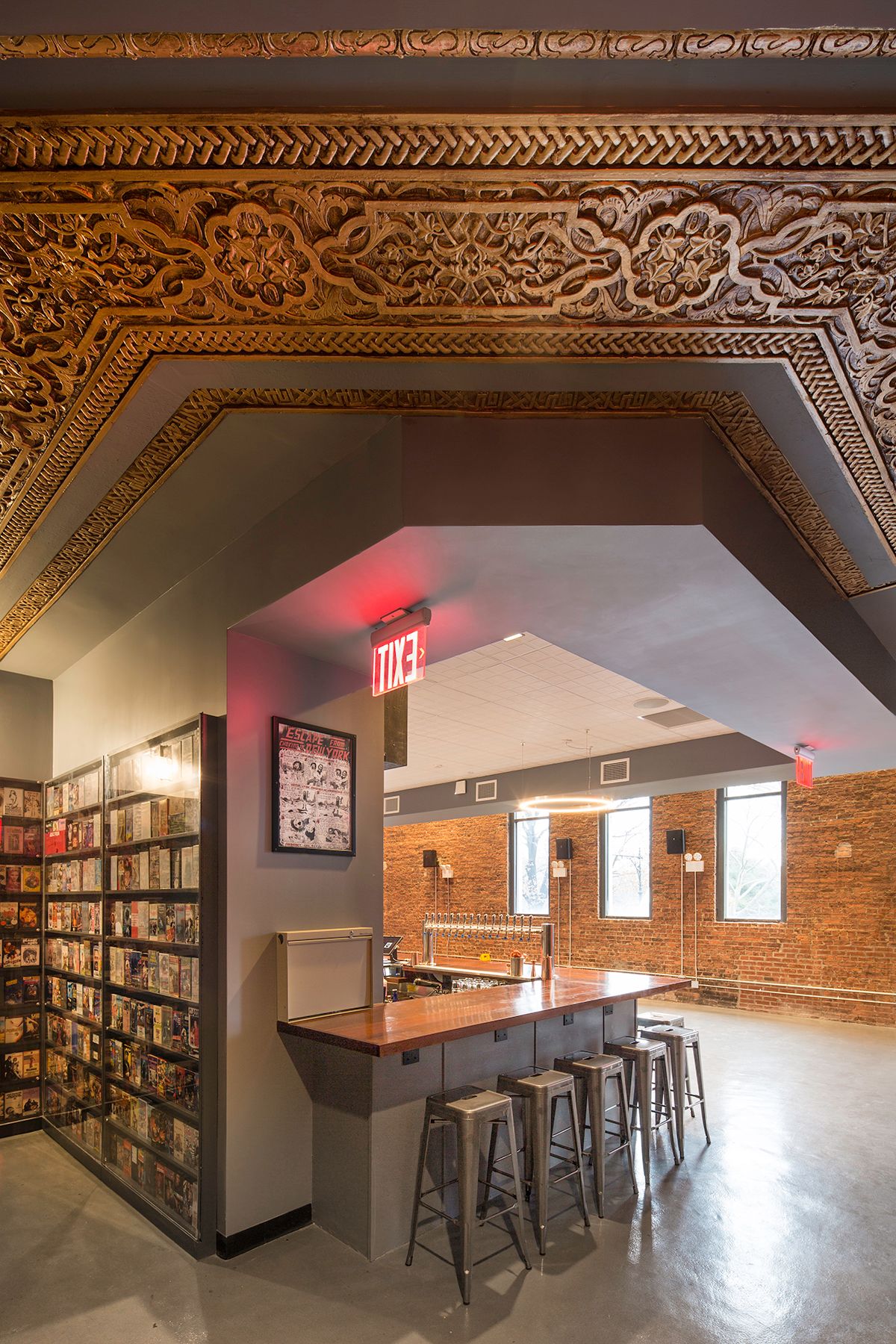 The beautifully renovated movie house has retained some of its original Art Nouveau glitter, while fitting in with the slate gray and exposed brick color scheme prevailing these days in Brooklyn, the work of Think! Architecture and Design and Reidy Contracting Group who collaborated on the $15 million renovation project.
There are old movie posters scattered throughout the hallways, and a corner by the second-floor bar displays part of Nitehawks massive videotape collection. There are installations of light reels by Light Reel on display, as well as old-fashioned arcade games like Pokemon on the balcony.
Nitehawk brought dinner and drinks to the modern movie-going experience, after successfully lobbying for a change in the liquor laws to allow that back in 2011. Each seat offers a little table and an opportunity to dine while watching the movie, and the theater works to create specials for each of the movies, down to bringing out dishes during the scenes that inspired them. The establishment employs 150 staff to accomplish all that.
Four of the theaters will be able to show 35mm films, and the owners are planning on showing a wide range of films, including ones by local filmmakers, offering weekend brunch and midnite screenings, and bringing the annual Nitehawk Shorts Festival to the theater next November.
First opened in 1928 by Rudolph and Harry Sanders, The Sanders became The Pavillion, and now the Pavilion has become Nitehawk Prospect Park.
By the time it closed in October of 2016, The Pavilion had fallen into disrepair, and the initial estimate of one year for repairs was revised when original design details were uncovered during renovations, including a Sanders era balcony and the marble staircase, once a decision was made to restore them and to incorporate them into the final design.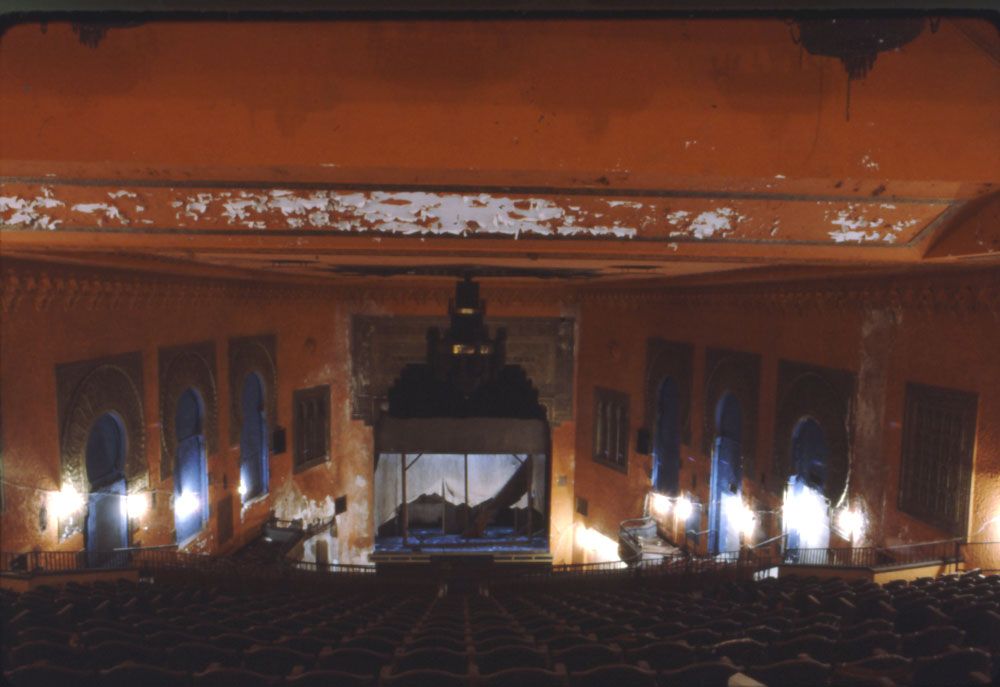 "The marble steps had to be stripped of two layers of carpeting, they looked like concrete, we had no idea it was marble," Nitehawk founder Matthew Viragh said while giving the press a tour of the new facilities Tuesday night.
It took two weeks to remove all the junk that had accumulated at the theater to get it ready for renovations.
Asked if they found bedbugs, he said they had not, but spoke of rats the size of small dogs that were not afraid of anything or anyone. Neither are now roaming the space that offers comfortable seats and a luxurious movie going experience.
Nitehawk Cinema has been listening to neighbors requests, and has updated its age policy to allow teenagers to go on dates like their parents and grandparents did in years before – by going to the movies. Kids aged 13 and up are now allowed into appropriately rated movies before 6 pm on their own. For anything later than that an at least 18-year-old chaperone is required.
"The Pavilion Theater was the cinema that originally inspired me to open Nitehawk," said Viragh who lived in Prospect heights until 2011, and admits to once smuggling booze into a Pavilion Theater screening when that was his movie theater of choice.
Asked how he feels now that it is finished, Viragh had just one word – "Tired". There are currently no plans for any additional theaters in the works, he added.
Tickets are available online at www.nitehawkcinema.com, and its a super easy commute for anyone along the F line or B68 as both stop just outside the theater.
Currently showing:
Coming soon:
All photos by author unless otherwise noted.